Consumers communicate with businesses through numerous online ways in the modern period, and employees interact with an increasing number of applications, devices, and services to accomplish their job obligations and meet the needs of customers. When issues arise, and users struggle to resolve those issues, each of these applications, services, and devices can have an influence on the customer experience. To maintain a seamless, consistent user experience, teams can employ digital experience monitoring to stay on top of issues and even address them before users see them.
We will cover the following:
What is Digital Experience Monitoring (DEM)?
The measurement of customers' and employees' experiences with an application, service, or device is referred to as Digital Experience Monitoring. It assists IT teams in ensuring that users have access to applications, services, or devices and that they are functioning properly. User behaviour and application performance data are monitored by digital experience monitoring systems, which go beyond application performance management to assist teams in more quickly resolving user concerns and creating a personalised and optimal user experience.
The goal of digital experience monitoring is to evaluate how well digital technology meets the needs of the user. The technical performance of the application and the end-user experience, or the experience of the person interacting with the application are the two key parts of digital experience.
Application Performance Monitoring (APM) gathers data on the application's technical performance as experienced by the user.
End-User Experience Monitoring (EUEM) evaluates how a user interacts with an application.
Digital Experience Monitoring (DEM), according to Gartner, is a performance analytic discipline that aids in the optimization of a digital agent's operational experience and behaviour with an enterprise's application and service portfolio. This discipline also aims to monitor and simulate user behaviour in the form of a customer journey, which is a series of interactions.
How does DEM Work?
In many situations, the process begins with a lightweight agent being despatched straight to a physical or virtual device to collect a variety of metrics, including hardware and software performance, resource utilisation, connection strength, and so on. The data is then distilled into data sets and dashboards that IT can utilise to better understand how users interact with the system.
Rather than examining how network elements operate, DEM looks at how users and endpoints interact with an application at the beginning. The next stage is to assess its behaviour via their perspective. If the application behaves strangely, it's most likely due to an issue with the network or the application itself.
DEM monitors all endpoints' network interfaces and detects characteristics that indicate a network part isn't functioning properly. If there are no defect symptoms yet the application is still operating poorly, the issue is almost certainly with the application or its infrastructure.
Digital Experience Monitoring Use Cases
There are various real-world business use cases for digital experience monitoring. Let's take a look at a few use cases below:
Full-Stack Monitoring
Firstly, a DEM strategy gives you full-stack visibility over your IT infrastructure, systems, applications, and user experience. Furthermore, by utilising previous trends, you may gain a detailed and real-time understanding of how your resources are performing.
External Services Transparency
Most of the time, you don't have complete control over your infrastructure, especially as cloud services become more popular. DEM can help you make sure that any third-party services that your application relies on are up and running. It has specific analytics that will show you whether an external vendor is badly impacting the performance of your product.
Being One Step ahead of Issues
If an issue reaches the end-user, regardless of who is to blame, the company is already in trouble. Organizations are well aware of this, and it is the most powerful motivator for them to proactively mitigate—or, better yet, solve—issues before they cause harm. DEM allows IT professionals to receive real-time notifications and promptly resolve issues.
Increase Employee Productivity
In the workplace, technical challenges are widespread. They can be aggravating and have an impact on the productivity of both your in-office and remote staff. Furthermore, they may require dedicated workers and a long period of time to fix.
Benefits of DEM
When it comes to collecting insights about the user experience and the digital experience in general, DEM has a lot of benefits for businesses.
Better IT Visibility
DEM solutions capture and analyse granular metrics from across the entire digital environment by employing a lightweight agent to collect information straight from the endpoint. With those analytics at their fingertips, IT administrators can begin to grasp what employees face on a regular basis and how it affects their productivity. It also allows teams to look into a variety of options for fine-tuning digital infrastructures to improve the end-user experience.
Increase Productive
It goes a long way toward improving the digital employee experience when IT runs smoothly and can handle difficulties quickly — or, better yet, detect and address concerns before they become problems. The ability to get more work done isn't the only benefit. Employee retention and recruitment can both benefit from happier, more productive employees.
IT Service Desk Efficiencies
Employees that are happy and productive rarely need to file support tickets. When IT spends less time and money on costly service tickets, it has more time and resources to plan, prioritise, and roll out new projects and initiatives that can improve digital experiences even more.
Increase ROI
Expanded visibility, deep data, predictive analytics, and an improved end-user experience are undeniably valuable. For many major companies, the ROI of digital experience monitoring can be in the hundreds of thousands, or even millions, when calculating the time, resource, and cost savings of numerous DEM use cases.
More Business Growth
The ability to completely evaluate user needs and comprehend how technology affects employees allows businesses to develop key performance indicators (KPIs) from the start, avoiding a lot of guesswork and unnecessary costs.
Account for Non-Human Users
Micro-service architecture is being used in many cloud-based applications produced by DevOps teams in order to provide quick, repeatable delivery of complicated applications. DEM will ensure that these non-human users are accounted for such that their use of your service or corporate application is frictionless and results in the desired outcome.
Challenges in DEM
DEM, like many other technologies, has its own plethora of challenges that can deter businesses from implementing it.
Requires a Cultural Shift
Although IT teams are in charge of DEM, other teams are equally important. Only through strong cross-team collaboration can a company provide its customers with high-quality digital experiences. DEM deployment is frequently hampered by the inability to communicate this and create a collaborative atmosphere.
Network Troubles
Incidents on the server have an impact on the performance of your application, and user behaviour has an impact on the network and servers. Balancing these variables is a difficult endeavour. The growing popularity of microservices architecture is another factor. Even within the same application's server architecture, this causes communication delays.
Diverging Technologies
Customers use a variety of operating systems such as Windows, macOS, Linux, iOS, Android, and so on. There are changes between versions of each operating system even inside each operating system. Users can use different browsers even inside the same operating system if your application is a web application. This adds to the difficulty of putting monitoring systems in place.
Why DEM is Important?
Data is collected from a variety of sources in traditional network monitoring. When you have many tools monitoring the network, infrastructure, applications, servers, and so on, it can be difficult to discover the exact root cause of an issue. Using a unified monitoring solution makes it easier to discover, prioritise, and ultimately resolve the most mission-critical performance issues, increasing productivity.
You can prevent problems from reaching users and negatively impacting their experience using DEM. It enables you to continuously test your network and identify problems before they worsen and affect the functionality of your application.
What if there is a power interruption during non-working hours, for example? What if you run into hardware setup issues that you weren't expecting?
Continuous DEM will inform you in either circumstance, allowing you to remedy the problem quickly. The user experience is a primary focus for DEM. This is critical for preventing revenue losses and hazards to a company's long-term sustainability.
Finally, not every user has the same needs. DEM is a great solution for businesses who wish to provide better, more tailored services based on the hardware and software requirements of their customers. Companies save money this way since they aren't wasting precious resources unnecessarily.
Conclusion
The goal of digital experience monitoring is to figure out who is affected and why. It takes resource and application monitoring a step further by putting the user's experience front and centre. Companies can utilise it to ensure that their users have an engaging digital experience that helps them achieve their goals and makes it easier to meet company objectives.
---
Monitor Your Entire Application with

Atatus
Atatus provides a set of performance measurement tools to monitor and improve the performance of your frontend, backends, logs and infrastructure applications in real-time. Our platform can capture millions of performance data points from your applications, allowing you to quickly resolve issues and ensure digital customer experiences.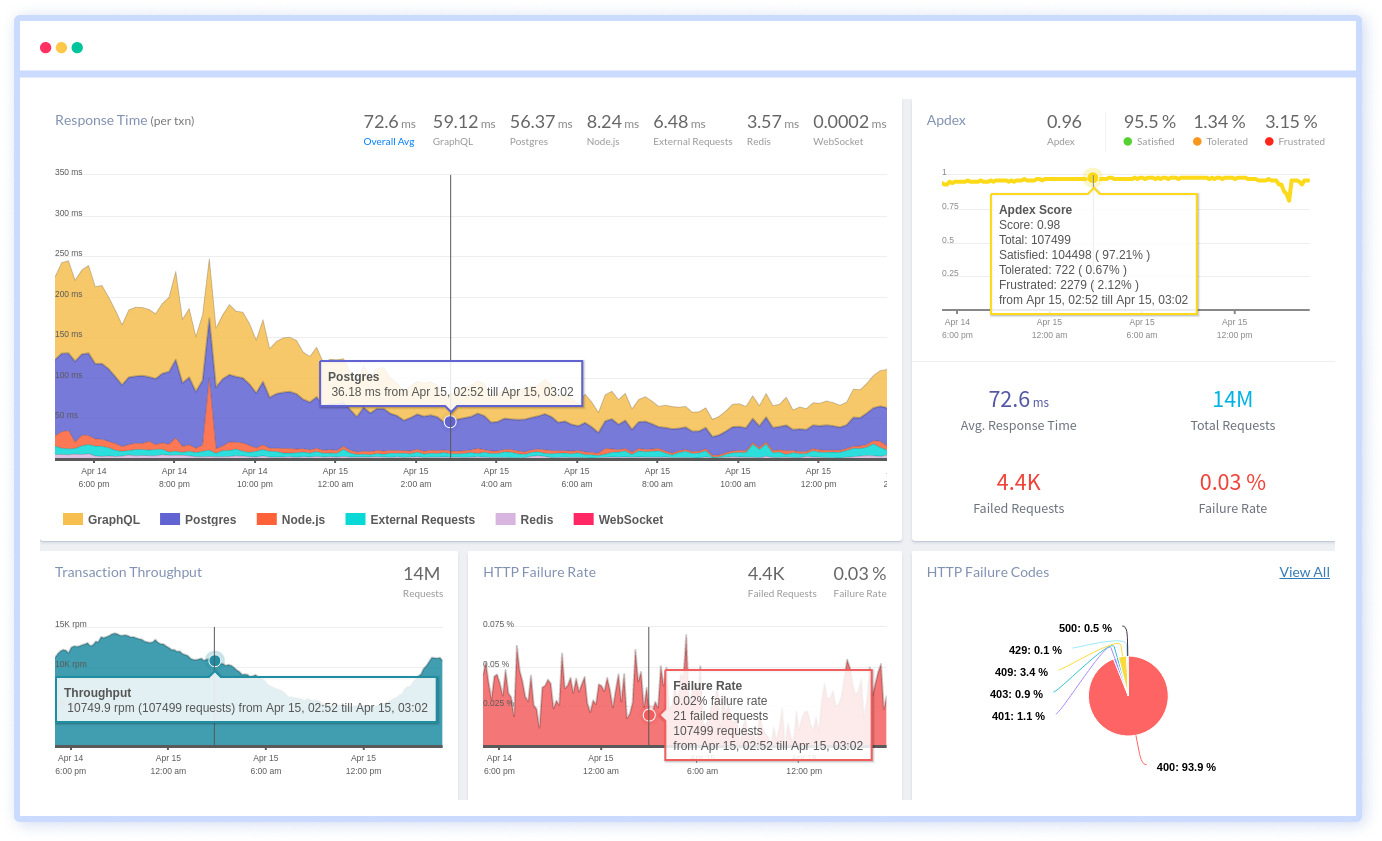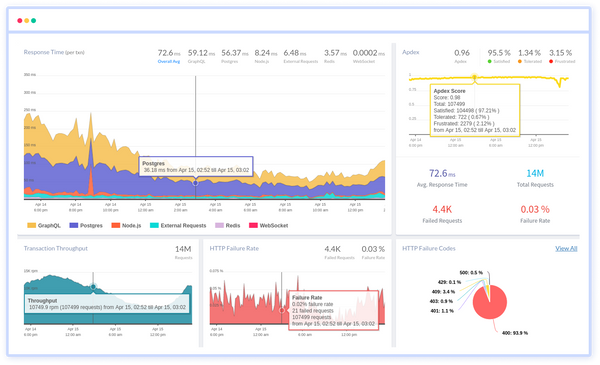 Atatus can be beneficial to your business, which provides a comprehensive view of your application, including how it works, where performance bottlenecks exist, which users are most impacted, and which errors break your code for your frontend, backend, and infrastructure.