Performance management software is used to assess the performance of employees in order to boost productivity at your company. It can assist you in determining which employees are great performers and which ones may require additional assistance. Cloud performance management allows you to use these tools from anywhere with an internet connection.
We will go over the following:
What is Cloud Performance Management?
The activity of evaluating various metrics and benchmarks for cloud systems is known as cloud performance management. It's used to figure out how well a cloud system is working and where improvements might be made.
Performance management, in general, is concerned with the real performance of hardware or a virtual system. It examines factors such as system delay, signalling, CPU usage, memory usage, workload, etc. Looking at how data goes from a client's office or other location via the web and into a vendor's cloud storage systems is one way to apply this to the cloud. It also entails investigating how that data is prioritized and retrieved.
There's a lot to cloud performance management, which aids businesses in determining how well their systems are performing. Some of these may be specified in a service level agreement, in which the provider details what the client can anticipate from a service.
For example, there may also be requirements on processor power and memory, operational wait times, latency, or other metrics, in addition to uptime and downtime provisions that indicate how often a service will be accessible. It enables IT teams to manage cloud performance and quantify what services are available, all while searching for ways to improve or expand operations.
Perspectives of Cloud Performance Management
There are three different perspectives that cloud performance management can take, and each of these perspectives has its own set of requirements:
#1 The Deployment perspective (From the Cloud)
This perspective focuses on the location where performance management and monitoring are carried out. You may be interested in monitoring applications and infrastructure from the cloud – as a cloud-based service – whether you are putting applications and infrastructure on-premises, in a private cloud, in the public cloud, or in a hybrid manner.
This is cloud performance management "FROM" the cloud. Organizations use this model to take advantage of the benefits of cloud computing. You can start using the service right away with no upfront hardware or software costs. You also don't have any software or hardware to keep up with on a regular basis.
If you're having performance issues with your mission-critical applications and need a quick fix, performance management FROM the cloud is the way to go. You can turn on and off the service as needed with a pay-per-use service approach.
#2 The Cloud Consumer perspective (Of the Cloud)
This perspective focuses on the benefits of performance management and monitoring. If you've placed applications on the cloud (whether private or public), you'll want to know how effectively they're working. If there is a slowdown, you must determine what is causing it.
You may even have applications where some components are hosted in the public cloud and others are hosted on your own network. You'll need a mechanism to immediately correlate the performance of your application components, the network, and the public cloud infrastructure, as well as pinpoint the problem's fundamental cause.
This is cloud performance management "OF" the cloud. You'd want to have a single management console from which you can monitor the performance of both your on-premises and cloud applications.
#3 The Cloud Service Provider perspective (For the Cloud)
The cloud is a service that you supply to your customers if you are a cloud service provider. As a result, you could be concerned about the issues your customers may face.
The course of action you take is determined by what you determine to be the root cause of the problem. You want to know how to obtain more value out of your present cloud investments, in addition to diagnosing the problem.
For example, you'd like to be able to monitor how to balance load across your servers so that you can serve the greatest number of users possible, as well as how to increase infrastructure capacity without sacrificing speed. Then you need cloud performance management "FOR" the cloud.
Features of Cloud Performance Management
Every software has its own set of advantages, but these are some of the most important features of cloud performance management systems.
Goal Management
You may set clear goals for employees and track their progress with goal management. Managers and employees can work together to develop goals that are aligned with the company's or bigger group's goals. Setting goals together is a terrific approach to guarantee that everyone in your company is working toward the same goal.
You may check in on your employees' progress at any time and from any location with a cloud system. Another advantage of a cloud system is that employees can have automated due date reminders delivered to their preferred device.
Employee Lifecycle Management
Employee lifecycle management aids in all aspects of the employment process. Recruiting, onboarding, development, retention, and exit are examples of these stages. Cloud recruitment features can include things like a mobile career site that allows job seekers to look at open openings and apply for them.
Performance Evaluation System
Employee performance is tracked and employee reviews are automated using a performance evaluation system. Employee evaluations consider everything from punctuality to work efficiency. A solution may also incorporate peer assessments, self-evaluations, and 360-degree feedback.
Ongoing feedback capabilities are a related feature that is prevalent among cloud performance management systems. Constant coaching is simple to implement with a cloud system because you can send feedback to everyone on your team at any time.
Compensation Management
This feature of performance management software allows you to identify and reward your top performers. Unconscious biases are avoided in compensation management, and data is used to determine whether employees are due for a raise or bonus. Pay-for-performance capabilities are available from some cloud performance management solutions.
Analytics and Reporting
The analytics dashboard displays essential performance management information such as company goal progress and performance trends in a visual format. The reporting tool can provide immediate feedback on performance, allowing you to make data-driven decisions in real-time. Furthermore, cloud access allows you to evaluate company-wide data and make educated decisions even while traveling or working remotely.
Things to Consider When using Cloud Performance Management
Here are a few things to remember:
Make Sure You Begin Cloud Performance Management on a Cognitive Level rather than a Physical One
When you just throw tools at a problem, you run the danger of making a tremendous error. Most IT professionals would rather evaluate tools than attempt to understand key issues and develop a conceptual framework to address them.
Each cloud domain is distinct from the others. Other companies' tools are unlikely to be the tools you require. Define your macro and micro requirements, as well as future patterns, by working from the abstract to the physical.
Consider How Cloud Performance Management Affects Performance
It's a little concerning that the cloud performance management system could cause chaos on cloud computing speed, but this happens all the time. Enterprises are more likely to switch on everything, including software agents that run on the same platform as the applications, log everything, and engage in other intrusive activities that consume more CPU and I/O time, competing for resources with the applications themselves.
You get real-time performance data, which allows you to discover and fix performance issues, as well as a system that collects and analyses the performance data that is the root cause of the problem.
If you're still doing cloud performance management the same way and with the same tools as you were two years ago, you should start here. The goal of cloud performance management is to strike a balance between performance, cost, and business needs.
For example, to improve I/O efficiency, turn off logging on the machine instance that stores the data and log storage activity from another machine instance. This performance issue was most likely identified by trial and error, and similar issues should be detected on a weekly basis. To put it another way, you must always improve cloud performance management, and you will never be finished.
Conclusion
Cloud performance management is difficult since there are many more elements in the environment to consider in order to control performance efficiently. It is vital to include features of performance management in the solution design, such as resource location and people who use the resources. Finally, make sure you understand how other tenants in the cloud can affect the performance of your application.
---
Monitor Your Entire Application with

Atatus
Atatus provides a set of performance measurement tools to monitor and improve the performance of your frontend, backends, logs and infrastructure applications in real-time. Our platform can capture millions of performance data points from your applications, allowing you to quickly resolve issues and ensure digital customer experiences.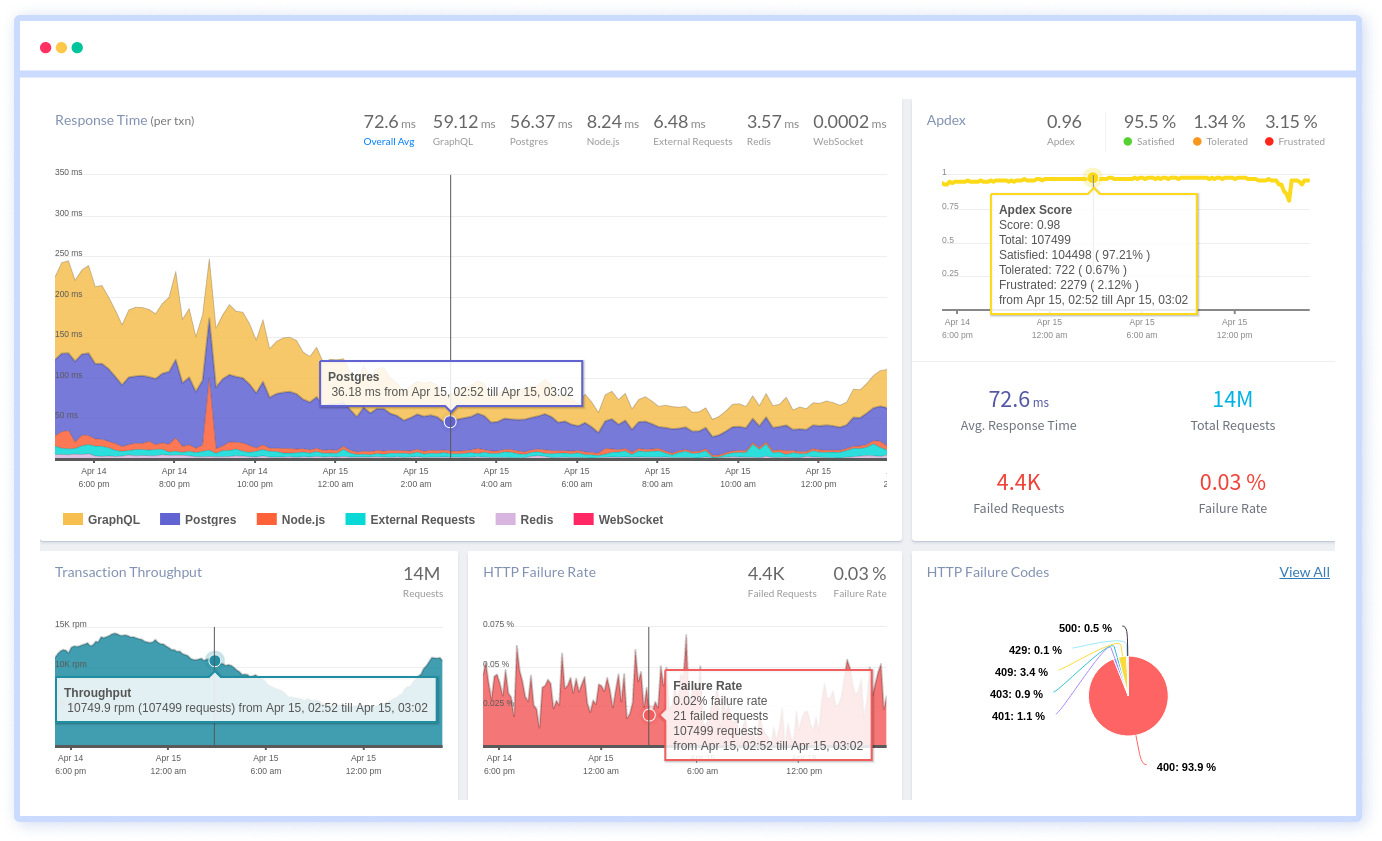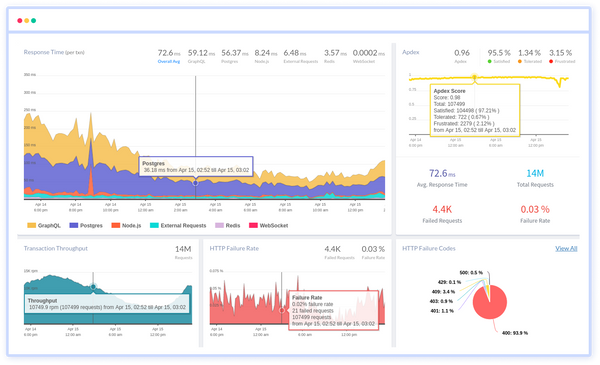 Atatus can be beneficial to your business, which provides a comprehensive view of your application, including how it works, where performance bottlenecks exist, which users are most impacted, and which errors break your code for your frontend, backend, and infrastructure.