In today's world, information security is a noteworthy concern for all organisations, including those outsourcing vital enterprise operations to third parties.
Enterprises are vulnerable to data theft, extortion, and malware installation when mishandled data, particularly by application and network security providers.
American Institute of Certified Public Accountants (AICPA) was the organization that created SOC 2 which stands for 'Service Organization Control 2'.
The service providers must follow the SOC 2 auditing procedure to ensure your company's interests are protected as well as the privacy of its customers. In order to determine the security level of a SaaS provider, SOC 2 compliance is a minimum requirement.
Table of Contents
What is SOC 2?
SOC 2 stands for "Service Organization Control 2" and is sometimes referred to as SOC II.
A SOC 2 audit determines whether a company can effectively and safely manage its customers' data. Data protection and cloud security are demonstrated in this report.
A security control framework for cloud computing is being developed to assist software vendors and other companies in demonstrating their cloud security controls.
Controls such as security, availability, processing integrity, confidentiality, and privacy are referred to as Trust Services Principles.
It is important to note that these internal reports provide important information about how your service provider manages the data to you (and to regulators, business partners, suppliers, etc.).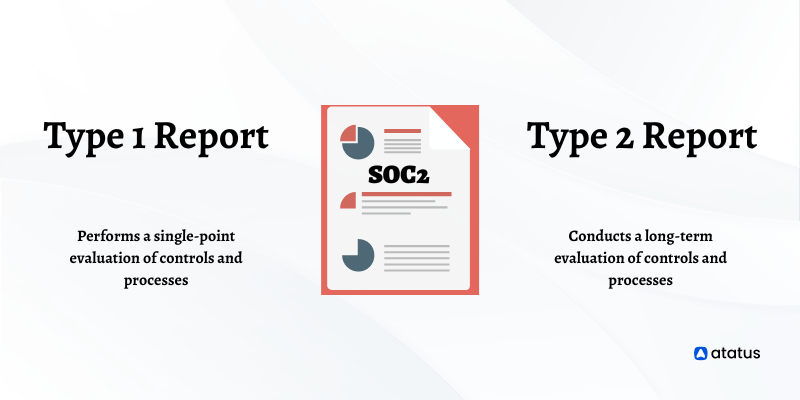 A SOC report can be classified into two types:
Type I - An evaluation of a vendor's system design and whether it meets relevant trust principles can be made.
Type II - You can evaluate the operational effectiveness of your controls and systems through these reports.
The criteria for SOC 2
A framework for safeguarding customer data is outlined in SOC 2 as security, availability, processing integrity, confidentiality, and privacy principles.
Neither SOC 2 nor its tools, processes, or controls are prescriptive. As a result, companies can adopt practices and processes relevant to their own objectives and operations based on the criteria required to maintain robust information security.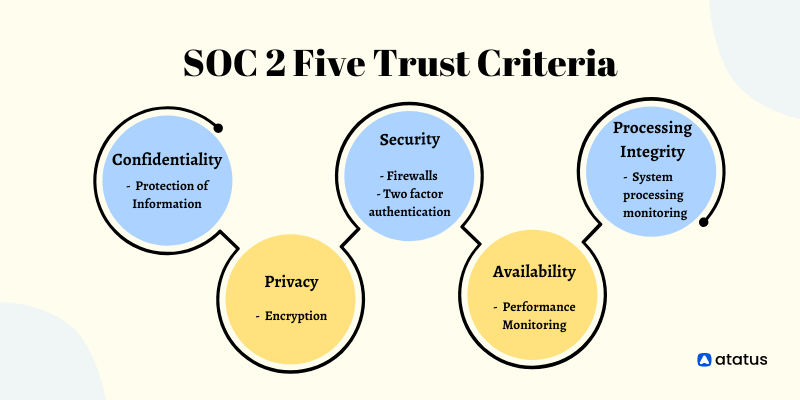 The following five trust service criteria are outlined below:
1. Availability
A SOC 2 examination focuses on availability as another principle besides security. It is concerned with the availability and use of systems.

To satisfy the trust principle of availability, it is not necessary to evaluate a system's efficiency or accessibility. Auditing availability requires consideration of network reliability and quality, security incidents, and failover of sites.

In addition to gauging network performance levels and mitigating external threats, this criterion assesses whether your organization maintains minimally acceptable levels of security.
2. Security
System resources are protected against unauthorized access by the security principle. By implementing access controls, it is possible to prevent potential abuse of systems, theft of data, waste of software, and improper behavior on the part of employees.

Keeping networks and web applications secure is possible with tools such as firewalls and two-factor authentication, intrusion detection, and intrusion detection.
3. Confidentiality
According to the confidentiality principle, confidential information is protected as agreed upon or committed to be protected. It focuses on securing data that should be restricted to a specific group of individuals or organizations.

In addition to business plans, internal price lists, intellectual property, and other forms of financial information, data protected by the principle of confidentiality can include anything the user proffers that is meant only to be seen by company employees.

In addition to data encryption, network and software firewalls, and access controls, an auditor will consider these.
4. Privacy
These criteria must be met for an organization to secure personally identifiable information from unauthorized access. Names, social security numbers, addresses, and other identifying information, including race, ethnicity, and health, may constitute this information.

Using the privacy principles issued by the AICPA ensures that your data handling practices match your privacy notice. An auditor must ascertain that the controls in place prevent PII from being disclosed.

Information that can be used to identify individuals, such as their names, addresses, phone numbers, and social security numbers, is considered Personal Identifiable Information (PII).
5. Processing Integrity
Next to availability, this emphasizes completeness, accuracy, and timeliness, and focuses on system processing.

Processing Integrity ensures that processes function as intended and do not suffer from errors, delays, omissions, or inadvertent manipulations. The processing of data is authorized, complete, and accurate when it is implemented in this way.
Importance of SOC 2 Compliance
According to SOC 2, organizations must establish and adhere to specific procedures and policies concerning information security.
The importance of SOC 2 compliance in the security of your data cannot be overstated, even though it is not required by SaaS providers and cloud computing vendors.
Organizations that maintain a high level of information security are deemed to have met SOC 2 requirements. Responsible handling of sensitive information can be ensured by strict compliance requirements.
Consequently, a service-based organization that counts on the cloud or counts on cloud services must cling to SOC 2 compliance for two preceding reasons to  furnish trustworthy service to the customers:
Compliance with SOC 2 ensures the security and privacy of customer data, enabling customers to trust the company.
Cloud computing risks can also be addressed uniquely by SOC 2 compliance.
Recapitulate - Is SOC 2 Compliance Reliable?
SOC 2 provides reliability, safety, and trustworthiness. A company's commitment to its clients includes all of these words.
A SOC 2 framework ensures that organizations effectively control and protect customer and client data by using trust service principles and practices. It applies to all technology services or SaaS companies that store customer data in the cloud.
To maintain compliance with SOC 2, all service organizations must submit reports intended for other auditors and regulators. Their responsibilities include general security oversight, vendor management, corporate governance, and regulatory compliance.
This is a complex set of requirements requiring review and careful attention, just like many other compliance mandates.
---
Monitor Your Entire Application with

Atatus
Atatus is a Full Stack Observability Platform that lets you review problems as if they happened in your application. Instead of guessing why errors happen or asking users for screenshots and log dumps, Atatus lets you replay the session to quickly understand what went wrong.
We offer Application Performance Monitoring, Real User Monitoring, Server Monitoring, Logs Monitoring, Synthetic Monitoring, Uptime Monitoring and API Analytics. It works perfectly with any application, regardless of framework, and has plugins.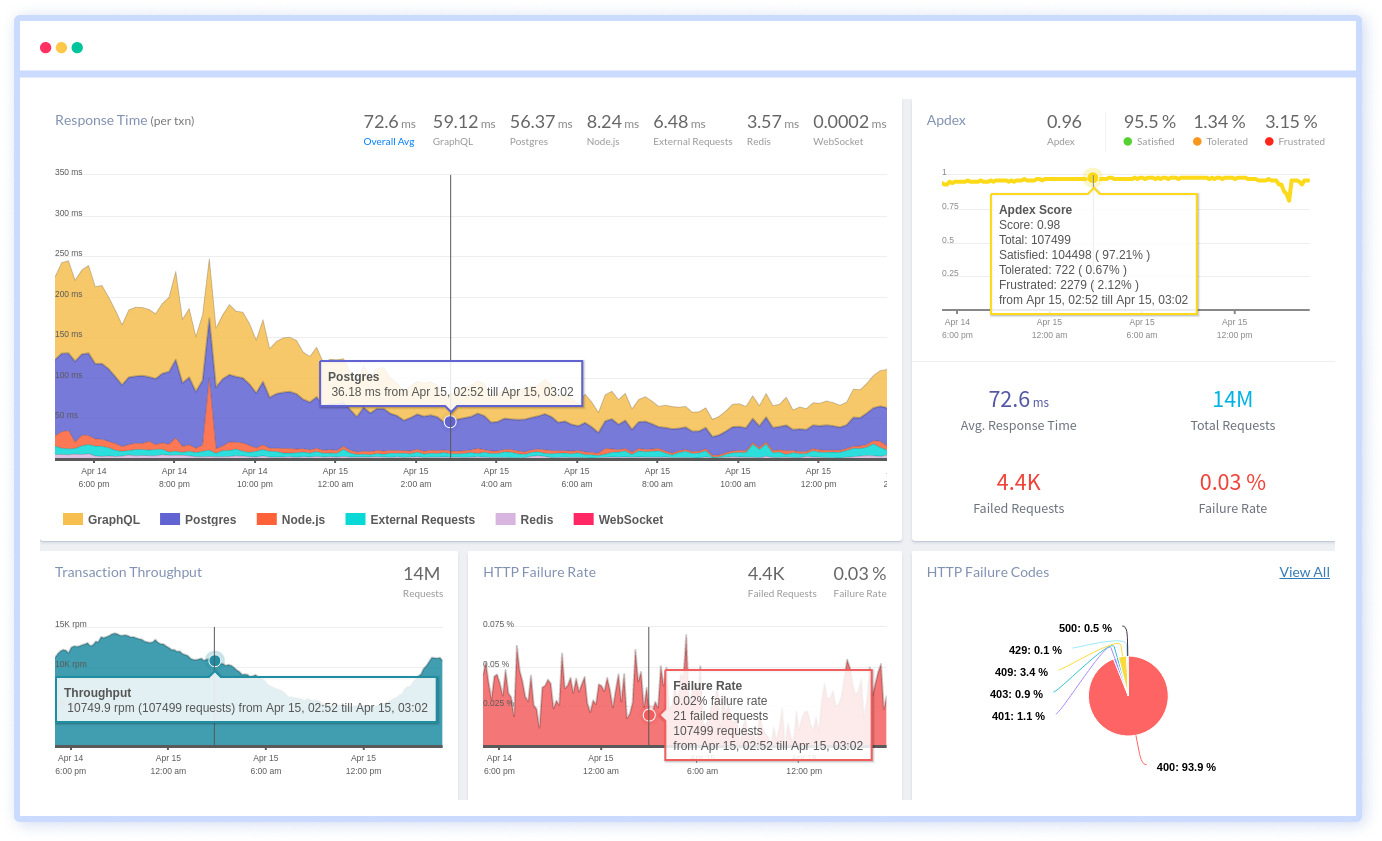 Atatus can be beneficial to your business, which provides a comprehensive view of your application, including how it works, where performance bottlenecks exist, which users are most impacted, and which errors break your code for your frontend, backend, and infrastructure.