Any issues or downtime in an organization's IT infrastructure can result in a significant loss of productivity, which can harm profits. Inefficient IT infrastructure management can cause multinational businesses to lose valuable time and money. Security breaches are becoming more common as global networks and surroundings become more sophisticated.
We will go over the following:
What is IT Infrastructure?
Today's CIOs are responsible for effectively managing the IT infrastructure that supports the enterprise's or corporation's overall goals. Increasing corporate value through speeding information retrieval and reporting, delivering proactive and agile responses to harness information and technology, and rapidly adjusting to allow enhanced end-user experiences are all part of this duty. IT leadership relies on the variety of real and intangible aspects that make up an organization's technology backbone, the IT infrastructure, to complete this massive task.
All elements that assist the management and usability of data and information make up the IT infrastructure. Data storage, facilities,  hardware, network systems, retrieval, legacy interfaces, and software are all employed to support a company's aims. Hiring, training, policy, testing, process, updates, and repairs are all part of the structure.
What is IT Infrastructure Management?
The structures required to run a physical facility or a business are referred to as infrastructure. Infrastructure management has developed to encompass the fundamental backbone of the company, technology, as previously stated. IT infrastructure management is the term used to describe this process.
IT infrastructure management's goal is to structure and govern the functions in charge of a wide range of technical processes, which often involve hardware, software, and networking in both real and virtual environments.
The key goal is to keep corporate productivity high while minimizing downtime. It can take many forms, from monitoring for infections to inspecting equipment for signals of impending upgrades.
In addition, the following key IT components and services are frequently managed by a corporate IT infrastructure management team. The IT infrastructure management team's services are usually hidden behind the scenes. They look after the technology that helps with day-to-day operations, such as the Internet, email, and data access. To be productive, the team relies significantly on real-time or near-real-time management and monitoring systems.
The following are a few of the most popular types of technology infrastructure management:
Benefits of IT Infrastructure Management
There are numerous benefits of IT Infrastructure Management such as:
Challenges in IT Infrastructure Management
We've compiled a list of some of the most pressing infrastructure management issues that your company may encounter in the future:
IT Infrastructure Management Best Practices
The following are some of the best IT infrastructure management practices:
Conclusion
It's easier to keep all IT infrastructure components up and operating with effective IT infrastructure management. This leads to increased productivity, which leads to higher employee and customer satisfaction. With the stakes so high, finding the correct Application Performance Management tool to help your company's IT team is critical.
---
Monitor Your Infrastructure with

Atatus
Atatus provides complete visibility into your infrastructure, allowing you to analyze and manage business-critical performance issues. Correlating application metrics, logs, and traces can help you make better business decisions and troubleshoot issues faster. You'll be able to see how your servers or cloud instances are being used in real-time.
Monitor all of your hosts' major performance indicators, including CPU, memory, I/O, disks, network, and load averages, as well as trends for all your servers. You will provide actual business value throughout your server landscape by monitoring the health and performance of your services, hosts, containers, and resources that impact your business revenue.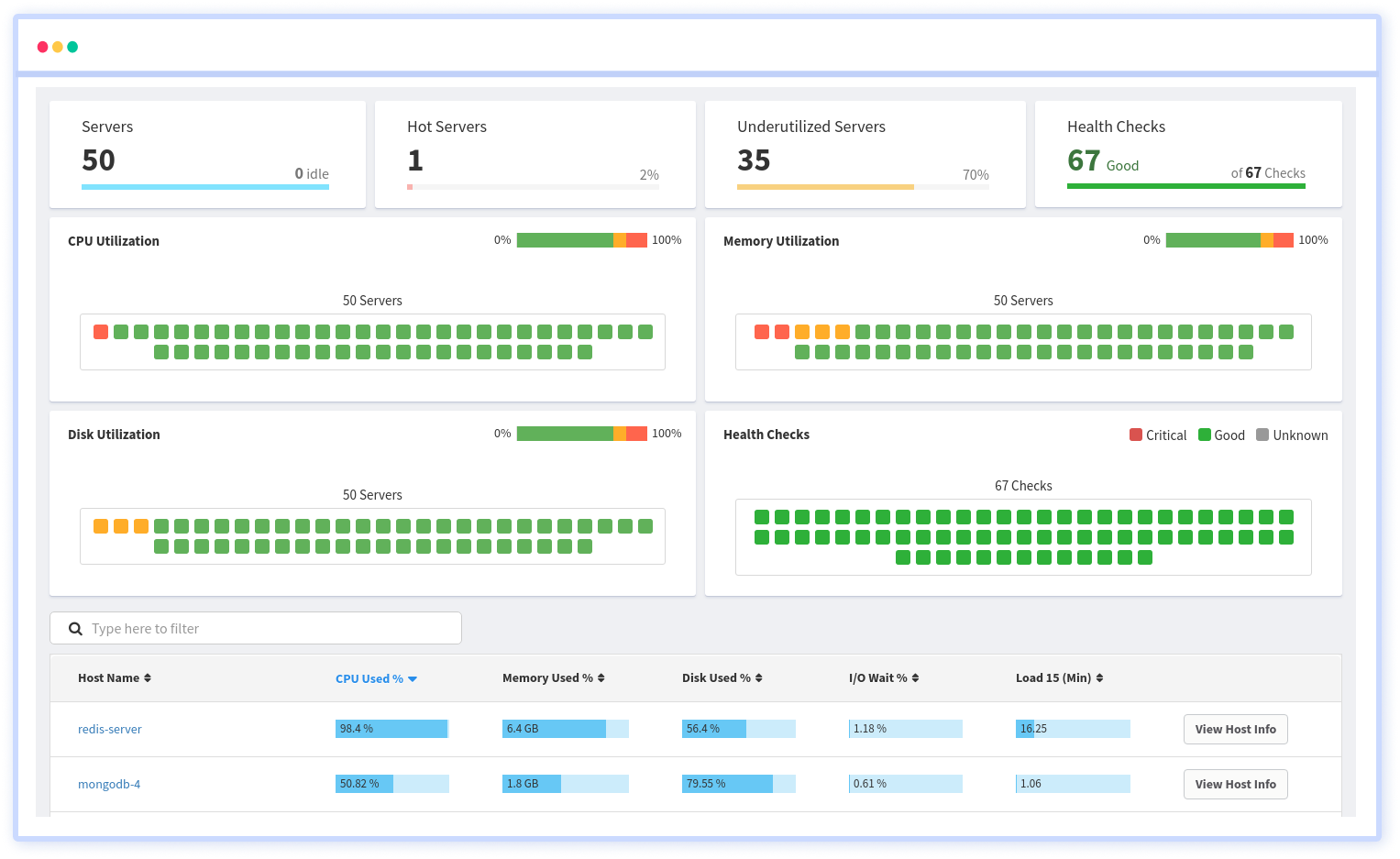 Atatus can be beneficial to your business, which provides a comprehensive view of your application, including how it works, where performance bottlenecks exist, which users are most impacted, and which errors break your code for your frontend, backend, and infrastructure.