The ITOM process is outlined in ITIL 2011's IT Operations Control book for businesses that follow the ITIL® framework of best practices for IT Service Management (ITSM). Its goal under the framework is to monitor and control IT services and infrastructure, as well as to do the normal operations required to keep applications, services, and hardware components running.
We will cover the following:
What is IT Operations Management (ITOM)?
IT operations management (ITOM) is the administrative sector within a company that deals with technological infrastructure components as well as individual applications, services, storage, networking, and connectivity requirements.
All of an organization's information technology (IT) department's processes and services are classified as IT operations. As a result, IT operations encompass both internal and external clients' administrative processes as well as hardware and software support. The availability, efficiency, and performance of an organization's processes and services are all ensured by effective IT operations management.
IT operations management is the process of ensuring consistency, stability, and quality in IT services, deployment, and support. Almost every IT company has a management department that sets policies for how support and service are delivered, as well as how issues are resolved. Depending on how the company handles its clients' and own demands, IT operations departments often adopt at least hazily defined policies and processes.
ITOM can be hands-on and provided in-house in a small business. However, it is increasingly likely to be mechanized and possibly outsourced. IT operations management software tracks and regulates how an IT company handles software, hardware, and other IT services such as mobile contracting and several help desks. Managed services, Software as a Service (SaaS), and software platforms are all options.
Functions of IT Operations Management
IT operations managers take on responsibility for a growing catalogue of services when a corporate organization increases its IT infrastructure and application installations. The major responsibility of IT Operations is to ensure that all services and applications are stable and available for business use. ITOM professionals accomplish this by performing management activities in three important service areas.
#1 Network Infrastructure Management
All of the equipment required to offer internal and external communications for the business is included in the networking infrastructure. Establishing remote access networks, controlling the internal phone system, regulating connections with external servers via firewalls, and maintaining network security are all things that fall under this category.
#2 Computer Operations & Help Desk
Help desk services, such as incident response, event response, and request fulfilment, are managed as part of IT operations management. IT operations managers are also in charge of scheduling and monitoring data backups, informing users about problems and network outages, supervising the development and distribution of user-profiles and system access, and putting in place a disaster recovery strategy for the IT business.
#3 Server and Device Management
IT Operations teams manage network endpoints such as servers and devices in addition to network infrastructure within the IT organization. IT Operations is in charge of managing the servers that host important business applications on a day-to-day basis, including server maintenance, patching, and upgrades. IT operations managers may be in charge of assigning IT assets to users (desktops, laptops, tablets, smartphones, and so on) and ensuring that programs have the storage space they require to run properly.
Benefits of IT Operations Management
IT Operations Management benefits include:
Data Center Automation
Enterprise software is updated frequently. Enterprise-scale installations benefit from data center automation, which automates provisioning, patching, and compliance across multivendor physical and virtual servers, databases, and middleware.
Scalability
An ITOM platform is designed for large organizations that need to scale their operations. Whatever platform you choose, make sure it can take the strain off your ever-growing IT infrastructure and business requirements.
Time to Market
Business and technology are rapidly evolving. The days of ITOM implementations taking a year are long gone. A modern ITOM platform should be up and running in a matter of weeks, allowing your company to get the most out of your IT investments.
Total Cost of Ownership
Over the course of a year, you should calculate the Total Cost of Ownership (TCO) of your ITOM software platform. A low entry point does not always imply a lower TCO. The entire spend for the company is determined by the amount of time, effort, and expertise spent on establishing, maintaining, and running your ITOM platform.
User-Friendliness
Your IT staff and customers are the platform's primary users. This is why it's critical to make sure the platform is simple to use and gives users complete power. A specialist from ITOM can help you integrate all of your present technical solutions with the ITOM software platform.
Challenges in IT Operations Management
Scaling operations siloed technologies and systems, and restricted visibility of the IT ecosystem are three frequent difficulties.
Limited Visibility of the IT Landscape
ITOps teams are generally less prepared to extend their operations when a new service must be imported and maintained since they are unable to monitor and measure the activities of incompatible technologies. The inclusion of additional services can result in a splintered IT infrastructure, higher security vulnerability, and inadequate oversight if there isn't a simplified approach for integrating data from across the IT environment.
Scaling Operations can be Difficult
IT teams can only allocate resources and respond rapidly to security threats if they have a high level of visibility across all platforms. In the ITOps sector, relying on old or legacy systems that exclusively use on-premise topography may pose some challenges with visibility. As a result, deciding how to effectively scale your ITOM is critical for continued expansion and boosting your chances of providing a positive IT experience to your clients.
Systems and Technologies that are Siloed
Independent technologies were once commonplace, but we've since learned that siloed data may lead to disaster for an IT department. If you have certain applications offered by a SaaS provider and others by an IaaS provider, but you still have some on-premises applications that aren't talking with each other, you could be facing a perfect storm of missing data. Your organization will waste time, money, and other vital resources if the information is not shared across all relevant elements.
IT Operations Management (ITOM) Best Practices
The following are five IT operations management best practices that any company may use to improve agility.
Align ITOM with Service Delivery
If you continue to think of IT operations as something you call on when the network in your conference room goes down or your printer stops working, you're not getting the most out of what you have. You can no longer manage applications and infrastructure in a vacuum due to advanced ITOM processes. Instead, ITOM is working to gain a thorough understanding of your infrastructure as it relates to service delivery. ITOM processes and workflows are frequently built around the customer experience, allowing you to get more value out of it while providing your consumers with the consistent service they expect.
Change IT's Focus from Firefighting to Active Monitoring
Despite the disadvantages of a break-fix model, many businesses are unable to move beyond their conventional mentality of relying on IT only when absolutely necessary. Make sure you're not one of them. You may move away from the ad-hoc model of IT, which can only solve problems after they happen, by adopting an ITOM best practice approach to infrastructure. You can spot problems before they arise and substantially minimize downtime with 24x7 real-time monitoring with ITOM tools.
Create SMART Goals & Prioritize
The SMART acronym stands for Specific, Measurable, Achievable, Realistic, and Timely, and it is a best practice framework for defining goals. To promote accountability, it's a good idea to clearly define roles within your IT teams. IT teams, particularly those in small businesses, frequently struggle to comprehend their workload and objectives. ITOM processes that are automated direct issues to the appropriate problem solver, allowing you to make the best use of your IT resources.
Single Window for Application & Infrastructure
An automation tool can combine enterprise-class monitoring, event management, and operational analytics into a single 360-degree view, allowing you to assess the health and performance of your IT infrastructure. Furthermore, ITOM can help you improve your ITSM experience by dramatically increasing resource availability and fostering responsibility while still adhering to SLAs.
Summary
IT operations management software is a wide term that encompasses all software that aids in the administration of IT services used by customers as well as internal stakeholders like partners and employees. It may be used by both large and small businesses, and it is. It's critical for businesses that rely on technology to deliver products and services to their customers.
---
Monitor Your Entire Application with

Atatus
Atatus provides a set of performance measurement tools to monitor and improve the performance of your frontend, backends, logs and infrastructure applications in real-time. Our platform can capture millions of performance data points from your applications, allowing you to quickly resolve issues and ensure digital customer experiences.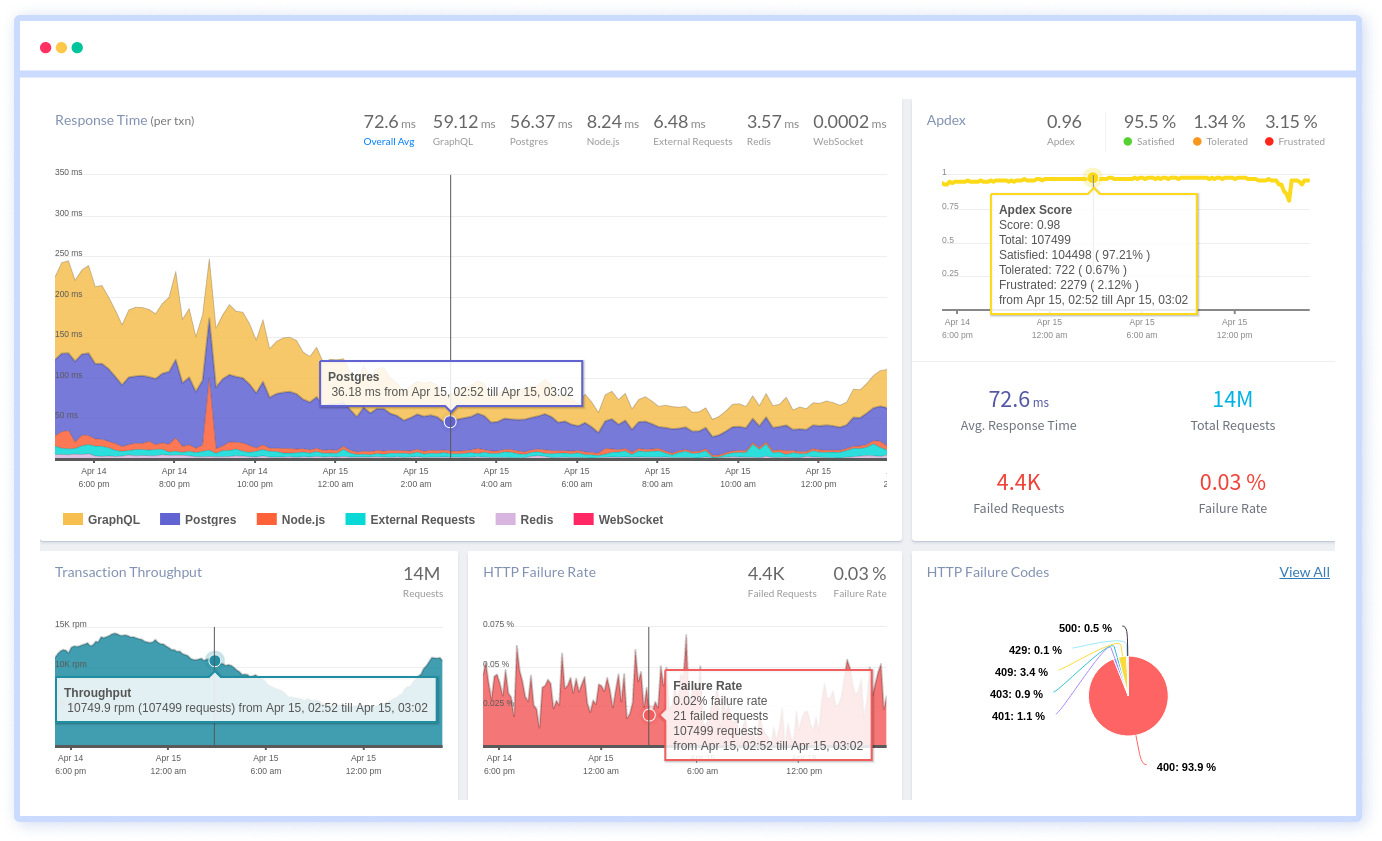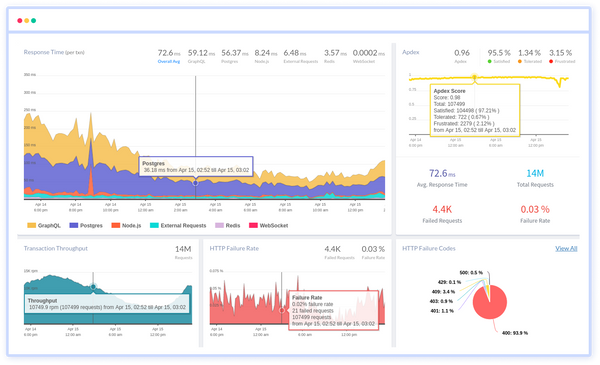 Atatus can be beneficial to your business, which provides a comprehensive view of your application, including how it works, where performance bottlenecks exist, which users are most impacted, and which errors break your code for your frontend, backend, and infrastructure.