Prototyping is made easier with the software. In order to create a prototype product design as close as possible to your final vision, the most popular prototyping tools/programs use design features, navigation elements, and interactions. During product development, this can help you avoid costly reworks.
Rapid prototyping/ios prototyping should be part of any project, whether it is a mobile app or a website design. By doing so, you'll avoid product launches that are catastrophic, as well as embarrassment from clients that are disappointed with a broken design.
During the product development process, rapid prototyping/iOS prototyping plays a crucial role. Eventually, it determines how your product will perform and how the end user will perceive it.
The use of prototyping resources (i.e., without code) is essential for designing and developing a site or app that won't bounce users in a flash.
Let's begin by stating that "The best free prototyping tools will be those that are best suited to your needs and where you are, in your creative journey". Creating a prototype product design involves a great deal of coding.
However, rapid prototyping apps make it possible to sketch simple prototypes without knowing any coding. Depending on your project, you may need low-fidelity prototype software, UX prototype software or interactive free prototyping tools.
Designing rapid prototypes is made possible with these apps;
#1 InVision
Despite being solely designed for prototyping, InVision delivers solutions for a broad range of usages. With InVision, you can efficiently create interactive prototypes of your website, web app, or mobile app, and then see them on actual devices. These comprise tablets and gadgets in addition to phones.
InVision offers a free plan for small teams with up to 10 active users. It also allows for easy identification and implementation improvements by gathering feedback directly within the prototype.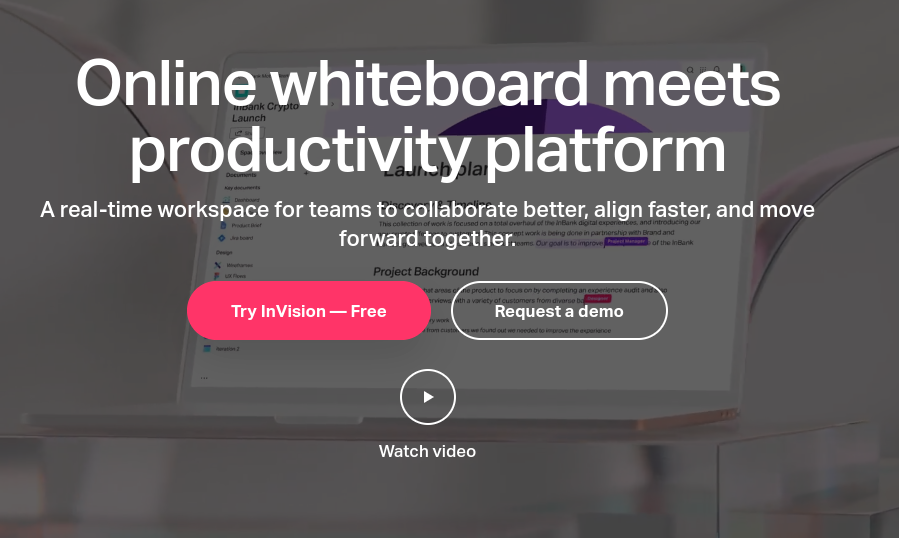 The tool's animation capabilities make it stand out. You can easily create smooth animations that occur when users scroll between screens. Simply decide which element you'd like to move, then decide how it should proceed.
As a result, UI/UX designers can easily add elements to their designs with advanced features such as vector creation, an infinite canvas, and layers. In addition, the design can be collaborated on by everyone in the team, and multiple collaborators can work on the same file at the same time.
Pricing
For one prototype, InVision costs nothing, $25 a month for unlimited prototypes, and $99 a month for a five-member team.
#2 Adobe XD
Developed and published by Adobe Inc., Adobe XD is a vector-based design tool. User experiences for web and mobile apps can be designed and prototyped with this tool. It is compatible with macOS, Windows, iOS, and Android.
Prototyping software Adobe XD is a powerful tool for creating web and app designs. UI and UX designers will find Adobe XD useful for creating rapid prototypes. You can use it to create simple prototypes from your existing UI designs.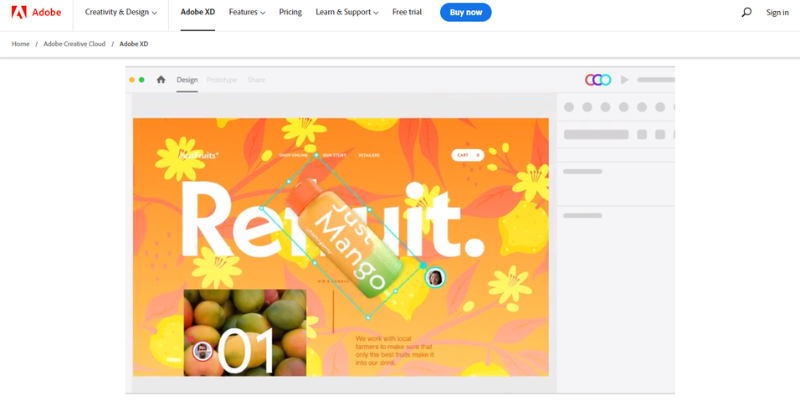 The Adobe XD app is an app that is well-suited for developing user interfaces for mobile and web applications. Easily create rapid prototypes for your clients by adding animations and interactions to your design.
Prototyping with Adobe XD is a breeze if you have experience with other Creative Cloud apps and you can import your designs directly from Illustrator and Photoshop. Additionally, Adobe XD integrates with several third-party tools, such as Slack, Jira, and User-testing.
Pricing
Creative Cloud subscriptions start at $29.99 per month for small and medium-sized companies and $79.99 for organizations that require access to all Creative Cloud products. Test it out for free for seven days.
#3 Balsamiq
The Balsamiq wire frame tool allows users to create low-fidelity mock-ups of websites, apps, and software. Despite its focus on the basics, the tool is good for beginners due to its low learning curve.
The intuitive interface itself, combined with the stated goal of eliminating bad user interfaces, makes Balsamiq a great place to start your development journey and useful to anyone designing web or mobile user interfaces.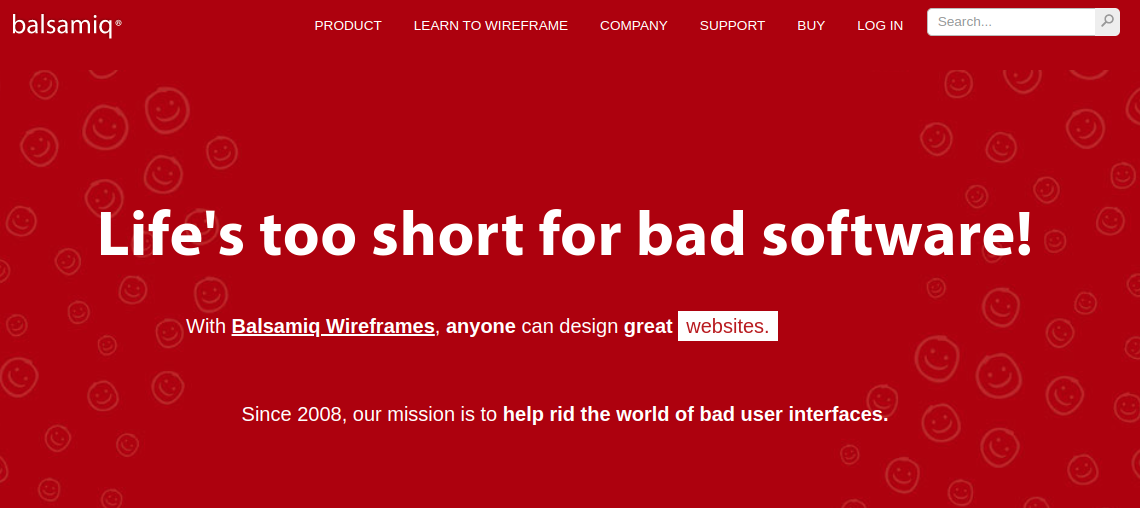 A number of features in the tool allow the process to be made faster by speeding up the creation of templates and making the options reusable. You can export the images as PDFs or PNGs, or you can share them via the web once you have created the design.
In spite of the fact that Balsamiq does not allow you to create an interactive prototype, you can create a simple click-through prototype by linking the screens/pages you create. To demonstrate flow, there are no animations or interactions.
It is never too late to add any of the many extensions, templates, and icon packs created by the community if Balsamiq seems too limited.
Pricing
A desktop version of Balsamiq is available for $89/user, a web-based version starts to $12/month or a Google Drive-linked version for $5/month. Start off with a free trial to see if it's a suitable tool.
#4 UXpin
In our list of design and prototyping tools, UXPin is the most advanced. This tool is great for creating fully functional prototypes, but can also be used for rapid prototyping.
Using conditional logic, variables, and expressions, UXPin lets you build more complex prototypes. As a result, you can design prototypes that have the same look and feel as the final product.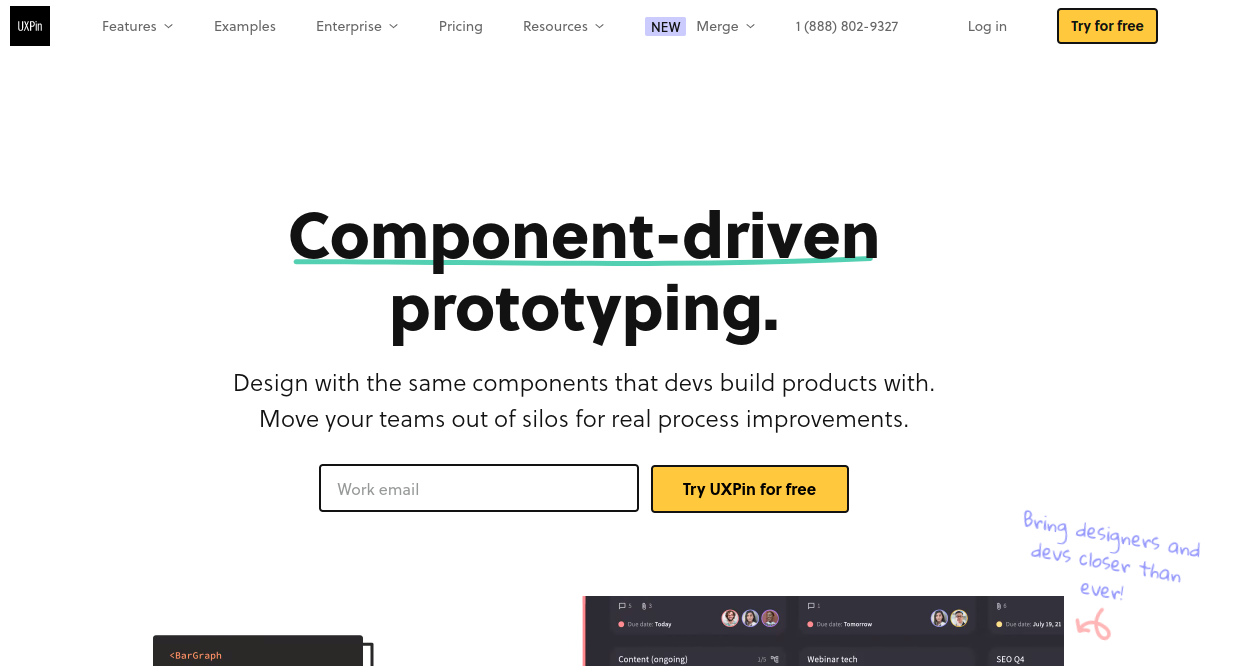 From the design team to the development team, there are benefits for everyone, but perhaps the biggest benefit is the reduction of time and frustration, which also means a greater end product.
Additionally, UXPin allows you to have an unlimited number of prototypes and reviewers. Alternatively, you can test the app for free with a very limited version.
Pricing
A standard version of UXPin is available for $19/month per editor. The UXPin Merge service starts at $89/month per editor but it comes with an array of additional benefits.
#5 AxureRP
An interactive prototyping tool called Axure RP helps UX professionals create interactive prototypes of their designs. A suite of powerful design prototyping tools makes this possible.
More than 90% of Fortune 500 companies use Axure RP and it's trusted by companies such as Amazon, Microsoft, and Salesforce.
An advanced software tool aimed at creating wire-frames, rapid prototyping, documentation, and specifications for web applications, Axure RP Pro is an excellent solution.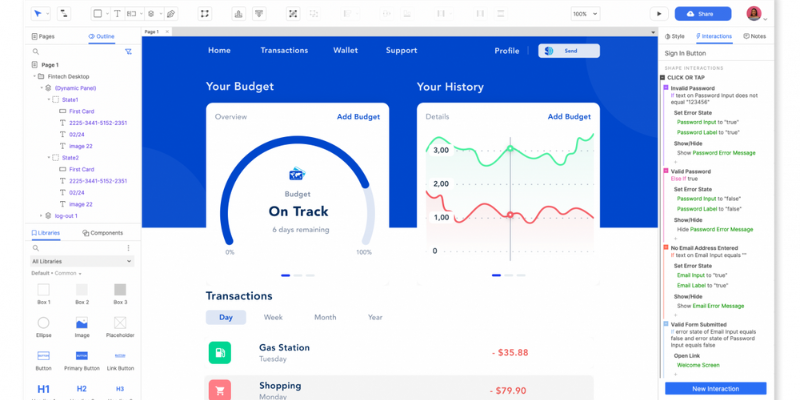 In addition to its drag-and-drop ability, it allows widgets to be easily resized, formatted, and placed quickly. Axure, however, is a very large and long-term tool that is used by many companies.
You can integrate Axure with other design tools using a wide variety of plugins. The design features you can import from Figma, Adobe, and Sketch are compatible with Axure. In addition, Slack, Teams, Jira, and Confluence are integrated as well.
Pricing
We offer both purchase and subscription pricing. The subscription price starts at $29 per month, with the purchase price starting at $495 per user.
#6 Framer
In Framer , designers can prototype websites, apps, and individual components for the purpose of customer experience. Easy-to-use drag-and-drop interface and a number of editing and customization options make it easy to customize.
The infinite canvas can also be used to prototype various user flows if you need a high-fidelity prototyping tool.
Your project's prototype component is best handled by Framer.  Framer is especially great for web designers because you can easily import the UI design from a tool like Figma or Sketch into Framer for prototyping.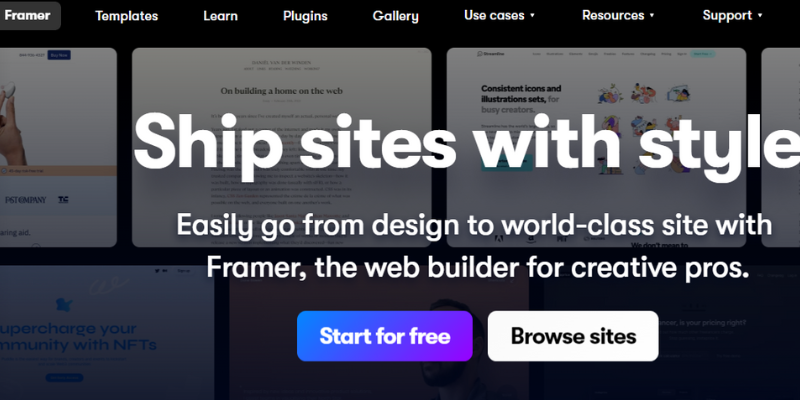 The tool has a large collection of existing components, visual assets, and layouts that can be used to streamline the design process. Moreover, Framer has a large Discord customer community as well as a training library to help newcomers get started with the product.
A mobile app is even available so you can check how your final product will look on mobile devices such as iPhones and iPads.
Pricing
A Pro subscription costs $20 per month per editor. As well as a free plan for up to two editors, there is also a custom enterprise plan.
#7 Webflow
Using Webflow, two tasks can be handled simultaneously. In addition to creating a high-fidelity prototype, you as well as coding a live website that includes all HTML, CSS, and JavaScript. With this process, you'll get a real product, rather than just a mockup.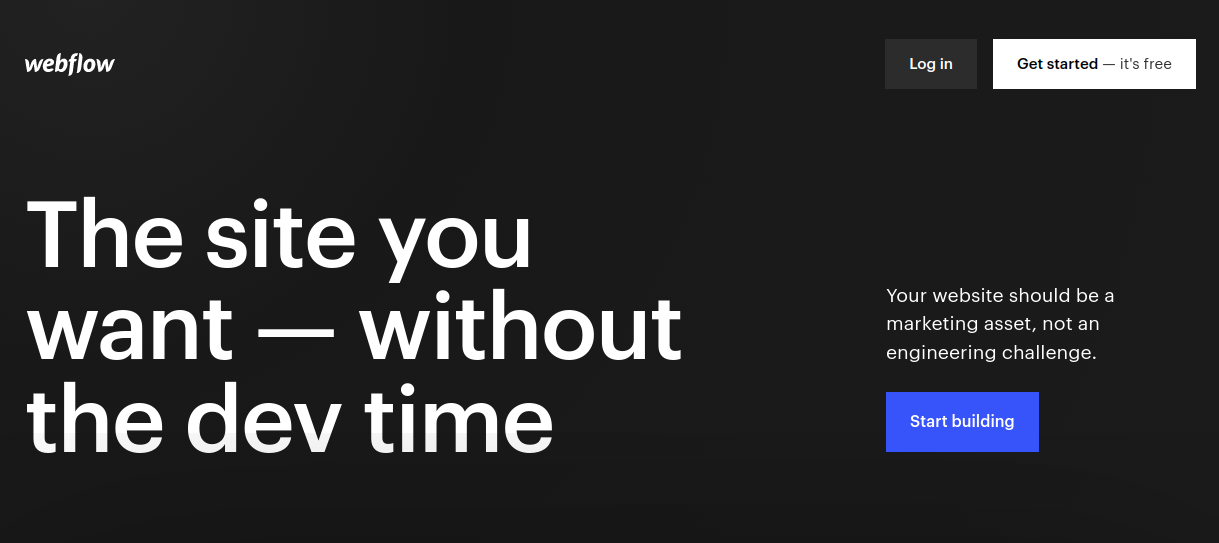 With Web-flow, you are actually building a prototype as well as a live website simultaneously. You're not just getting a mock-up, but rather something that has already been coded and done. This stellar web prototyping software comes with a nice bonus.
In addition to providing a powerful CMS, a drag-and-drop interface, and the ability to create advanced animations, transitions, and micro-interactions, Web-flow also provides an intuitive drag-and-drop interface.
Pricing
There are two projects you can work on with WebFlow's forever-free plan. There are also plans for e-commerce sites starting at $29 a month, as well as website plans starting to  $12 a month.
#8 Figma
Teamwork was at the heart of Figma's creation. The goal was to simplify collaboration, whether users were professionals or startups with cool ideas. The Figma prototyping tool offers a wide range of design and collaboration tools, from white-boarding to high-fidelity prototype creation.
Figma has all the features teams need to create prototypes using these notes, and it includes the main design features. It's easy to switch between notes and designs while designing because they are held together in the same location.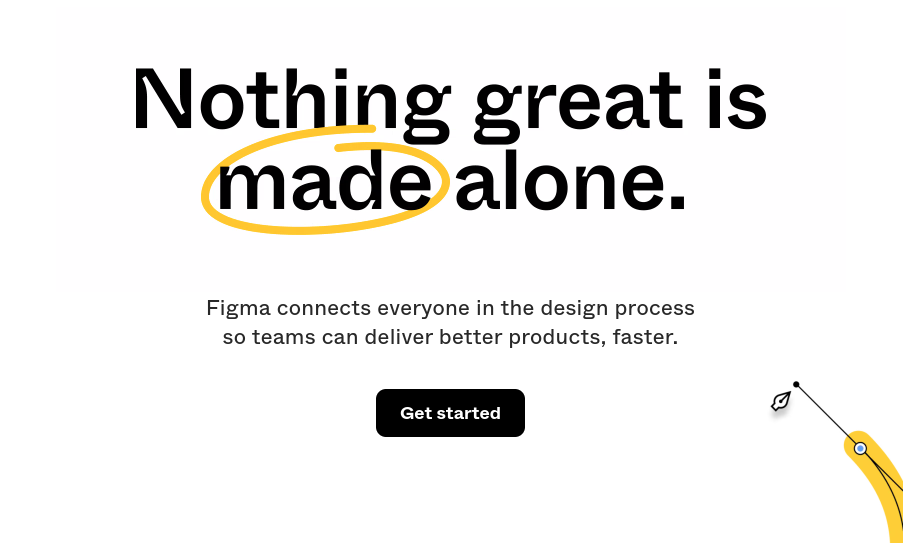 In addition, an auto-layout feature resizes components automatically, and third-party tools like diagrams and stock imagery can be incorporated into the app so designers won't need to leave.
Pricing
It is possible to create three projects for free with Figma's starter plan. In order to gain access to unlimited projects and team features, you will need to upgrade, to  $12 per editor per month.
#9 Origami Studio
The online prototyping tool Origami Studio was built by Facebook out of necessity, and it was then shared with the rest of the design community as a free tool.
With Origami Studio, you can create high-fidelity prototypes and refine your interactions, behaviors, and animations with ease. It served as the testing ground for many of Facebook's features.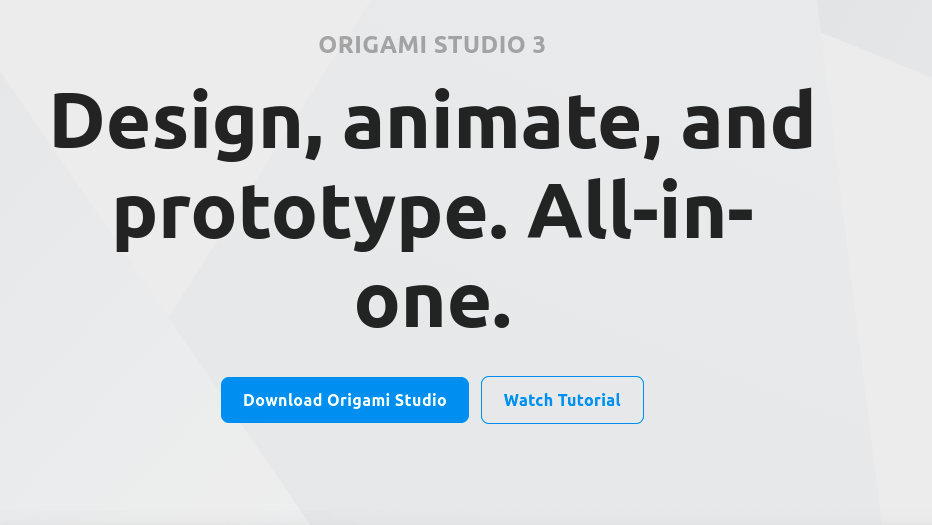 In addition to offering a simple prototyping tool for websites, Origami Studio provides powerful tools for prototyping mobile apps and websites. Logic, behaviors, animations, and interactions can be created in Origami Studio through its Patch Editor.
In a sense, each patch serves as a building block for your prototype that makes it easier to iterate quickly. There are many pre-built options in the library, but you don't need more than 15-20 to get started.
You can also integrate Sketch and Figma seamlessly into your workflows with it. Due to the steep learning curve for this one, it's more for those who are experienced and patient enough to do so.
Pricing
Free
#10 Sketch
The Sketch design toolkit is useful for UX/UI and visual designers. To create high-fidelity final artwork, you should start with these low-fidelity prototypes.
Using Sketch is as simple as drawing up a sketch, making a design, adding artwork, or handing the product over to developers. It has a Mac-specific desktop app and a Windows-based web app.
By just clicking a few buttons, you can ply to transition instantly between design screens (art-boards) and add animations. Sketch's cloud-based interface makes it easy to share prototypes and get instant feedback. This speeds up ideation and iteration.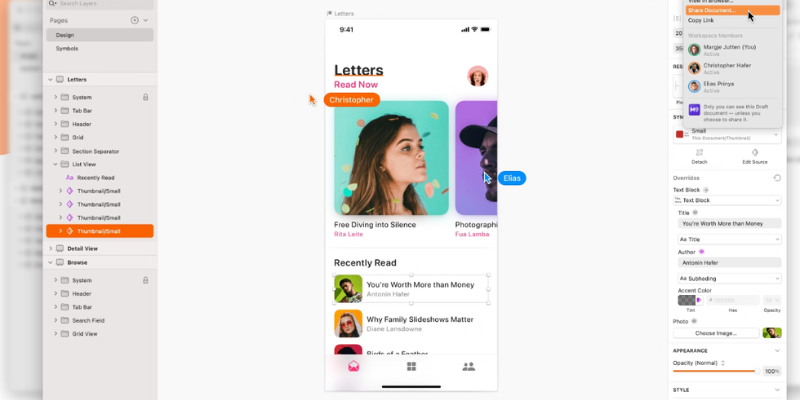 A multitude of design tools is included in the tool, including vector editing, pixel-level editing, and powerful resizing functionality. Teams can also develop reusable features, and the "styles" feature entitles them to constant brand identity.
Using this tool, you can work on a single design in real-time with multiple team members, then test your designs and collect feedback as you go. You can even share prototypes with others for feedback.
Pricing
A one-year license for Sketch costs $99, and for a volume license, prices begin at $89 for two devices and decrease as team members are added.
Wrap-Up
Every designer should utilize rapid prototyping in their workflow. It's no longer a luxury when you have so many great free tools at your fingertips. Prototypes can also be created without coding.
Developers, coders, product managers, graphic designers, or anyone with a business idea who wants to present can utilize rapid prototyping programs to prepare for meetings and business proposals, so you can show your clients how amazing your product will be, rather than just tell them.
Using prototypes resources and mock-ups also makes everyone on your team more engaged. Getting creative designers to communicate with technically minded programmers and financially minded investors can be difficult. Through rapid prototyping, a collaborative environment is created instead of a competitive one.
---
Managing application performance with Atatus
With real-time monitoring, you can see how your application performs, as well as slow queries in the database, poor network performance, and more. By using Atatus, you can quickly identify root causes and solve problems.
Find the slowest layers having an impact on your customers by getting a complete picture of your requests. By analyzing histograms and percentiles, and by analyzing error rates, you can troubleshoot request performance issues with Transaction Monitoring. Take action as soon as possible to resolve API response delays.
Using Database Monitoring, you can filter and view the original trace specific to that slow SQL query as well as a detailed overview of all your database performance and slow database queries. Identify any degradation in database response time by viewing individual database breakdowns and throughput.
Visualize the performance of network calls to external services, such as third-party apps and micro-services. See which requests are affected the most by the most time-consuming network calls.
Identify the root cause of HTTP failures by quickly viewing the highest HTTP failures and each request information. HTTP Failure Monitoring can help you identify the end-users who are most affected by API failures based on HTTP Status Codes.
Sign-up and Start your 14-day free trial with Atatus!