Web development has to handle the fact that there are several websites to learn from, all over the internet and a huge number of people are using them for different purposes. Whether you are a new developer in the world of web development or have been in the business for years, there are always new things to learn in the industry.
New libraries, technologies, and techniques are continuously emerging and if you want to stay updated on all these changes you will need to get yourself in communities, groups, and conferences all revolving around web development. Also, a great way to stay updated is understanding how web development works by reading well-known and quality blogs.
"Stay hungry, stay foolish" – Steve Jobs
If you are interested in web development and you want to come across the best blogs in this field, you probably will find what you are looking for here.
In this article, we have collected the 10 best blogs to read for web development:
Jake Archibald
Coding Horror
Ben Nadel
David Walsh
Brad Frost
Smashing Magazine
Alex Sexton
Paul Irish
Scotch
Learn with Jason
#1 Jake Archibald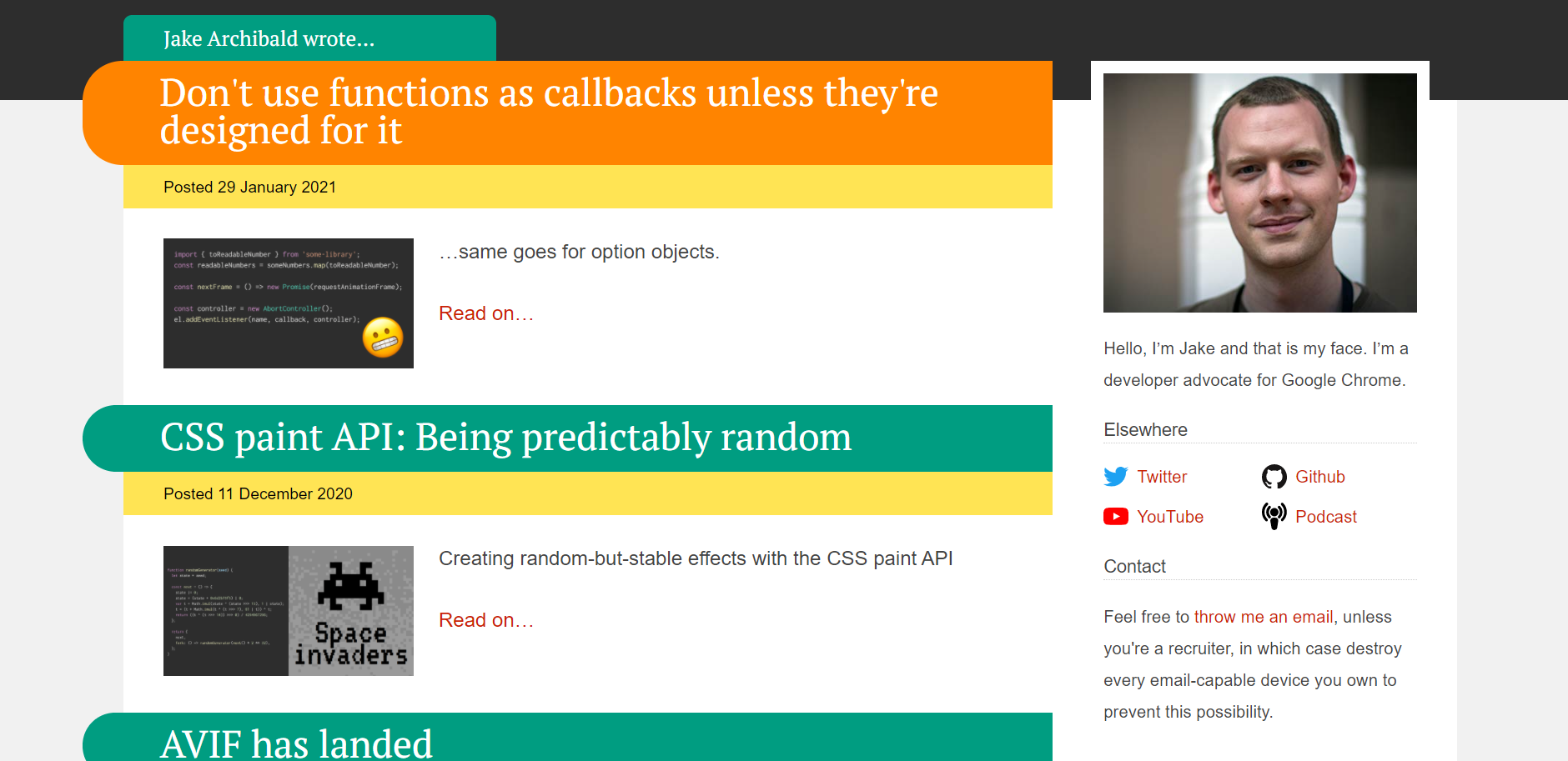 Jake Archibald is a developer advocate at Google. He provides excellent web development blogs on regular basis such as HTML, CSS, and much more topics related and relevant to web development. Developers who want to learn more about web development and upgrade their careers will definitely find some great content here. It is definitely a blog site to follow.
View Website -> https://jakearchibald.com/
#2 Coding Horror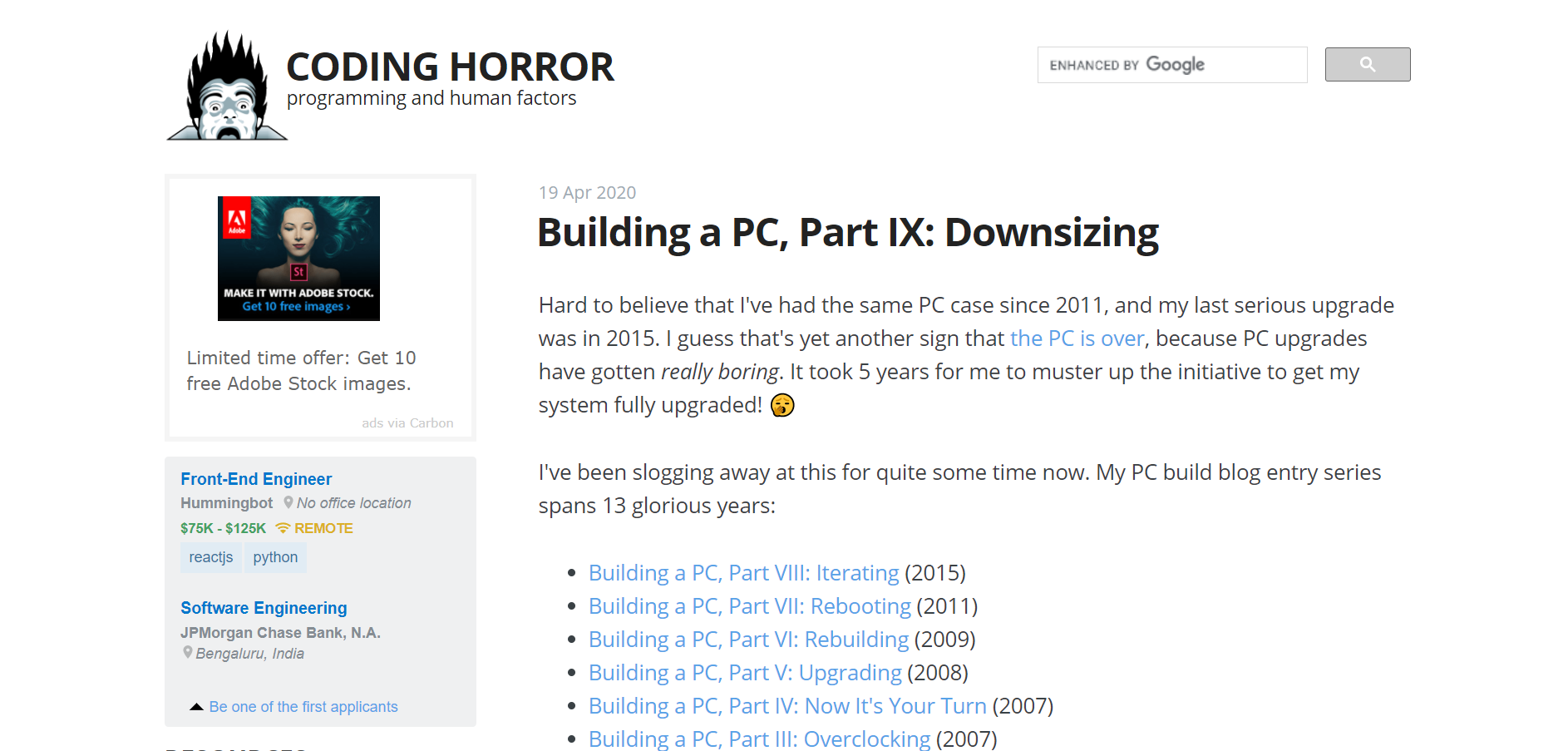 Coding Horror is an excellent blog resource from Jeff Atwood since 2004. He offers great insights into the development of software engineering (not just web development). You will get loads of helpful tips and resources from Jeff sharing from his experiences. He mentioned that he used to write to keep track of software development over time. He researches things that he finds interesting, then documents my research with a public blog post that he can easily find and refer to later.
"Computers are fascinating machines, but they're mostly a reflection of the people using them." – Jeff Atwood
View Website -> https://blog.codinghorror.com/
#3 Ben Nadel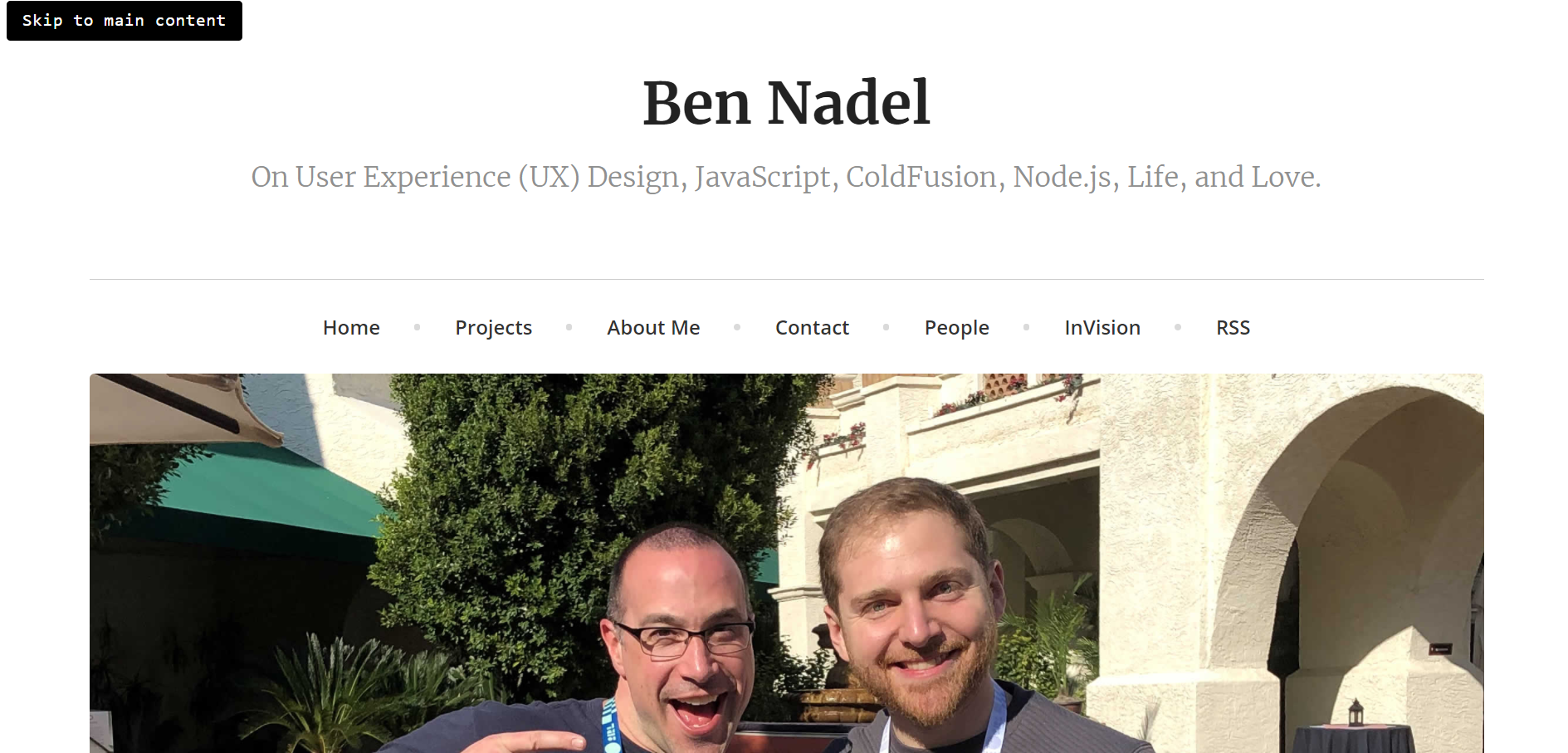 Those blogs are also known as "The Kinky Solutions" blogs for experimentation and community interaction. With each post, they try to deliver deep knowledge about web development. He believes that growing his skills as a developer not only takes time and an unquenchable thirst for knowledge, also takes the support of others. That's why his blogs are more like a question-and-answer section. He publishes several blog entries every week on some aspects of web application development including ColdFusion, JavaScript, Node.js, HTML, CSS, and SQL.
View Website -> https://www.bennadel.com/index.cfm
#4 David Walsh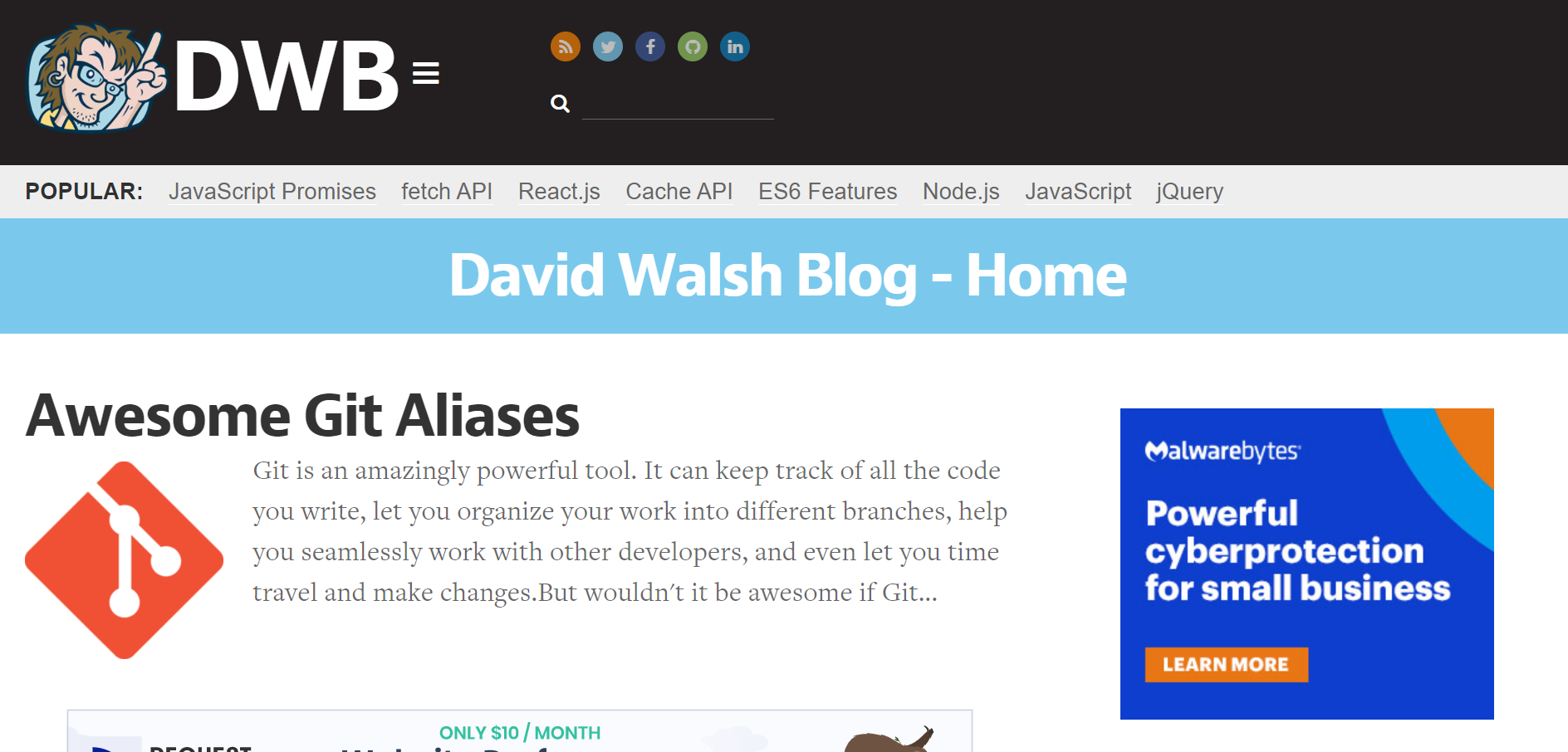 If you are an expert in the field of software development, you will definitely stumble upon the blog of David Walsh. You can find useful articles about CSS, jQuery, JavaScript, PHP, MySQL, and more topics. He focuses on open source contributing and evangelism because he believes it opens a world of possibilities and rewards for their hard-working developers. David also a founder of Wynq Web Labs and Script & Style.
"Experiment, fail, fix, fail again, fix again." – David Walsh
View Website -> https://davidwalsh.name/
#5 Brad Frost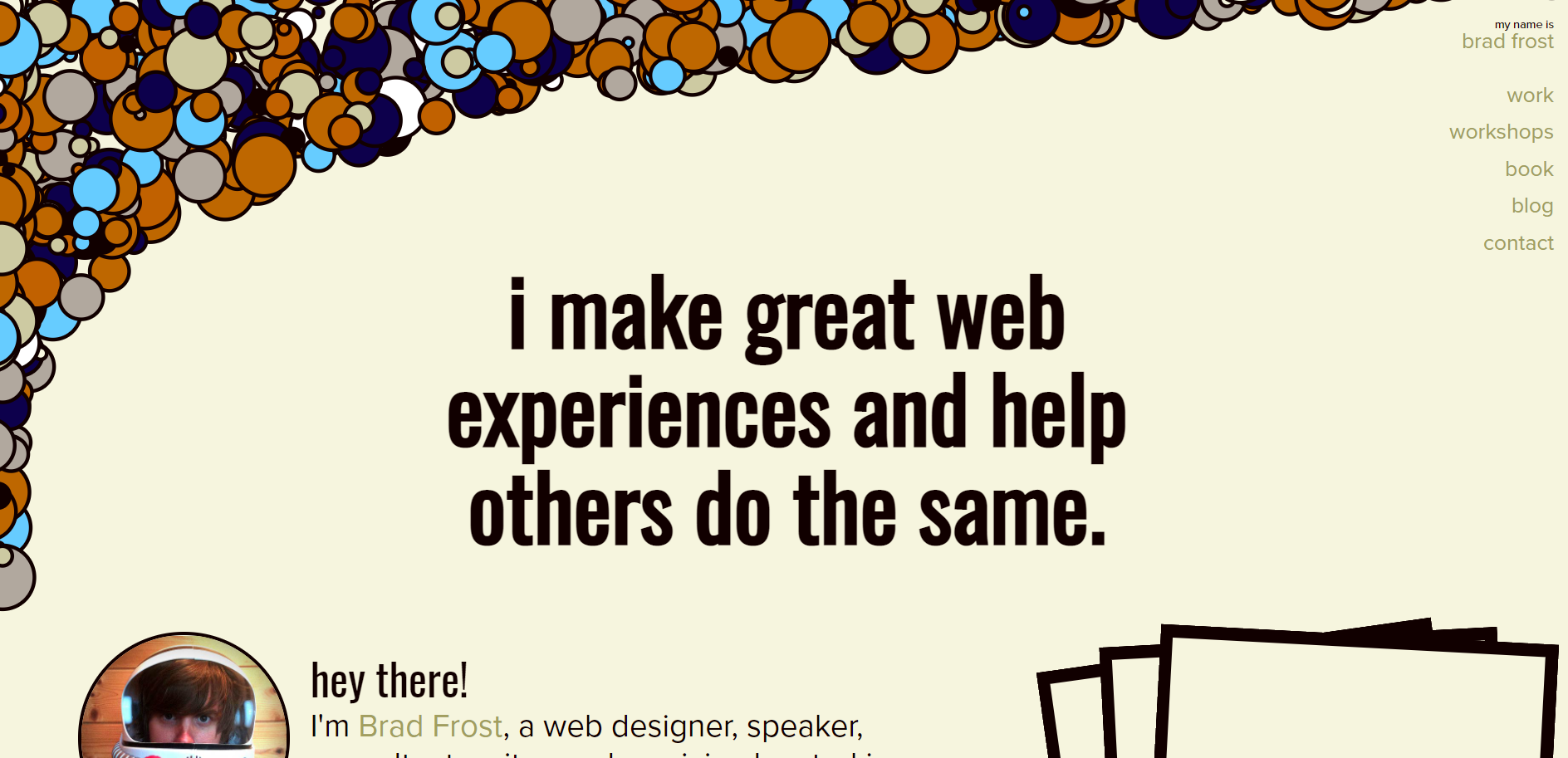 Brad Frost blogs are more like web design content rather than a web development blog. Nevertheless, it provides some really useful blogs in the field of development too. Whether it is a blog about some useful HTML or a new web design. You will definitely get some inspiring content. He also provides workshops, training, consulting, frontend designs, web design tips, and collaborations with other people to create tools and resources for web designs. Especially for front-end developers, this blog site is definitely an excellent resource for staying on top.
View Website -> https://bradfrost.com/blog/
#6 Paul Irish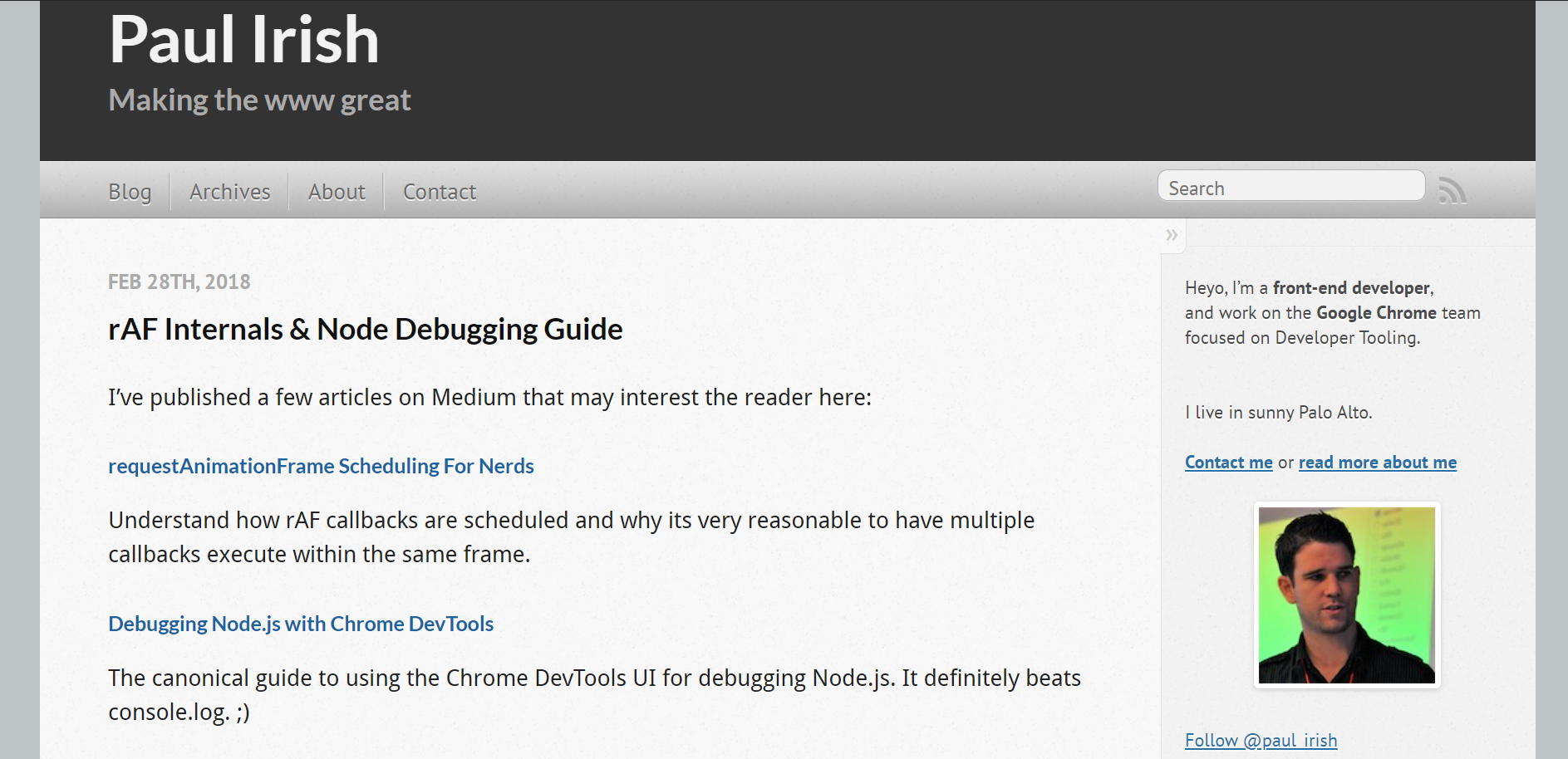 The personal blog site of Paul Irish is well-known for web development tools and techniques that improve workflows and make life easier for other developers. He is currently working on the Google Chrome team as a front-end developer focused on Developer Tooling at Google. You can get useful insights on his personal blog where he regularly publishes web development-related articles which includes HTML, CSS, JavaScript, and much more topics.
View Website -> https://www.paulirish.com/
#7 Smashing Magazine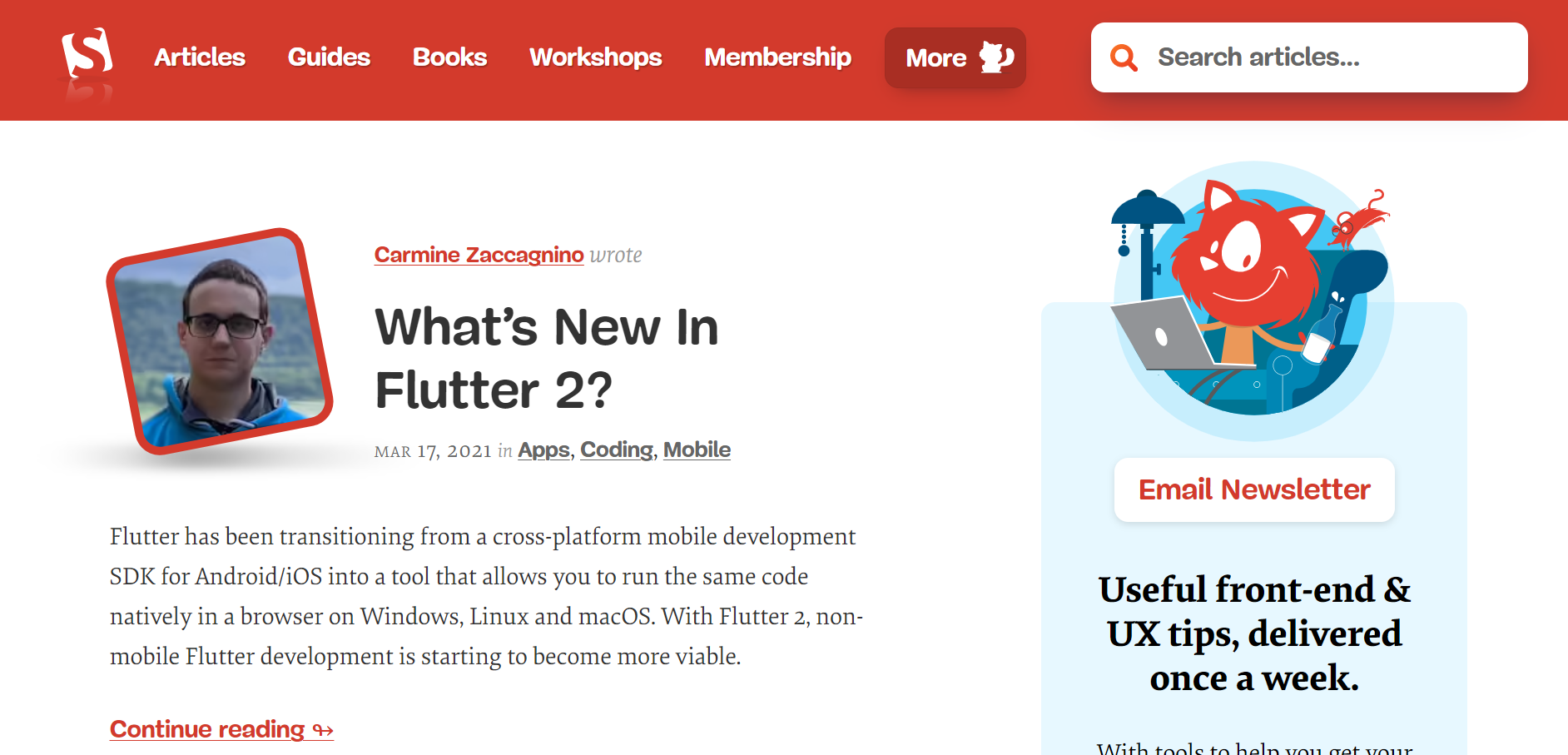 Smashing Magazine is a comprehensive online learning platform that focuses on trending web design and web development topics such as HTML, CSS, UX &UI, Typography, and much more aspects of custom website development. The website also offers printed books, e-books, PDFs, and ePUB for Amazon Kindle. With Smashing membership, you can attend events, webinars, smashing conference and find a job that matches tour qualification and accelerate your career.
View Website -> https://www.smashingmagazine.com/
#8 Alex Sexton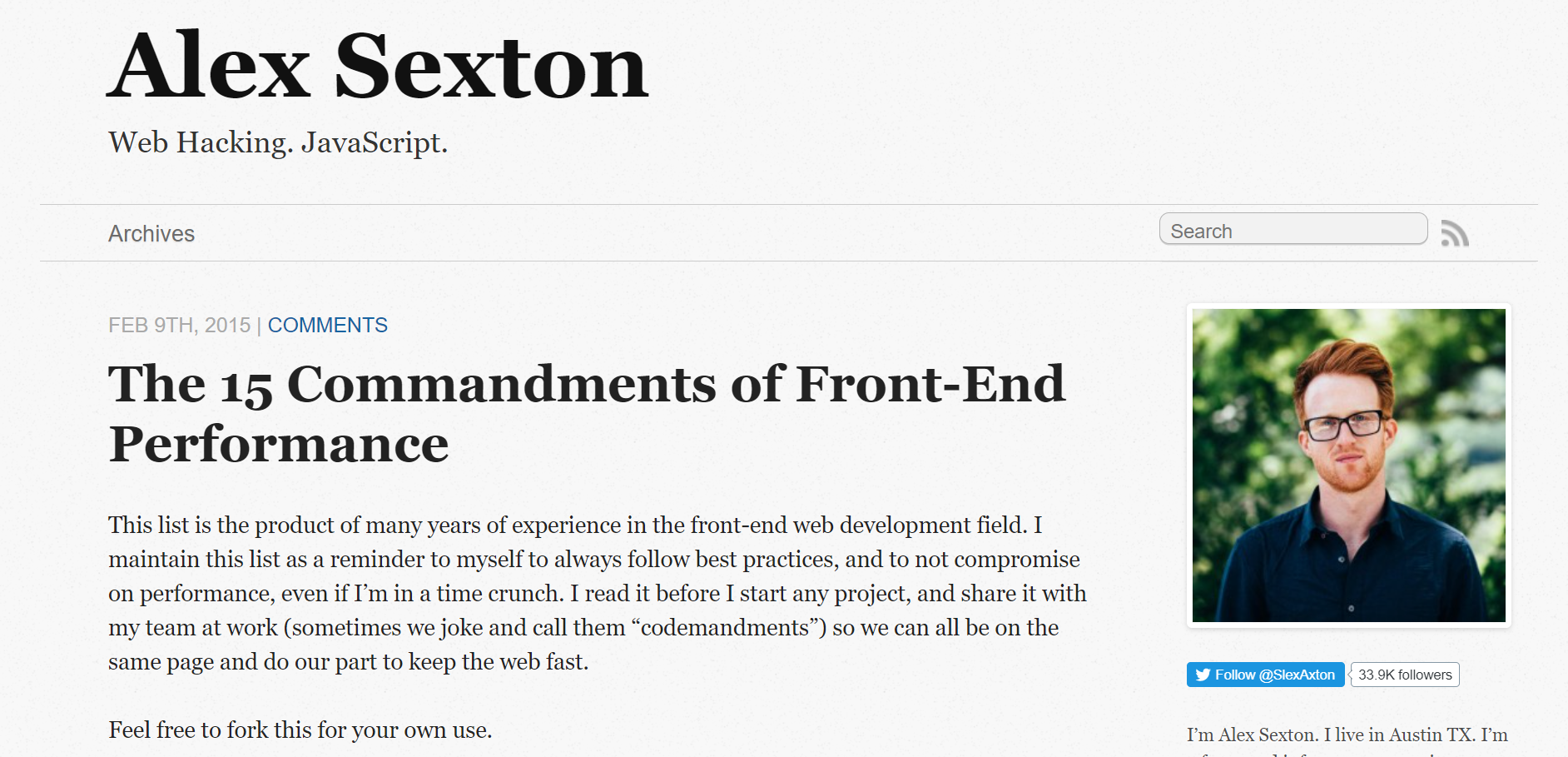 The personal blog site of Alex Sexton covers a huge variety of JavaScript-related topics in a very simple and easy-to-understand way. You may also find some new techniques, tools, and trends on his blogs which are waiting to be explored by the upcoming developers. He is a front-end infrastructure engineer at Stripe and served on the jQuery Board of Directors at The JavaScript Foundation. He enjoys contributing to open source.
View Website -> https://alexsexton.com/
#9 Scotch
Scotch is a great website to learn more about web development that publishing articles, tutorials, and videos about AngularJS, Node.js, JavaScript, PHP, Bootstrap, and on much more topics. It is definitely a place to go when you look for some new inspiration or development resources for your web development. They also offer some interesting courses that require minimal commitment and can help you take your coding expertise to the next level. This place is good for both beginners and expert developers. You can able to find their video courses, blogs, tutorials, last trend technology-related news and they have an excellent community section to help web developers.
View Website -> https://scotch.io/
#10 Learn with Jason
Learn with Jason is founded by Jason Lengstorf to help other web developers to build their careers. There are many developers and writers who post blogs on different topics to provide valuable insights for developers. They post tutorials, blogs, videos, quick tips, and other helpful resources for learning more about web coding. He also comes live every Tuesday and Thursday to teach something new in web technology within 90 minutes.
View Website -> https://www.learnwithjason.dev/
Wrapping It Up
It doesn't matter you are a newbie or an expert working in website development, you are likely to get stuck somewhere or the other when accomplishing a successful project. These web development blogs can only give you an idea for your business website, you must ensure taking the advice of professional website development people who offers full-fledged customer website development services for your business requirements.
If you know of any quality web development blog site other than the above blogs, please feel free to share with us at Atatus.