Datadog was founded in 2010 by Olivier Pomel and Alexis Le-Quoc. They develop the Datadog to reduce the friction they experienced between system administration teams and developers.
Together they raised over $648 million to bring its valuation to $7.8 billion by the end of 2019.
Let's dig deep into Datadog to know its competitors:
Datadog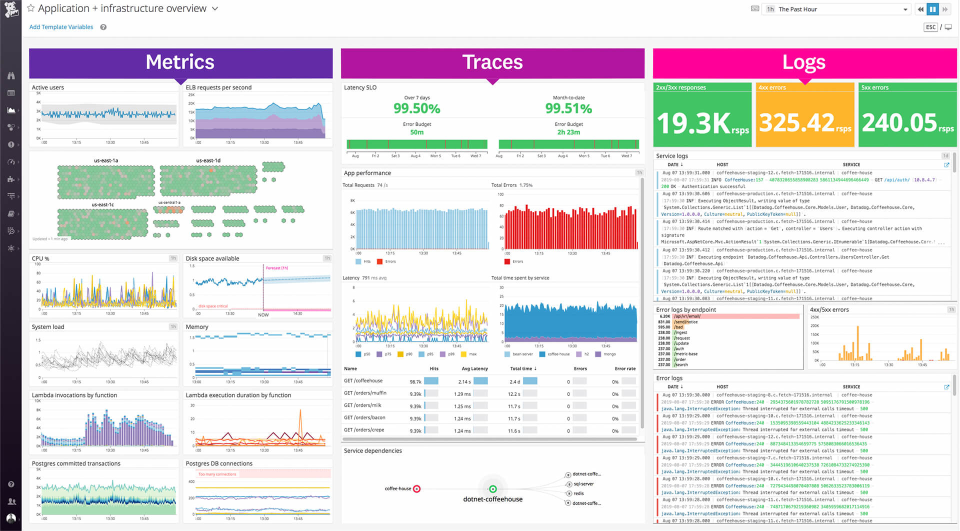 Datadog is a application monitoring service platform for cloud-scale applications that provides monitoring of services, databases, tools, and servers through a SaaS-based data analytics platform.
Datadog is a cloud infrastructure monitoring service with a dashboard, alerting, and visualizations of metrics. It grew rapidly and expanded its platform offering to cover service providers including Amazon Web Service (AWS), Google Cloud Platform, Microsoft Azure, VMware, Red Hat OpenShift, and Open Stack.
It enables you to monitor, troubleshoot, and optimize cloud-based application performance all the way down to a single line of code or unique customer requests. The platform provides a condition of data in built-in dashboards that are visually appealing to the wealth of the application, including a flame chart for trace views.
For unique requests, it can be difficult for the normal user to create customized dashboards from scratch as it is built for heavy users. New user onboarding may take a while for those who new to use the entire concept and who are not advanced as some of their peers.
Customer Reviews
G2 – 4.2/5 stars
Crozdesk – 4.2/5 stars
Capterra – 4.6/5 stars
It lacks in the speed of monitoring agents and security that's why it has heavy competitors in the market.
Here is the competitor list:
#1 Atatus
Atatus is a SaaS-based application performance management tool that delivering full-stack visibility for all your applications. It enables you to dynamically collect millions of performance data points across applications which quickly resolve issues, and improve digital customer experiences. Also, those things happen in real lines with cloud or on-premise deployment flexibility.
It ensures to provide a deep view into all the application performance metrics that are needed to deliver high-quality and reliable software. You will get notified about the issue as soon as it occurs. It provides a detailed list such as who, when, and what caused the performance damage.
It monitors the health of your applications and gets notified when an issue raised in customer experience. It measures the frontend and backend performance of your entire application and analyses your user satisfaction levels using Application Index (Apdex) scores. Also, it resolves application performance or availability issues before your customers are impacted.
With Real User Monitoring, you can improve end-user performance by understanding the complex frontend performance issues because of slow page loads, delayed static assets, and ajax requests. Also, you can track JavaScript errors that affect your customer experience.
With Application Performance Monitoring (APM), you can measure your backend performance and analyse transaction traces, slow database queries, external requests to other services.
Atatus is available for PHP, Node.js, Java, Ruby, Python, and React. And it integrates with Asana, Slack, Jira, GitLab, Codeship, VictorOps, etc.
Customer Reviews
G2 – 4.8/5 stars
Crozdesk – 4.8/5 stars
Capterra – 4.8/5 stars
#2 Dynatrace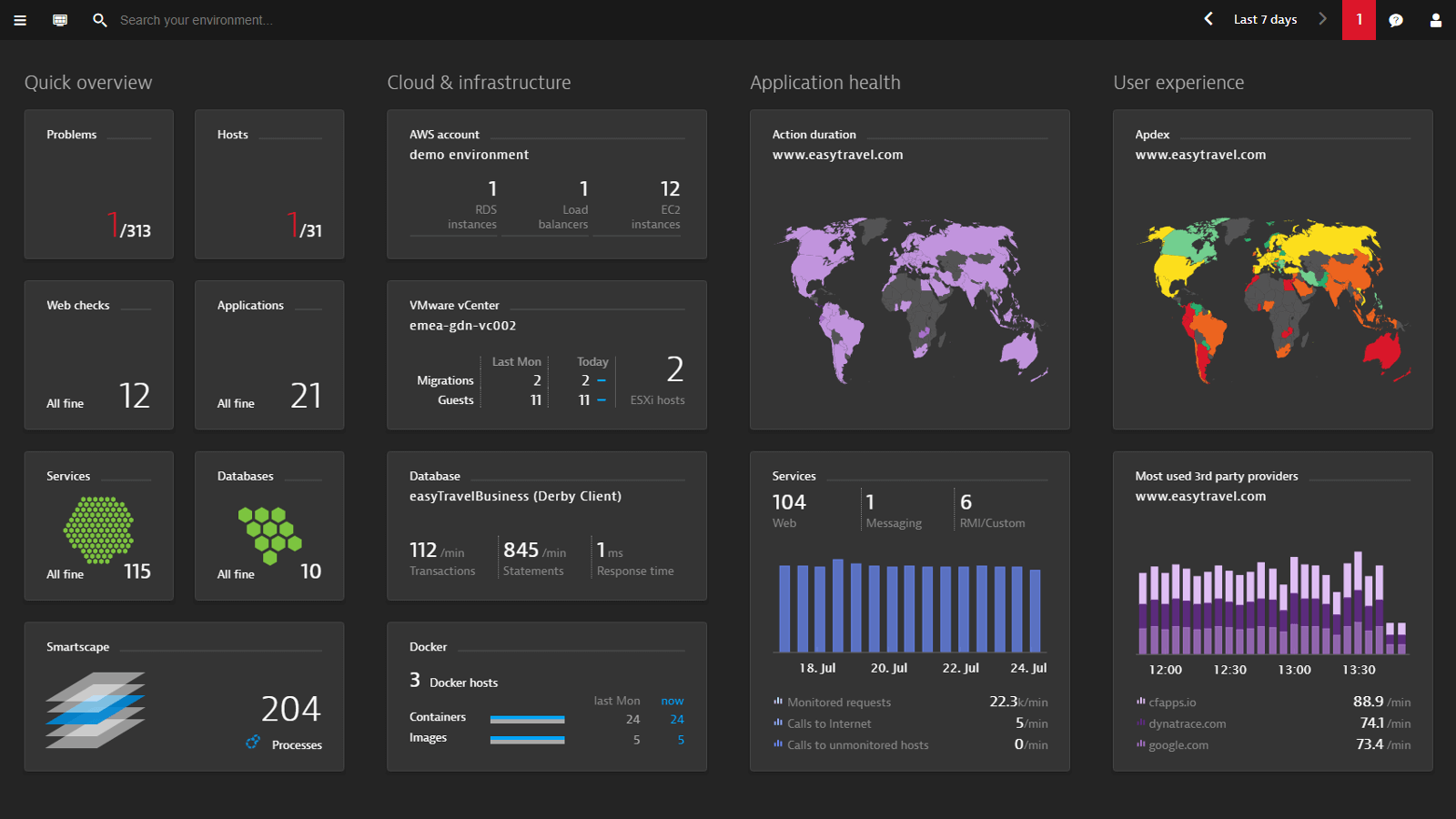 Dynatrace provides real-time insight into your entire application and enables you to optimize the customer experience. The platform uses Artificial Intelligence (AI) to determine the user's entire stack from their browser to the application, containers, infrastructure, and cloud.
With Full stack monitoring, you can able to view full insights, application performance management, and infrastructure monitoring with no blind spot. It provides deep, accurate tracing of every single transaction made on your platform.
Their APM illustrates the application topology and changes in real-time, leveraging artificial intelligence to detect performance issues and reducing Mean Time to Recovery (MTTR).
Dynatrace is available for PHP, Node.js, Java, Go, .Net, and more. Also integrates with WebHooks, Atlassian, OpenTracing, Slack, Opsgenie, etc.
Customer Reviews
G2 – 4.5/5 stars
Crozdesk – 4.5/5 stars
Capterra – 4.4/5 stars
#3 LogicMonitor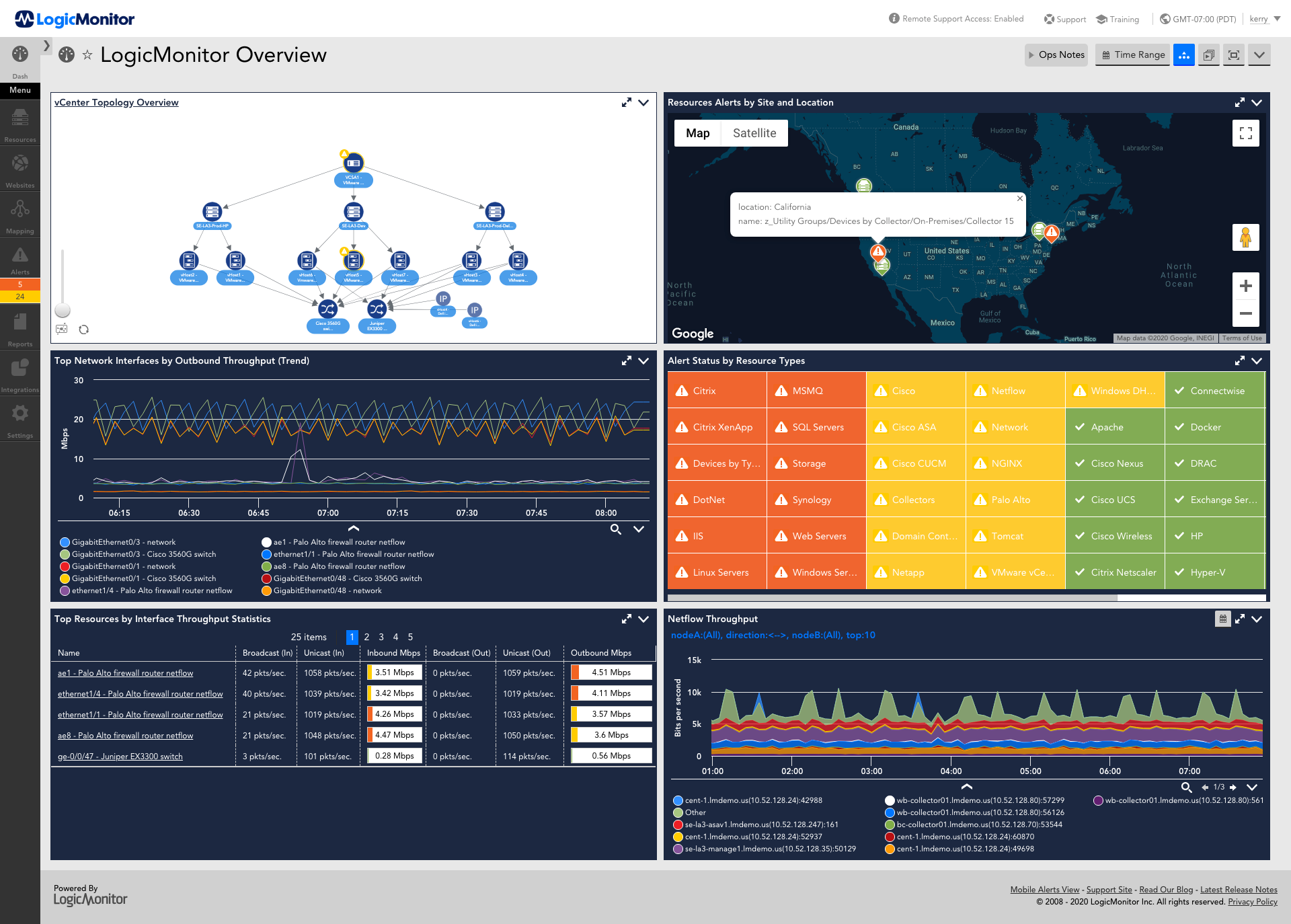 LogicMonitor is a cloud-based, fully automated infrastructure monitoring platform with full-stack visibility for enterprise and managed service providers.
They provide fully automated, multi-tenant monitoring and automation built for minimum support price (MSP). It monitors everything from on-premises to cloud environments and creates rapid time to value from the service. It makes the whole application management easy with granular role-based access controls, multi-tenancy, customizable dashboards, and user-friendly reporting.
LogicMonitor integrates with Azure Monitoring, Google Cloud, Solaris, Linux, VMware, etc which is more than 2000 integrations.
Customer Reviews
G2 – 4.5/5 stars
Crozdesk – 4.6/5 stars
Capterra – 4.7/5 stars
#4 SumoLogic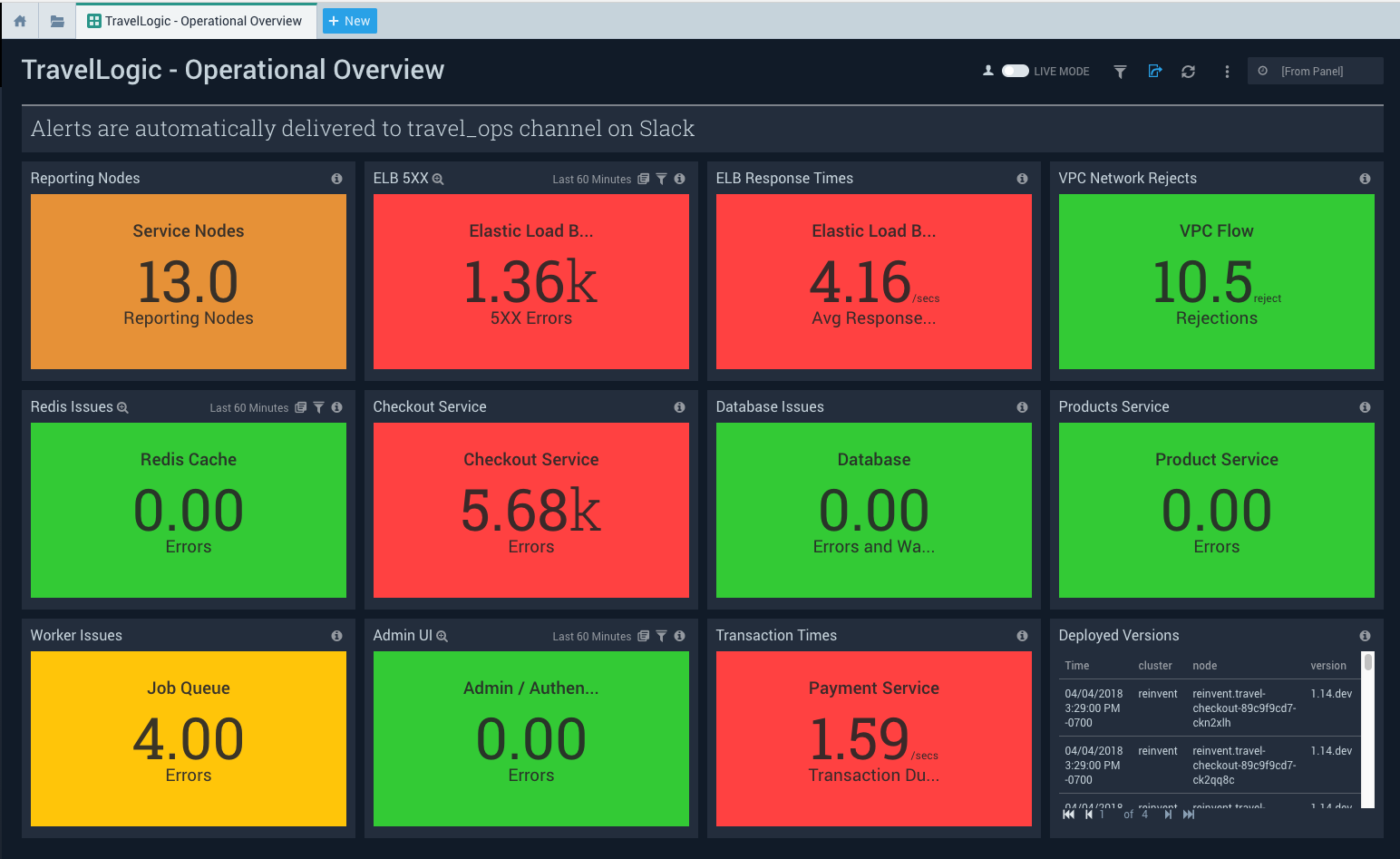 Sumo Logic is a discoverer of continuous intelligence, a new category of software that enables all sizes of organizations to address the data challenges and opportunities presented by digital transformation, cloud computing, and modern applications. Their Continuous Intelligence PlatformTM fully automates the collection, ingestion, and analysis of application, infrastructure, security, and IoT data to provide actionable insights.
It provides deep visibility of complete application setup for data analysis which makes the process simple and efficient. Their platform is a multi-tenant SaaS architecture and across multiple use-cases to emphasize the intelligence economy.
Sumo Logic is cloud-native that allows users to get full functionality in a short time with easy deployment. They provide access to the data analysis tools instantly to collect data, quicken application delivery, gain compliance, and improve security.
The purpose is to deliver log management metrics and features, which enables users to build and run Hybrid applications. This platform identifies operational issues based on the multi-dimensional pattern, comparisons, and anomaly detection by combining them with machine learning. By using this, businesses can speed-up their application delivery and troubleshoot security issues.
Sumo Logic integrates with Amazon Web Services, Google Cloud Platform, Microsoft Azure, Slack, Apache, Salesforce, etc.
Customer Reviews
G2 – 4.3/5 stars
Crozdesk – 4.3/5 stars
Capterra – 4.1/5 stars
#5 Appdynamics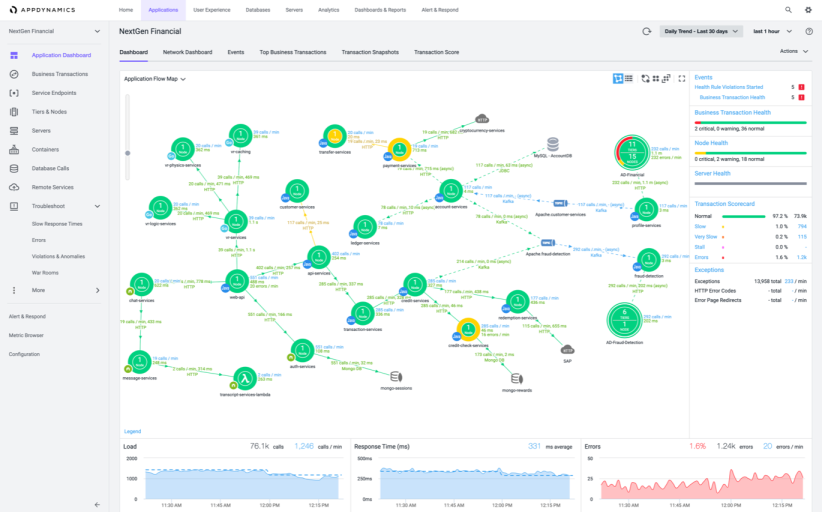 AppDynamics gives you the ability to visualize business and application performance in real-time to gain complete information on end-user experience. It comes in SaaS, Cloud-based as well as an on-premise option. This tool monitors application performance that drives insights into the performance of the business due to application impact.
It offers an application intelligence platform to monitor and optimize customer experiences of application performance. The purpose is to provide a valuable platform for software-defined organizations, mainly in the Financial, Media, Insurance, Healthcare industry as well as Government institutions.
The features including end-end transaction tracing, diagnose and eliminate issues at the code-level, visualize the entire application stack, and dynamic baselining and alerting.
Absolute visibility of a user application environment including Android, iOS, Java, .Net, PHP, Node.js, SQL, and Server Networks. This unique offer is called Unified Monitoring, users can instantly identify customer issues and implement quicker troubleshooting.
Customer Reviews
G2 – 4.2/5 stars
Crozdesk – 4.2/5 stars
Capterra – 4.5/5 stars
#6 NewRelic One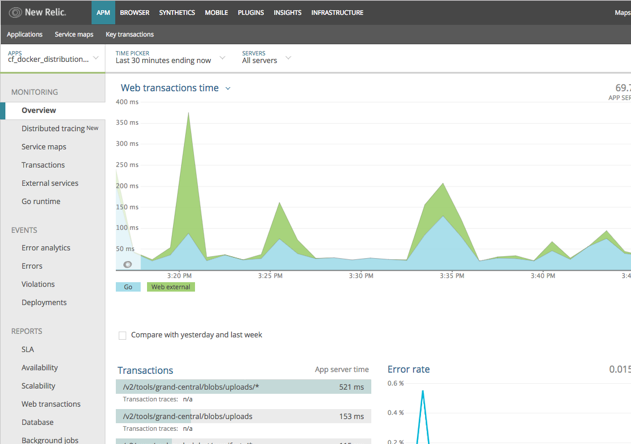 New Relic One is popular for SaaS-based APM that provides a flexible and dynamic approach. It is an observability platform to create more perfect software for professionals. And, considered to be effective but not cost-effective for small businesses and comes with a high learning curve.
With a telemetry data platform, you provide the access to collect data in one place to deliver full-stack observability and AI-driven insights that improve service reliability and accelerate time to market.
It provides a complete view of your entire stack and application health. The solution supports Java, Ruby, Python, .Net, Node.js, Go, and PHP. It integrates with Amazon Web Services, Google Cloud Platform, Microsoft Azure, Joomla, Lighthouse, etc which is more than 368 integrations.
Customer Reviews
G2 – 4.2/5 stars
Capterra – 4.5/5 stars
#7 Instana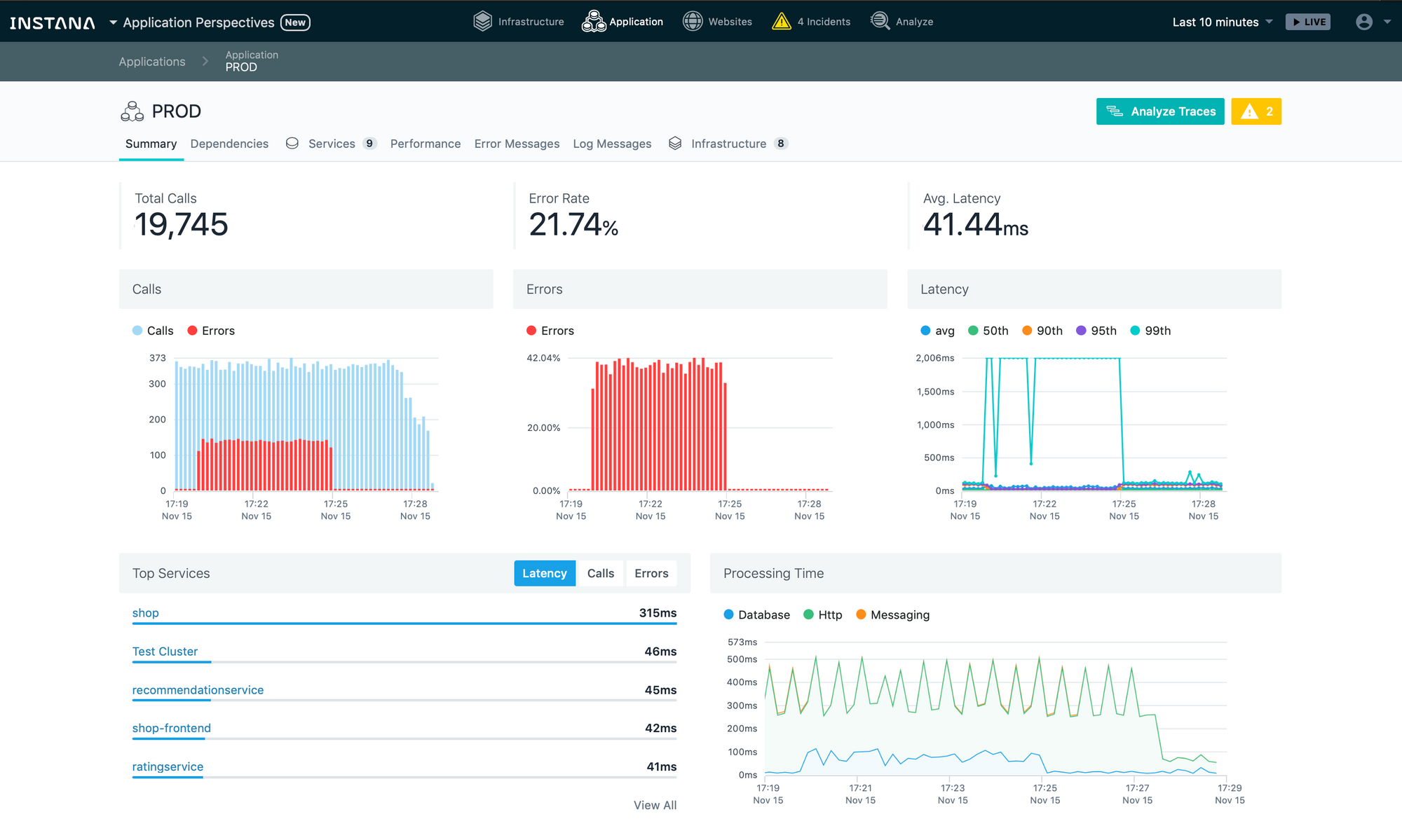 Instana is an application performance monitoring tool powered by IBM. It is a full-stack context that understands the correlation of traces, calls, services, and applications. Instana APM enables the software team to monitor application performance and availability.
It embraces CI/CD, DevOps, and Agile methodologies, traditional monitoring falls further behind, unable to keep up with the complexity and scale of dynamic application environments. The solution is for software-defined businesses requires solutions to protect the application from outages and bad user experience.
The solution supports Java, Ruby, Python, .Net, Node.js, Go, Scala, and PHP. It integrates with Amazon AWS, Google Cloud Platform, Microsoft Azure, Red Hat, VMware, etc.
Customer Reviews
G2 – 4.6/5 stars
Capterra – 3.5/5 stars
Summary
As you can see, there is a huge competition over Datadog on the market. While many of these tools are similar, it is worth knowing their difference and conducting tool comparisons to determine which solution makes the most sense for your specific situation.
If you are looking to deliver more value to your customers and build stronger applications, you need an APM solution as one of the tools.
Atatus is currently available for wide range of languages. With all the diagnostic information you need to know about Datadog competitors, you can be up and running quickly. Sign-up for a free 14-day trial.