‌‌Linux is a free and open-source Unix-based operating system. As a result of Linux's security and flexibility, its use is gaining a great deal of attention these days. A Linux distro is an operating system that relies on the Linux kernel.‌‌
A Linux server or high-end cloud device might be used on a desktop computer or laptop, but on a personal computer or laptop, it can be difficult to use. However, times have changed since then. ‌‌
Linux on laptops can be operated using various distros. There is a Linux distribution for every laptop, no matter how old or how advanced it is. Some distros may be beneficial for users who are swapping from Windows or Mac. ‌‌
In Linux distributions, the kernel is complemented with GNU tools, additional software, and a package manager. An operating system may also be conjoined with a display server and a desktop environment.‌‌
There are some distributions that are circulated in source code form and installed automatically when installed, while others come pre-configured and pre-compiled for a certain platform.
Table of Contents
Definition of Linux distributions
In the sphere of computing, Linux distribution, or Linux distro, refers to an operating system composed of open-source programs designed by numerous developers and programmers. ‌‌
The Linux kernel is the basis of the operating system. Several software applications, developer tools, and software programs can be endowed in a Linux distribution.‌‌
An OS that can be installed and launched using Linux is built employing code from open-source projects. In addition to desktop computers, Linux distributions can be mounted on servers without a GUI, specialized computers, mobile devices, and systems designed exclusively for multimedia systems or embedded platforms. ‌‌
By assembling the source code themselves or by modifying an existing distribution, anyone is able to make their own Linux distribution since it is open-source software. Do you want your laptop to run Linux? Here are some best Linux distributions you can try out!
1. Linux Mint
Linux Mint is a widespread Linux distribution. A wide range of free and open-source packages can be found in this collaborative Linux distribution. It is user-friendly with an interactive User Interface. ‌‌
The Linux Mint operating system and much of its software are designed in Python. Some packages are shared between Mint and Ubuntu since both use Ubuntu's repository software. Instead of Ubuntu's unity desktop environment, it uses cinnamon and mate desktops.‌‌
Media codecs and proprietary software were lacking from Ubuntu, so Mint gained a lot of traction. A popular desktop environment called Cinnamon comes with Linux Mint. ‌‌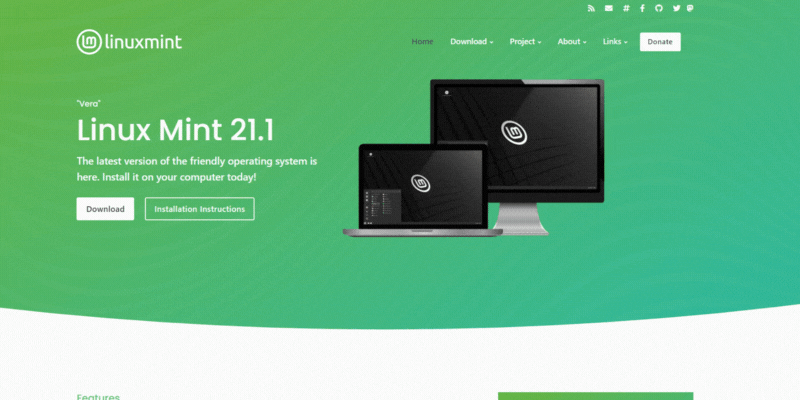 Many aspects of this desktop environment are visually appealing and intuitive. Despite its simplicity, it is incredibly sleek. A calendar update has been added to Cinnamon 5.2 with the release of the new version. ‌‌
Synchronization can be performed with Google Calendar or other online calendars. Almost all of the default apps in Linux Mint are programmed to operate efficiently, which explains its smooth performance.
Feature Highlights
This tool equips full multimedia support and it has an intuitive interface.
The software is open source and free.
Due to its Community-driven nature, Linux Mint facilitates users to transmit feedback in order for it to evolve even more stronger.
Thanks to its robust Linux architecture and conservative approach to software updates, it's secure and trustworthy.
It is quite easy to maintain Linux Mint.‌‌
2. Manjaro
Manjaro is a Linux-based open-source operating system that does not entail users to pay a fee or display ads. It esteems their privacy and permits them total control over how their hardware is set up and operated. ‌‌
Relying on your needs, you can launch it on tablets, mobiles, PCs, laptops and boards, as well as for gaming and 3D applications. A widespread and extremely customizable Linux operating system, Manjaro is predicated on Arch Linux. ‌‌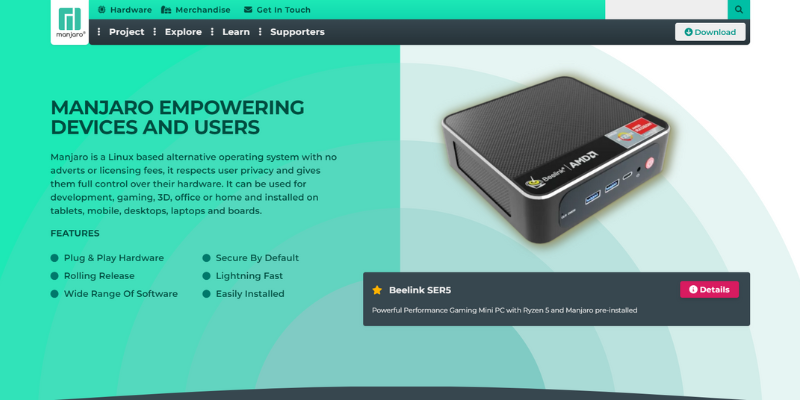 With its hardware detection manager, Manjaro Linux delivers excellent hardware support. A key focus of Manjaro Linux is to be accessible and user-friendly. ‌‌
The kernel can easily be modified without mandating any intricate troubleshooting. Furthermore, Arch Linux-based distributions allow you to choose your own components. It can be customized to match your laptop.
Feature Highlights
Design and deploy virtual machines, manage docker or Kubernetes instances.
Easy-to-install hardware.
Use any programming language to create software and user interfaces.
Lightning-fast performance with default security‌‌.
Stay connected with your team in real-time, whether it's a chat or video meeting.
Easily configured‌‌.
3. OpenSuse Leap
OpenSUSE Leap is a Linux distribution that is geared towards professional use. This is based on SUSE Linux Enterprise Server and was created to provide a robust, trustworthy, and secure operating system. OpenSUSE Leap also comes with a number of tools that are designed to make your work more efficient. ‌‌
OpenSUSE Leap is a Linux distribution made for professional use. It has additional features that make it a fantastic option for businesses.  First and foremost, it is a very stable distribution. ‌‌
Thus, it is unlikely to experience any major problems during installation or usage. Additionally, it has a lot of features and options that make it a great choice for businesses. ‌‌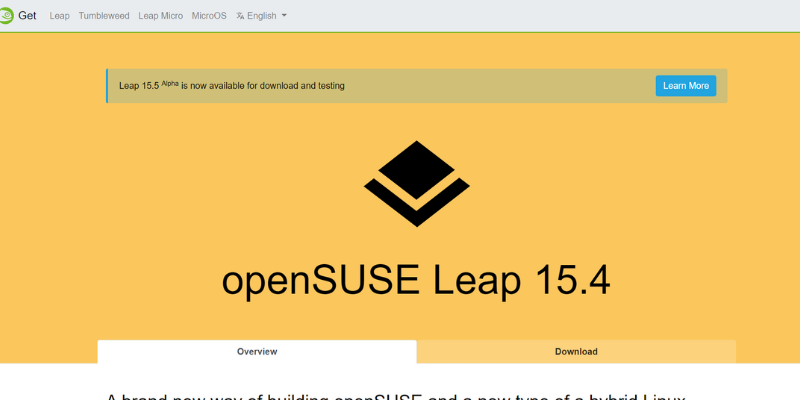 It supports a wide variety of hardware and has a variety of tools and applications that can be used for business. The most recent versions of the Linux kernel, GNU Compiler Collection (GCC), and YaST software management system serve as the foundation for OpenSUSE Leap. ‌‌
This Linux distribution is available in two editions, the Standard edition and the Advanced edition. The Advanced edition offers more features, including support for dual-booting, more storage, and RAM, whereas the Standard edition is intended for users who only need a basic server and desktop system.
Feature Highlights
A Highly Customizable User Interface.
A Wide Variety of Applications and Services.
Support for a Wide Range of Hardware.
easier for developers to work with the distribution.
Robust Security Measures.
4. Elementary OS
You can spend more time operating your computer and less time eliminating bloatware by installing Elementary OS, which encloses a brilliant selection of apps that handle everyday necessities. ‌‌
Elementary OS, in its simplest form, is designed to be easy to understand and learn as a new user. However, Elementary OS is not a complete operating system. Users can stay productive while navigating Elementary OS thanks to its strong keyboard shortcuts.‌‌
Elementary, Inc. supports another Linux distribution called Elementary OS, which is based on the well-known open-source Ubuntu project. A custom desktop environment called Pantheon as well as numerous custom apps, such as an album, a calendar, a command line, files, and so on, are incorporated.‌‌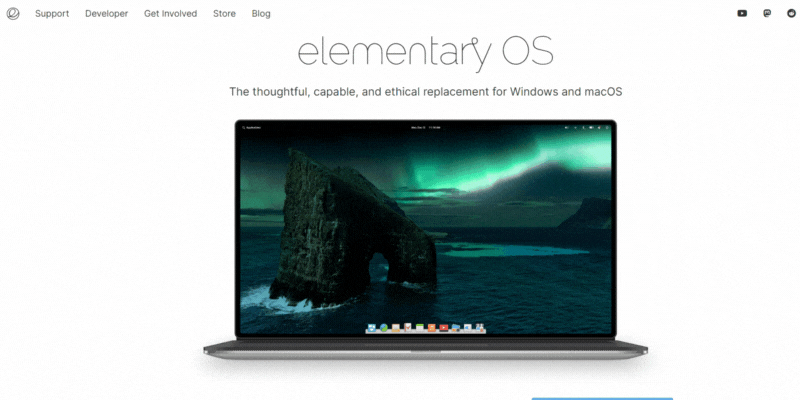 Additionally, it includes some well-known applications like a Geary mail fork and the Epiphany web browser.  In contrast to Windows and macOS, Elementary OS claims to be quick, easy to use, and have standard privacy.‌‌
The distribution comes with the most recent Ubuntu 22.04.0 core pre-installed, making it possible to use all the most recent programs, including Firefox and LibreOffice.  ‌‌
Additionally, it contains some GNOME-based apps like Geary Mail and Scratch. The AppCenter app, which serves as a central repository, enables users to download hundreds of open-source applications.
Feature Highlights
Multitasking View enables you to maintain focus and productivity.
Set time restrictions for each user.
Privacy-protected & secure.
Both Picture-in-Picture and Do Not Disturb are activated.
Play games and watch videos while maintaining work out of sight.‌‌‌‌‌‌‌‌‌‌‌‌
5. Ubuntu
Ubuntu is the next version of Debian and is easy to use for newbies. It has been expanding to support tablets and smartphones and releases new versions every six months. ‌‌
The desktop environment comes with smooth animations thanks to the GNOME 4.2 update, and the UI is sleek and has a purple theme by default. Ubuntu is one of the popular Linux distributions available for desktops and laptops. ‌‌
It is based on the Debian system and has its very own repositories. The default browser in the latest version is Google Chrome, however, you can still install Firefox if so desired. The GNOME desktop environment is supported by Ubuntu, a well-liked operating system for cloud computing.‌‌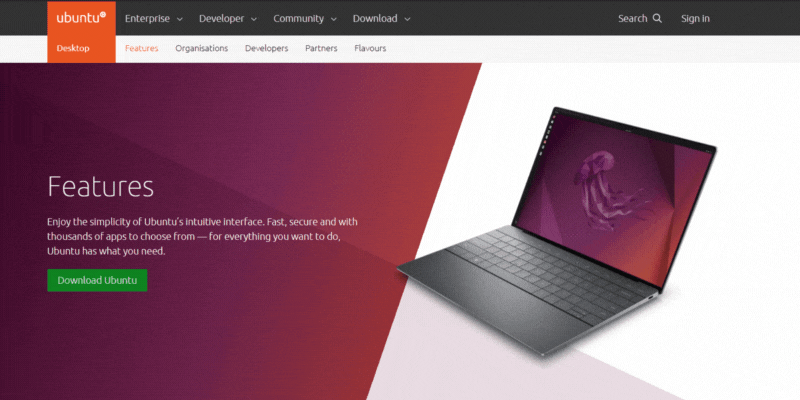 The desktop version of Ubuntu supports every common Windows program, such as Firefox, Chrome, VLC, and others. It also supports the office suite called LibreOffice. In-built email software gives the user access to email services such as Exchange, Gmail, and Hotmail. There are a host of free applications for users to view and edit photos.
Feature Highlights
Graphical user interface for managing KIWI images created with YaST.
Toolkits for centrally managing and deploying.
Diskless operation and network boot support.
Simpler installation and configuration of the service point environment.
Ensure the reliability and security of your system‌‌.
6. Fedora OS
Fedora OS is a very steadfast and long-lasting operating system. It enriches the security of this operating system. It proffers numerous graphical tools. ‌‌
This operating system updates automatically. This OS supports many file formats. It also offers a lot of educational software. It sustains a large community.
The Fedora Linux distribution prioritizes giving desktop and laptop computer users access to free software with a strong focus. Installing proprietary graphics drivers can be done with the help of third-party repositories.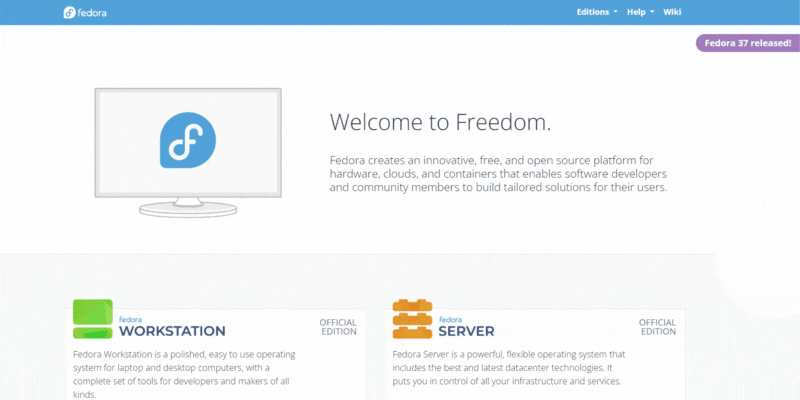 Fedora promotes software developers and community members to design individual solutions for their users by designing systems based on hardware, clouds, and containers.
It provides the latest version of free software and concentrates on free software. By default, it uses the GNOME 3 desktop environment, which has a lot more features but is less robust. The desktop environment is provided by "upstream" software rather than being internally designed.
Feature Highlights
Fedora is reliable.
Provides Innovative Software.
An easy-to-use interface.
GNOME is included as standard.
It provides unique security features.‌‌
7. Zorin
Zorin is a Linux distribution based on Ubuntu. It allows users to run compatible Windows software for ease of transition. Zorin OS is resistant to viruses as it is based on Linux's advanced security features. ‌‌
Zorin OS is designed to make your computer faster, more powerful, secure, and privacy-respecting. It comes with all the essential apps you need out of the box, so you can get working right away.‌‌
It comes in two versions Lite and Core. Lite is suitable for low specifications old PCs and Core is for modern laptops and desktops. Zorin OS is a Linux-based operating system that is designed to be user-friendly and secure. ‌‌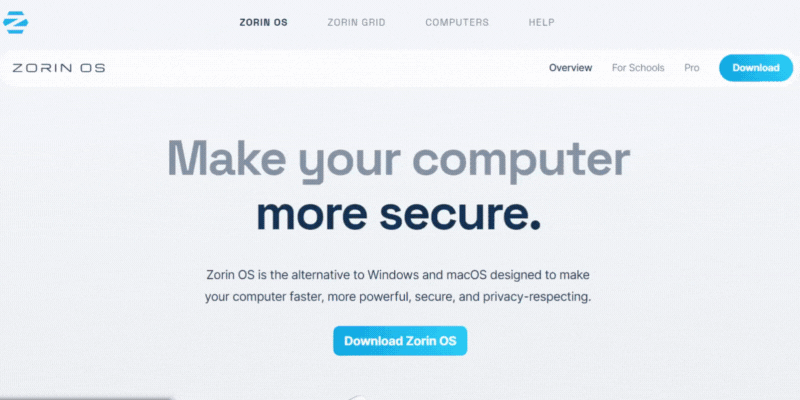 It's based on Ubuntu, which is, in turn, based on Linux, so it benefits from the advanced security features of Linux. The Lite version is ideal for older laptops as it uses fewer resources, while the Core version is for more modern laptops and comes with more features.‌‌
Zorin Connect allows you to merge the experience between your computer and Android device. It works over an encrypted connection on your local network, so your data stays private and doesn't reach the cloud.
Feature Highlights
Zorin OS functions incredibly quickly and doesn't lag over time.
Resurrect your outdated computer.
The built-in Software store offers a huge selection of effective apps.
The Zorin OS incorporates Zorin Connect.
Documents and files are compatible with it.
8. Debian
Debian is a widespread alternative for users who want the most resilience and trustworthiness. It has been in function since 1993, and it's still launching the latest versions on a regular basis. ‌‌
Debian is a Linux-based operating system for many devices, including personal computers, network systems, and laptops. The package includes applications such as LibreOffice, Firefox, Evolution mail, K3b disc burner, VLC media player, GIMP, etc.‌‌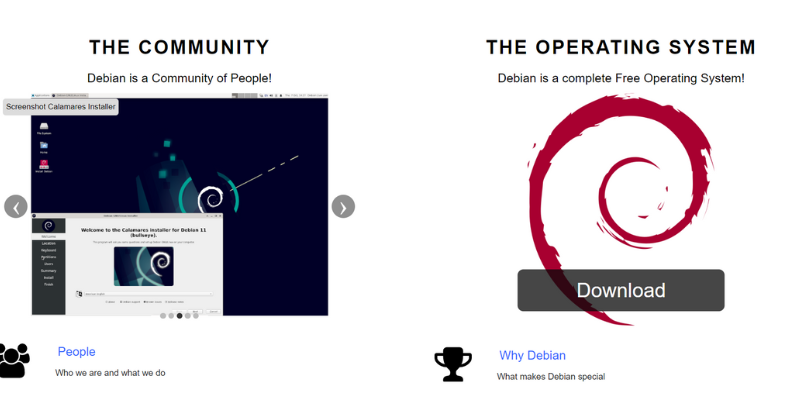 Throughout the lifetime of each package, it delivers a rational default configuration and frequent security updates. In addition, Debian serves as the framework for many well-known Linux distributions, most notably Ubuntu, Knoppix, PureOS, and Tails. ‌‌
Debian's Constant Integration strategy entangles autopkgtest (for testing packages), Piuparts (for installing, upgrading, and removing) and Lintian (inspects packages for errors). Debian is a free operating system. Long Term Support will ensure enduring support for Debian's accustomed releases for at least five years.
Feature Highlights
A flexible Installer is equipped by Debian.
Through a web browser, anyone can access the Debian bug tracking system (BTS).
Long-Term Assistance.
Debian delivers expansive hardware support.‌‌
9. Pop_OS! (from System76)
Pop!_OS is designed for swift navigation, effortless workspace organization, and opportunely workflow. The only Linux distribution that facilitates pre-installed full-disk encryption out of the box.
A remarkable private encryption key is rendered during setup after you receive your computer. Automatic firmware updates can be accessed from your software settings on System76 hardware.
Pop_OS 22.04, a modern version, was launched in 2022. The notion that several applications are employing the brand-new GNOME42 is definitely one of the finest attributes of this version.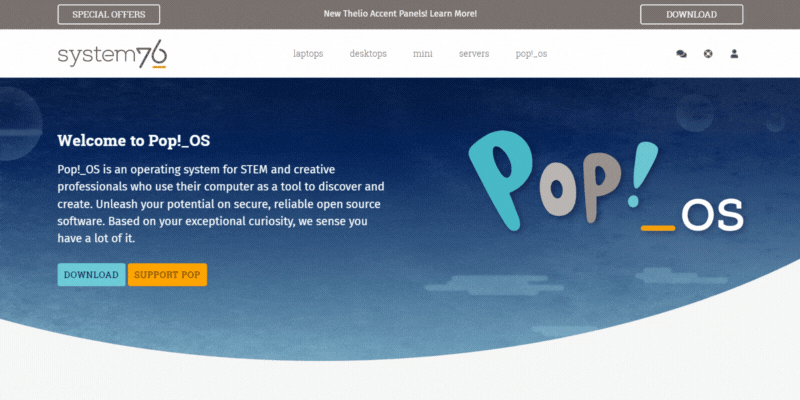 One of the best attributes of Pop_OS is its capability to intuitively revamp your system. In layman's terms, this platform is designed for those who are concerned about their frameworks' aesthetics and performance.
Through constant updates and recurrent OS version software updates, which you are free to take benefit of, Pop_OS promises the utmost notable functionalities and security fixes. Furthermore, the Relaunch Install feature enables you to initiate along while holding the files in their Home folder untarnished.
Feature Highlights
Automatic Tiling Utilizing Pop Shell.
Customized Workflow.
Straight-out encryption.
Management of Firmware.
interoperable further with a lot of software tools.
10. MX Linux
MX Linux is rendered to conjoin a simple configuration, good standard of reliability, high efficiency, and a standard size footprint with an exquisite and efficient computer or laptop.
An office suite, internet browser, email client, media player, and a considerable number of other programs are mostly pre-installed on the Operating system.       MX Linux is a reliable, user-friendly distribution that includes a large selection of pre-installed applications.
The distribution's standout features include its attractive custom desktop environment (based on Xfce) and outstanding documentation in the form of an excellent wiki. Both amateur and professional Linux users will find MX Linux to be user-friendly.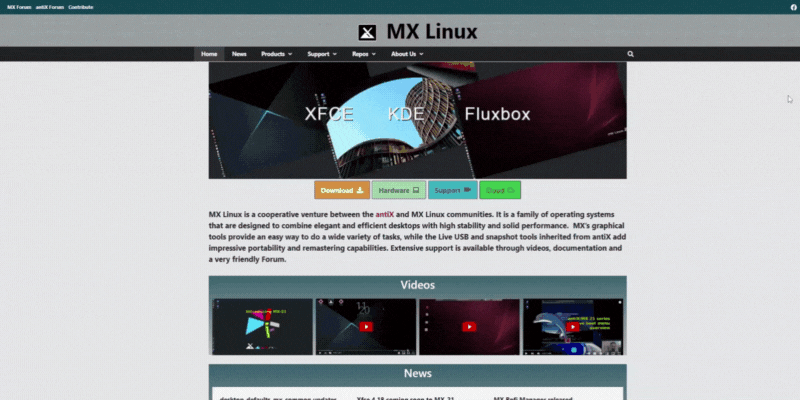 It was initially launched in March 2014. Its debate began within the MEPIS community, and antiX eventually formed for development. Basic tools for MX Linux incorporate a graphic installer, a GUI-based way to reconfigure the Linux kernel, MX-snapshot, etc.
Users can instantly command components since there is a small base predefined package array. It is feasible to create activities with varied icon sets, background images, and overall aesthetics.
Feature Highlights
Due to the low graphical demands, enhanced hardware support is provided.
Numerous original apps enhance and simplify the user experience.
Additional themes, icon packs, cursors, widgets, and splash screens are prepared to be empowered.
The entire functionality intended for a modern desktop necessitates versatile core elements.
An extensive variety of customized icon sets, cookies, and wallpapers.
Wrap-Up
The most adaptable and potent operating system currently in use is Linux.  A compact distro is perhaps a smart alternative if you might want to use a laptop for Linux needs.
But rather when you want anything with a unique look straight out of the box, the elementary OS is a great alternative. Featherweight Linux distributions are easily programmed to run as quickly and efficiently as possible while utilizing the fewest hardware resources possible.
Users have access to a diverse set of tools, applications, and themes with Elementary OS, Ubuntu, and Linux Mint. The most proximate Linux distribution to Windows is Zorin OS. The Start menu, Taskbar, etc. are equivalent to those in Windows 7.
The speed with which the operating system is distributed is commendable. Mint is more straightforward and provides more usability options, which allows a user to find things quickly. The user interface is also based on your requirements.
You should choose an operating system with strong multitasking assistance if you intend to operate numerous applications simultaneously. Provide an operating system based on the most up-to-date Linux kernel update if you entail integrity and pace.
---
Infrastructure Monitoring with Atatus
Track the availability of the servers, hosts, virtual machines and containers with the help of Atatus Infrastructure Monitoring. It allows you to monitor, quickly pinpoint and fix the issues of your entire infrastructure.
In order to ensure that your infrastructure is running smoothly and efficiently, it is important to monitor it regularly . By employing Atatus, you can identify and resolve issues before they cause downtime or impact your business.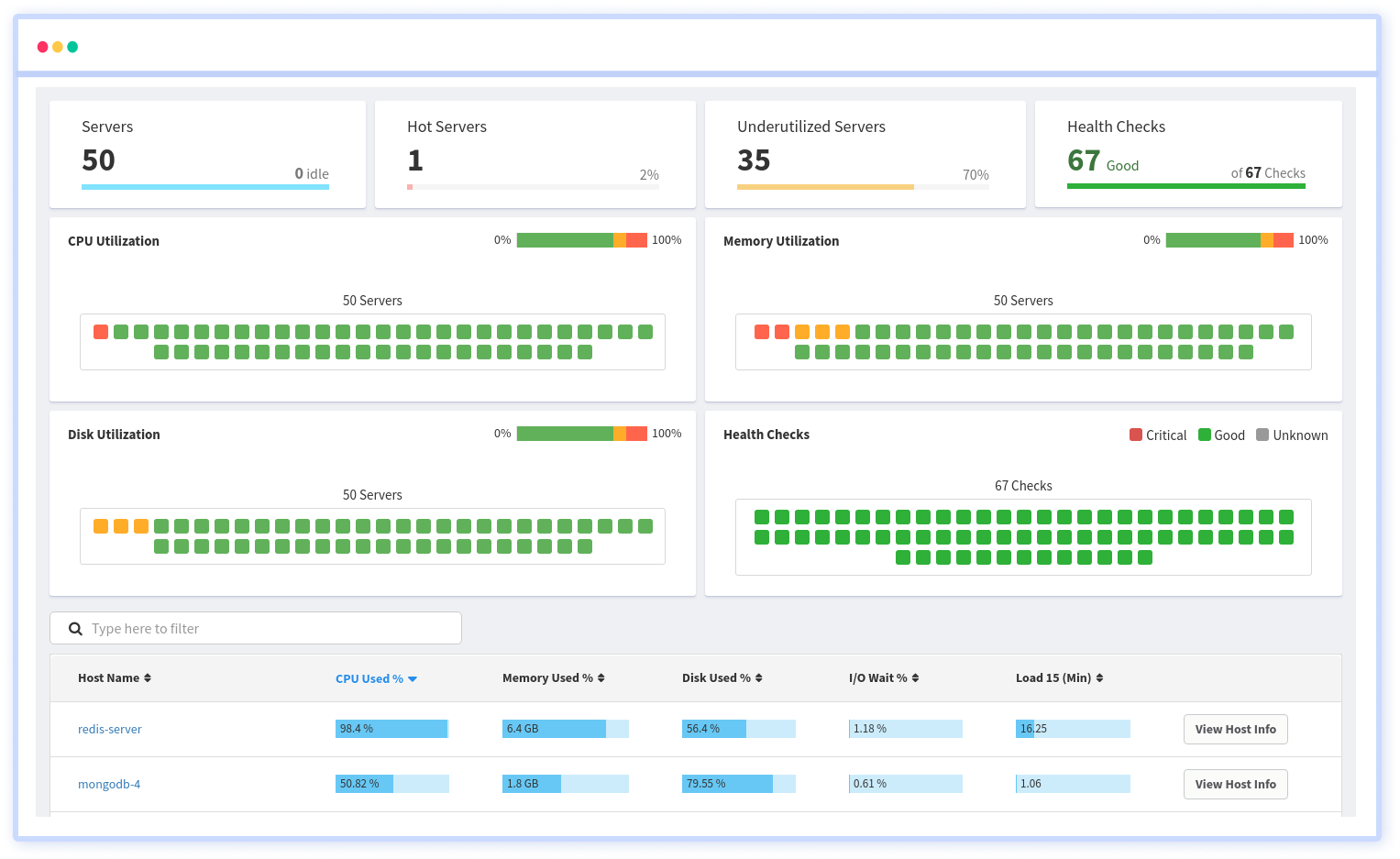 It is possible to determine the host, container, or other backend component that failed or experienced latency during an incident by using an infrastructure monitoring tool.
In the event of an outage, engineers can identify which hosts or containers caused the problem. As a result, support tickets can be resolved more quickly and problems can be addressed more efficiently.