There has been so much uproar about cloud computing in recent years, mostly due to its scalability, capability, and accessibility. Cloud computing is designed to provide constant access to data and applications for users, allowing them to have high bandwidth.
Cloud architecture pertains to the diverse components, such as servers, software functionalities, and software solutions, used by all businesses to harness the efficiency of cloud resources.
In addition to being versatile and scalable on demand, the network can move effortlessly and efficiently between servers, even across clouds, and most significantly, provide network security.
For assisting you with your cloud architecture diagram, a wide range of tools are offered. To simplify the process of creating Cloud Architecture diagrams, the tools listed in this article will facilitate you to create a cloud diagram.
Table Of Contents
What are Cloud Architecture diagrams?
As part of cloud architecture, you should carefully evaluate the relationship between the various components of an IT project, including front-end and back-end platforms, databases, software compatibility, applications, and cloud storage.
Cloud Architecture diagrams take into account several factors, such as costs, the complexity of the proposed solution, and cloud speed. Enterprise cloud computing services are visually documented using Cloud Architecture Diagrams (CADs).
As these services typically rely on complex infrastructures, cloud architecture diagrams are valuable in defining the cloud environment for your business's documentation, creating plans for updates, as well as diagnosing problems.
An architectural diagram of the cloud is primarily used to make your architecture visible. The power of visual communications can often unveil complex ideas or allow less technical audiences in capturing concepts they may not understand.
Draw.io (diagrams.net)
An extremely popular flowchart tool. An open-source online flowchart tool was initially introduced as Draw.io. With Draw.io, you can create cloud diagrams with a WYSIWYG interface.
A quick three-step process leads you to several template options after you answer three quick questions. The tool can be used to design cloud architecture diagrams, but it isn't limited to them. Network diagrams, relationship diagrams, system component diagrams, and so on can also be designed using it.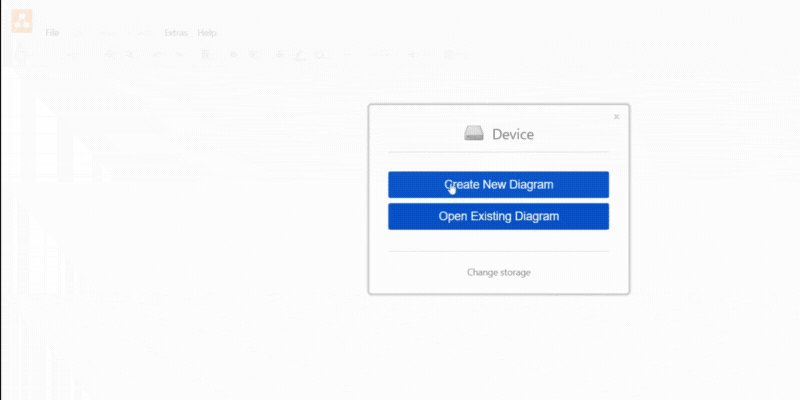 A search function is implemented for finding common shapes/icons. In addition, it is compatible with Google Drive and OneDrive for quick sharing. The cropping tool subsequently adjusts the crop according to the grouping of objects on export.
Several intuitive export options are accessible for design editing, including vector graphics. Diagrams can also be co-exported to Trello, GitHub, Dropbox, and Gitlab. The extension works with VS Code as well.
Shared cursors can be used in real-time for teamwork. With diagrams.net, it's easy to create professional diagrams. Chrome extension for draw.io for Notion allows users to insert and modify diagrams instantly.
Feature Highlights
Easily shareable with everyone
It is equipped with advanced features
A container-deployed, self-hosted application
Multi-platform compatibility
Pricing
Personal use license is free. Confluence integration starts at 15$/month for 20 users.
Lucidchart
The Lucidchart application streamlines complexness, drives insights, and improves the productivity of the businesses. One of the best flowchart software platforms is Lucidchart. Mind maps and conceptual architecture designs are generally designed utilizing it. In addition, a cloud infrastructure diagram can be drawn using this.
Incorporated into Lucid Software's Visual Collaboration Suite, this cloud-based team interaction platform makes it easy for teams to interact in real time. As well as designing visual models , UML designs, and customer journey charts.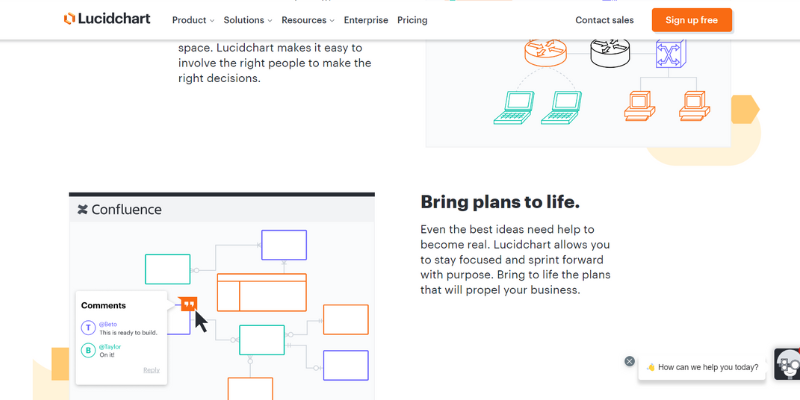 A drawing tool that blends with several apps and services to build an extensive range of diagrams. There is an export option for vector graphics, as well as cropping tools. As a web application, Lucidchart has a few accessibility problems despite its vast array of features.
Feature Highlights
Get a swift overview of the strategies, systems, and work structure of your workgroup.
Collaborative and communicative processes are sped up and improved with a common visual language.
The Lucidchart platform makes it easy to remain focused while dashing ahead.
Pricing
The Free version of Lucidchart is available but has limitations on quotas.
Google Cloud architecture diagramming tool
There are a number of products and services obtainable through the Google Cloud interface. You can search for products separately and select from subcategories (software, data, etc.) proffered in the Google Cloud architecture diagramming tool.
It's easy to develop an architecture with all the elements you need precisely in the interface there's no need to add an icon or include an image. Your diagram can also be shared with your coworkers and attached to documentation directly through the interface.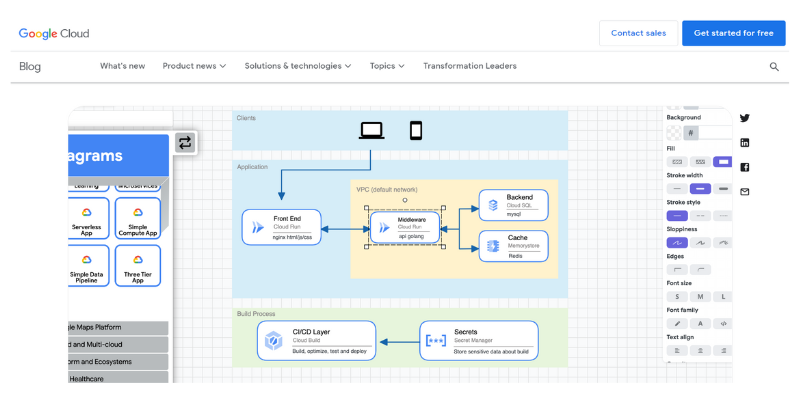 A sequence of 10+ reference architectures is enclosed with the tool for many standard workflows, notably computing, machine learning, webpages, and deployment, microservice architecture, and data science.
After you have designed your architecture, you need an easy way to deploy it. All architecture components can be deployed in one click in Google Cloud. At the instant, this tool also has a few exclusive architecture examples available for deployment.
Feature Highlights
Get access to standardized reference architectures
Design architecture diagrams with ease
Just one click to deploy.
Pricing
It's free to use the Google Cloud architecture diagramming tool.
Gliffy
Gliffy offers a sleek, user-friendly interface created for regular users and their repeated usage. With its fine layering abilities and a wide variety of templates, you can create varied diagrams for a variety of purposes. For exports, sign-up is required.
Almost 18 million people have used Gliffy's professional diagramming software, which has an intuitive drag-and-drop interface to design diagrams and intercommunicate.
Gliffy was one of the foremost apps on the Atlassian platform, and today it remains one of the most streamlined of the company's tools. Users can navigate through layers and information in the diagram viewer, making it the only engaging diagram maker offered by Confluence.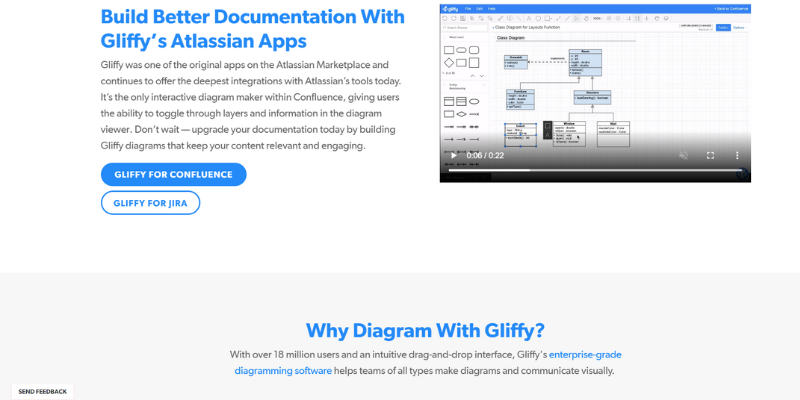 By seamlessly blending with Confluence, Gliffy furnishes users with the proficiency to create diagrams as they work on a page. Using Gliffy, you can quickly add a diagram to any page just by clicking it.
It also automatically reworks as modifications are made to the diagram, so the latest version will be displayed. There is a surplus of pre-configured diagram elements enclosed in the tool, which has a very instinctive user interface
Feature Highlights
Use a template or drag-and-drop shapes to create a diagram with Ease.
Easily collaborate, and select who can edit, review, and comment.
Easily share your diagram across multiple locations, and all duplicates are automatically updated.
The Atlassian platform can be integrated
An enhanced collaboration platform based on the cloud
Pricing
There is no charge to use Gliffy.
OmniGraffle
The OmniGraffle software designs distinct, exquisite graphics. For say, you might design a website prototype or plot the family tree, or sketch out software classes. It is designed for artists, designers, amateur data mappers, furthermore each one in between.
The OmniGraffle consists of a variety of multifunctional vector and objects manipulation tools for specialists. The object inheritance feature performs well, saving text positioning when the size is altered. A number of export options are available in OmniGraffle.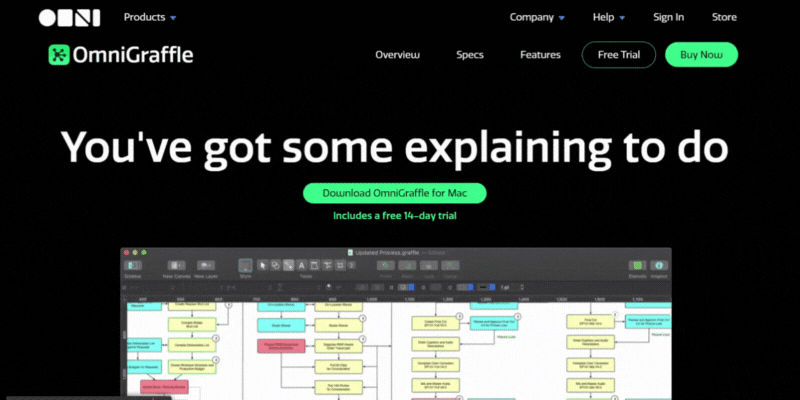 Despite its fairly sparse structure, OmniGraffle is a valuable tool that needs some learning time. Nevertheless, it is an effective multifaceted diagramming tool that goes further cloud diagrams due to its blank-canvas technique and enormous stencil library.
Feature Highlights
Make it easy to communicate, organize, and share your ideas using amazing visuals.
Communicate effectively with powerful visuals
Explore ideas accurately using captivating wireframes.
Professional vector graphics can be designed with these effective tools.
Pricing
The Free trial is available for 14days and a pro subscription of iOS & Mac is offered for $12.49 USD / mo.
Excalidraw
With Excalidraw you can design elegant WYSIWYG diagrams that feature a layer-centric formats and stunning user-friendly interconnecting attributes. It's suitable for simple diagrams, but not so prominent for more comprehensive diagrams.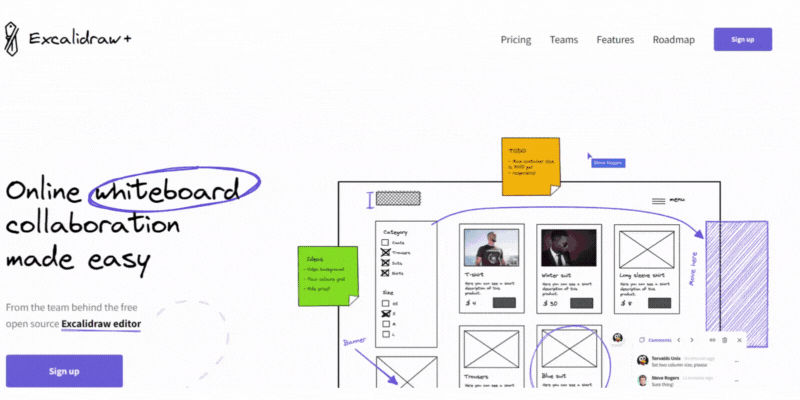 You can quickly create a hand-drawn diagram using Excalidraw. It is feasible to collaborate with your co-workers in real-time using Excalidraw and get your works stored in the cloud securely.
Feature Highlights
Collaboration in real time
From Excel, you can create charts
Presenting hand-drawn sketches
Multiple objects can be moved and aligned
Pricing
Excalidraw+ offers a free version and a $7 monthly subscription.
CloudSkew
An easy-to-use tool with a large library of standard icons and images that can be used in a diagram and an interactive database. Users must log in using GitHub or LinkedIn, and export options are limited (no SVG).
With CloudSkew, you can edit content directly from an empty canvas using a WYSIWYG interface. Set default icons for Amazon Web Services, Azure, Google Cloud Platform, Kubernetes, Font Awesome, and Oracle to streamline your interface.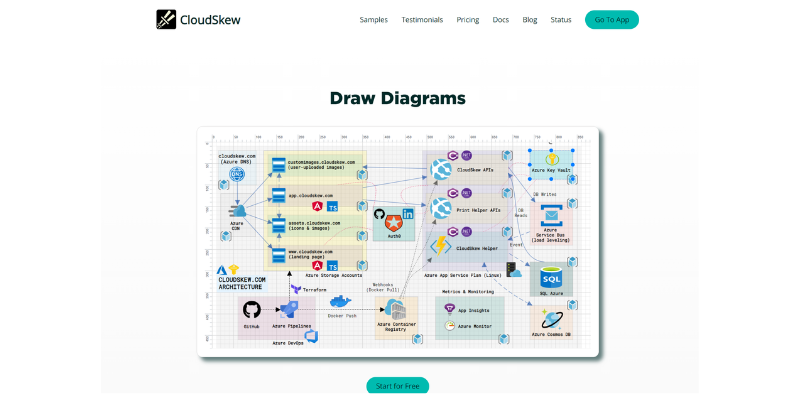 This is a good cloud-based diagramming tool with an excellent search function for icons. However, when it comes to UX, it still requires a few refinements to evolve as a premier tool. Also, CloudSkew stores your cloud diagrams. The diagrams you create are automatically saved to CloudSkew's secure cloud storage.
Feature Highlights
There is no need to install
Inclusion of all icons
Cloud-based auto-saving
An integrated document editor is included
The UI of CloudSkew is clean, simple, and minimal.
Pricing
You can get a CloudSkew account for free or upgrade to a professional account for $36 a year.
Upshot
A diagramming program enables teams to comprehend intricate concepts. The use of diagramming software is a splendid way for users to comprehend a workflow or IT network architecture that needs expansive research.
Also, teams can use flowcharts to decrypt their complexities as well as simplify processes for spectators. By breaking down problems using visual components and mind maps, diagramming software deeply enriches teamwork and enables one to decode problems more efficiently.
A diagramming skill is required of those who plan to work as system designers, cloud architects, or solution architects. In order to communicate effectively with less-technical and more-technical audiences, it is imperative to depict a precise vision of a product's software architecture.
---
Monitor Your Entire Application with Atatus
Atatus is a Full Stack Observability Platform that lets you review problems as if they happened in your application. Instead of guessing why errors happen or asking users for screenshots and log dumps, Atatus lets you replay the session to quickly understand what went wrong.
We offer Application Performance Monitoring, Real User Monitoring, Server Monitoring, Logs Monitoring, Synthetic Monitoring, Uptime Monitoring and API Analytics. It works perfectly with any application, regardless of framework, and has plugins.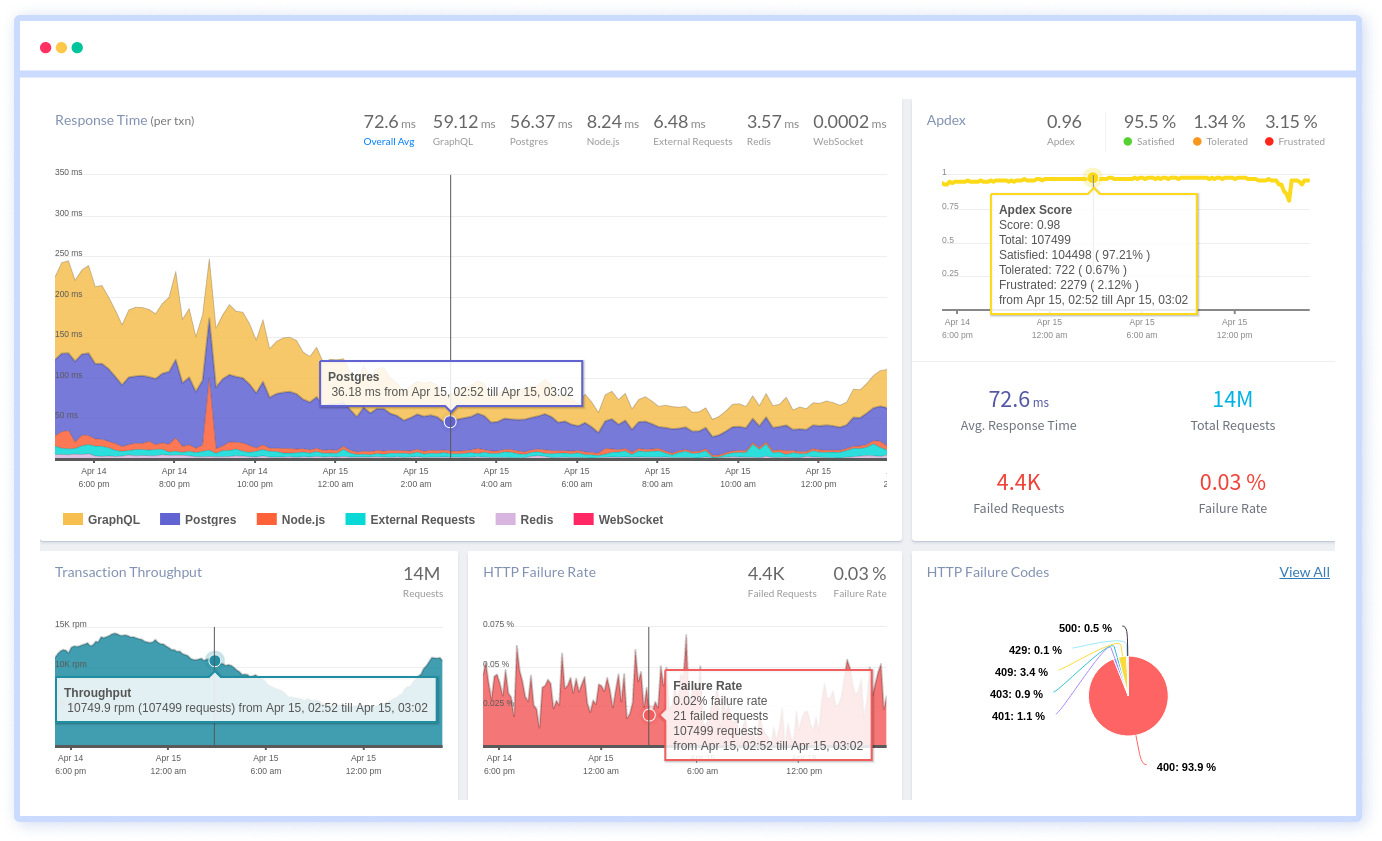 Atatus can be beneficial to your business, which provides a comprehensive view of your application, including how it works, where performance bottlenecks exist, which users are most impacted, and which errors break your code for your frontend, backend, and infrastructure.
If you are not yet a Atatus customer, you can sign up for a 14-day free trial .