Free status page tools and open source status page tools became a valuable tool to keep users on track with the status of tasks and problems. However, countless self hosted, accessible, and open source status page platforms are available.
Open source status page tools are crucial for notifying internal employees of threats and connecting with end users. It will provide detailed reports on ongoing vulnerabilities, highlight historical redundancy and statistical data, and notify the user regarding maintenance windows.
With  free status page tools, enterprises should connect with clientele and customers, once the webpages become down, since SaaS status pages offer users a centralized hub to do this.
Employ open source uptime monitoring tools to ensure that customers and users are notified of the situation and flip an adverse situation into a favorable customer service expertise, it is critical to transmitting incidents promptly.
Take a look at some of the best open source status page tools and Free status page tools for creating, publishing, and maintaining your hosted or SaaS status pages before implementing your downtime communication plan.
Table Of Contents
What is a status page?
The status page is a cornerstone of incident management, keeping users updated from evaluation to resolution. It unifies with tools for chat, alerting, monitoring, and help desks deliver a prompt response.
It can be either public or private, with public status pages offering to enhance user satisfaction and exemplify the platform's robustness. Private status pages enable you to share incidents with internal workgroups exclusively when the site isn't working.
It is possible to track the incident frequency and mean time to resolution using incident analytics. Users can learn about outages and scheduled maintenance via the status page system.
Users can choose to subscribe to updates via email or text responses, and system status can be incorporated into all other business applications and network assets.
Statuspage features analysis tools and an API for interactively upgrading pages, building customer trust, minimizing support issues, and standardizing incident management.
1. Freshstatus by Freshworks
You can communicate incidents in real-time to your subscribers with Freshstatus email notifications. In addition, customers will receive an email reminder about forthcoming scheduled outages.
Upon subscribing to real-time notifications, customers can be notified immediately when an incident occurs. With email subscribers, users aren't obligated to intimate every client individually or cope with support inquiries.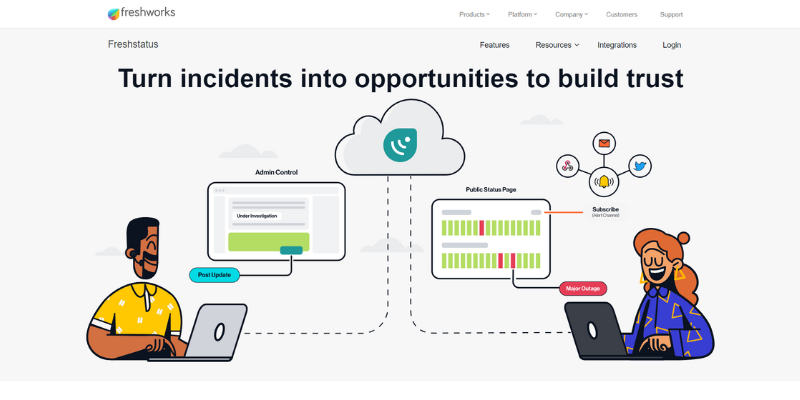 Real-time email notification to businesses manages customer engagement exclusively for you, allowing users to focus solely on faster incident resolution.
Freshstatus sends customers automated tweets from their Twitter profiles to avert customer assistance concerns and keep clientele notified instantly. Rather than being open and upfront about the service's status, tweeting incident reports and outage alerts enhances customer loyalty.
The Highlights
Enhance customer satisfaction by reducing queries and frustrations
Be credible and reliable
Event scheduling made easy
Insights from incident analytics
Faster incident resolution with team collaboration
2. Atlassian - Statuspage.io
The free  status page and self hosted status page, Atlassian Statuspage, is available in free and paid versions. It provides 100 registered users, 2 teammates, emails and Slack updates, and limited API availability.
Atlassian Statuspage proffers extensive performance reports, planned maintenance, and robust interfaces. It has the power to develop non - commercial, public, and user-specific status pages.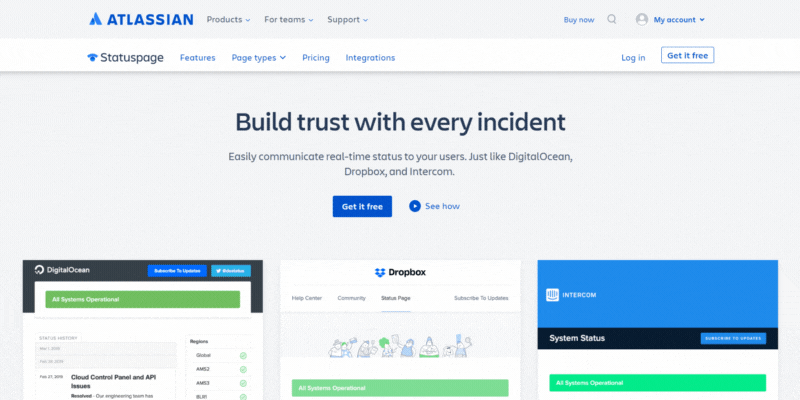 A hobby plan commencing at $29/month is needed since the free plan doesn't quite compel the use of custom domains. Nevertheless, the said plan has drastic customizability drawbacks since CSS and HTML cannot be modified.
It is only feasible with the Statuspage business plan, which normally costs $399 per month. In addition, Atlassian Statuspage can integrate a best status page into your website so users can evaluate the incident without exiting.
The Highlights
Customers can be notified via email or SMS.
Integration of monitoring tools.
Provides REST APIs for updating components.
Customize incidents reports for your scheduled maintenance with constant messages.
Embed widgets for your apps, websites, and help desks.
3. Cachet
The self hosted status page called Cachet lets enterprises proactively notify users about managed maintenance and system outages. Notable characteristics comprise metrics, an interactive user interface, linguistic compatibility, two-factor encryption, and more.
The Cachet API allows users to perform CRUD operations and subscribe to components or sites for email notifications. Cachet can be monitored and updated with third-party libraries and APIs.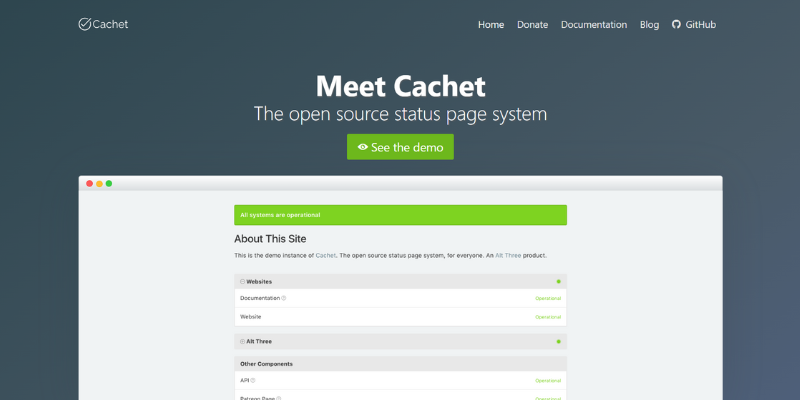 Cachet is an open-source status software that enables users to configure services and incidents both manually and automatically via a JSON API. It is snappy and attractive on desktop and mobile, and it includes the choice to display scheduled maintenance at the front end.
It is PHP-based and may be used with the LEMP, LAMP, or PHP hosting stacks. Great firms adopt Cachet to clearly articulate outages and system failures to their customers, workgroups, and stakeholders.
The Highlights
Any metric can be displayed on a chart.
Groups and components can be managed.
Provides two-factor authentication.
The dashboard is well-designed.
Metrics about your service should be added.
4. Upptime
A GitHub Actions tool called Upptime allows users to schedule workflows to run automatically at specific intervals using GitHub Actions. A periodic check of your website by Upptime, open source uptime monitor  has performed automatically every 5 minutes, and the hosted status page shows the current status of your website.
Upptime's uptime monitoring tool also creates graphs of the site's latencies and delivers customizability, including logos, make copies, charts, and more. GitHub problems work similarly to incident updates in that they can be entrusted to teammates and alerted by one of the provisioned notification networks.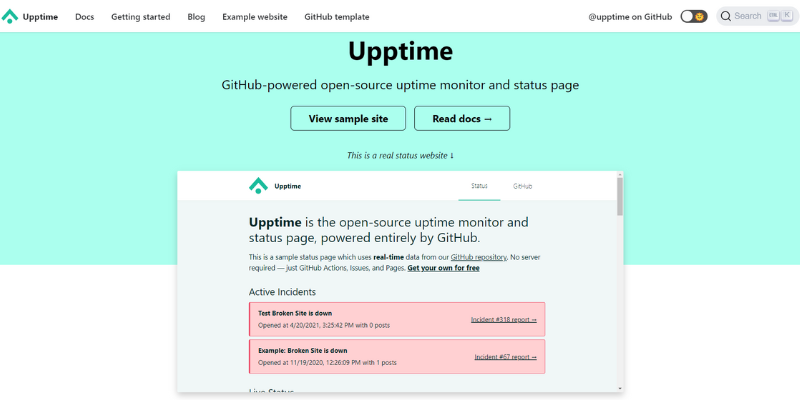 User data such as website status, incident context, and system performance graphs are depicted by Upptime utilizing GitHub pages to interpret status websites. Allows users to run triggers and integrated work processes manually.
The Highlights
Integrates with GitHub Actions reliably
An exquisite and intuitive interface
Report incidents by using issues
Notifications via Slack
Monitoring of response times is done every day
5. Instatus
With Instatus, you can design simple, intuitive open source status pages with multilingual assistance, customizable CSS and JavaScript functionality. They provide a nearly limitless quantity of teams and subscribers for free, but the best part is that it isn't upon the configurable domain.
Instatus provides multi-language status widgets, CSS and JavaScript customizations, and multi-lingual SaaS status pages hosted on a web server. Free status pages are accessible easily, if you have an unlimited number of subscribers and unlimited teams, but they cannot be branded.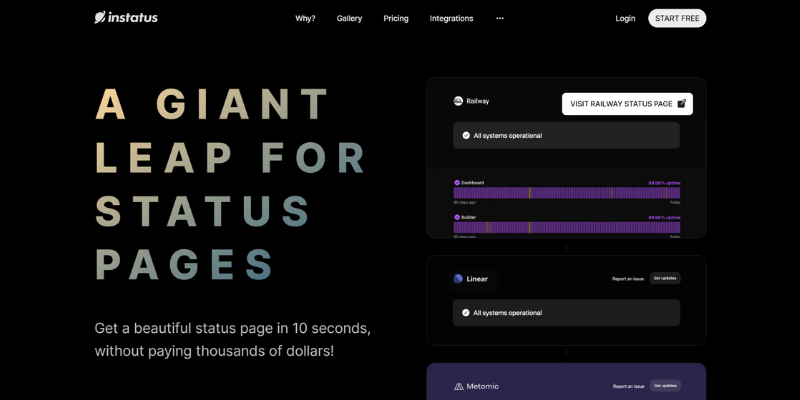 Instatus is a provider that streamlines processes, offers an enhanced uptime monitoring or depiction, Text messages and email alerts, a GraphQL API, functionalities and groups, intuitive SSL, prebuilt HTML and domain names, 99% reliability, unlimited workgroups, and more. It is free to use, or you can upgrade to a Pro plan for $20 per month.
The Highlights
Status pages that are superfast
Monitor services for automation
Free status page, easy-to-setup SaaS status pages that look great, simple, and informative
Integrations and features that are extensive
Free unlimited subscriptions and teammates
6. Better Uptime
Better Uptime can be a nicely crafted open source uptime monitor emphasizing incident analyzing, uptime monitoring, and best status pages into a single entity. The free plan of this open source status pages involves uptime monitoring through email, Slack, Microsoft Teams notifications, and a standard incident management framework.
Better Uptime offers a fantastic way to access a hosted status page instantly or for free, which is best suited if you intend to avoid investing in costly equipped uptime monitoring systems.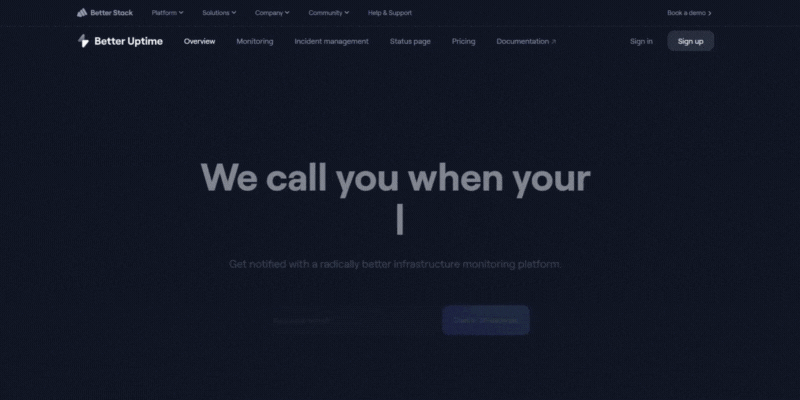 Status pages for large systems can be easily created with Better Uptime. You can customize the status page to suit your needs, but it focuses mainly on incident management and monitoring. Using your status page, you can hide your uptime history if it is imperfect.
There are many statuspage features to Better Uptime's Status page system or service, but it has some limitations. In addition to monitoring and managing incidents, it includes a page for status updates.
The Highlights
Notifications via Twitter and email
Support for dynamic DNS
Monitoring cron jobs
A monitoring system for pings, SOAPs, and webhooks
Integrated uptime monitoring
7. Uptime Kuma
With Uptime Kuma, you can automatically monitor your status pages and communicate with your customers effectively. This free status page tool is easy to use and offers all the features you'll need.
Powered by an open source status page platform, it can be customized to meet your needs. Keeping customers informed about potential outages or performance issues is a great benefit of Uptime Kuma for businesses.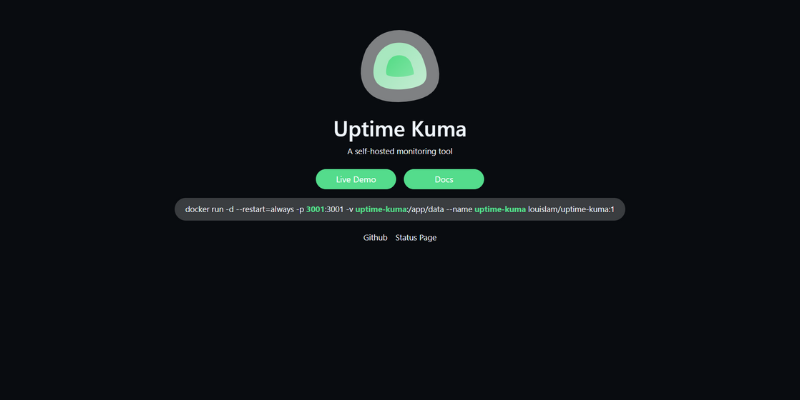 In addition to monitoring HTTP(s), TCP, HTTP(s) Keywords, Ping, DNS Records, Push, Steam Game Server, and Docker Containers, Uptime Kuma is also an open source Status Page and self hosted uptime monitoring tool.
With Uptime Kuma, you can easily uptime monitor your network remotely. This free Status Page tool that can create multiple status pages that are simple but exquisite. It is available on GitHub.
The Highlights
Using HTTP, Ping, and DNS for monitoring
There are multiple status pages
Notifications, including Slack, email, and Discord
User-friendly interface
The ping chart
8. Cronitor
Users can configure Cronitor Status Page to monitor uptime and create status pages using a simple, fast, and active monitoring service. You can either subscribe to the free version with five monitors, one user, and free status pages or upgrade to the paid version with branded SaaS status pages for $25/month.
Millions of developers use Cronitor to monitor and share incidents about websites, APIs, and cron jobs and to stay on top of incidents using appealing status pages. As well as answering questions directly, it allows customers to bypass the support process.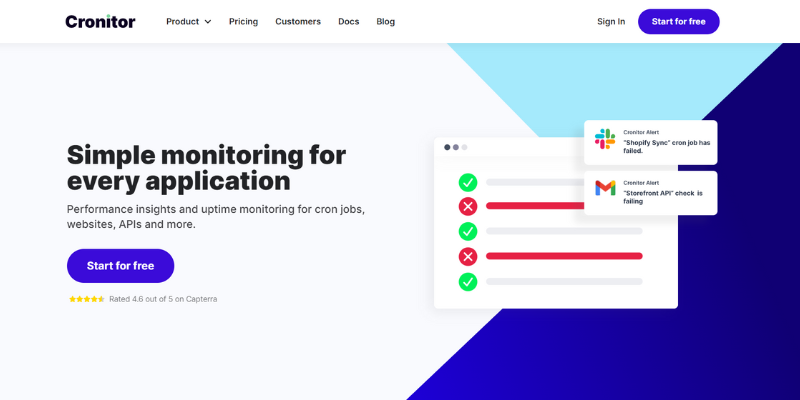 With IP allow lists and password protection, you can keep customers and internal teams synchronized. Permit the team to concentrate on determining an issue by upholding all incident information in one place.
The Highlights
A logo and company domain can be easily added to the page.
website, API, and cron job monitoring built-in.
Include an event timeline with incident updates.
Incident management automation
Wrap-Up
A status page is an excellent way to inform your customers whenever something goes wrong with your website. The open source status page tool Uptime Kuma is also one of the best status page out there.
An exemplary incident management tool is Freshstatus by Freshworks and Atlassian status page. From start to finish, the product manages incident response or lifecycles.
The best status pages provide your customers with up-to-date information about their service performance and incidents. An ongoing incident and the critical service status can be included on a free status page for all critical services.
Business free status pages or open source status pages allow them to inform customers about scheduled maintenance, incidents, and downtimes. Support costs can be reduced by cutting the cost of responding to emails and focusing on resolving issues instead. Uptime monitoring tools communicate regularly with customers about problems to build their trust.
Atatus Synthetic Monitoring ensures uptime, identifies regional issues, tracks application performance, and manages SLAs and SLOs by monitoring your applications, API endpoints, and critical business flows via simulated user requests.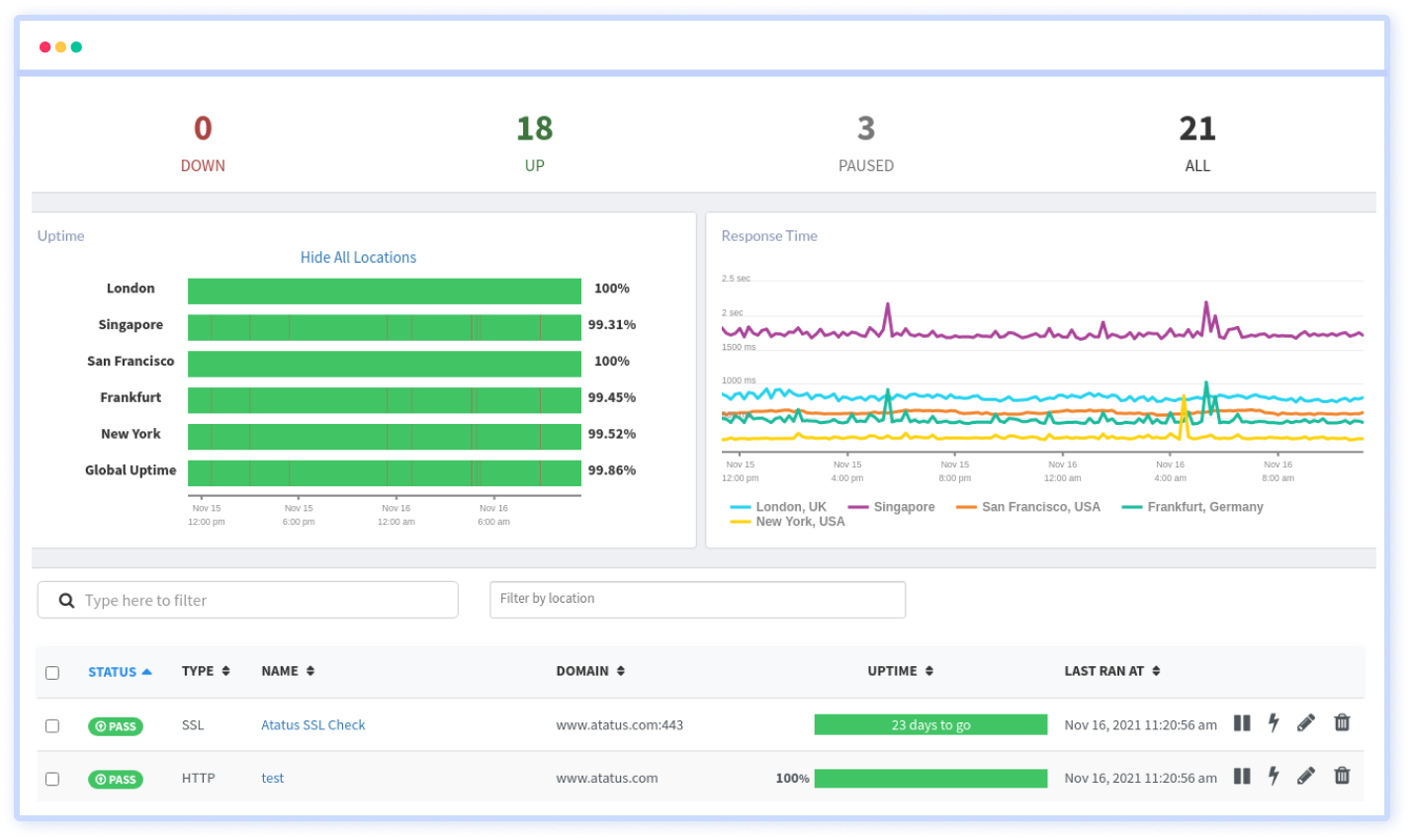 Atatus monitors the performance of your webpages and APIs in a regulated and steady manner, from the backend to the frontend, and at multiple network levels, warning you in the event of erroneous behavior such as regression, broken feature, high response time, unexpected status code, and so on.