If your company has multiple servers or services that create log files, reviewing them to find the causes of troubles or to find security breaches, takes up too much time.
Log monitoring and event logging software is a powerful tool for solving the problem of reviewing logs and helping you with log analytics, business intelligence, and log management. It allows professionals to track the activities of users, detect changes to applications, hardware, and network connectivity, and more.
The log files often contain useful, actionable information relating to the events that have taken place in the application over time. However, the information residing in these log files need to be analysed to gain real value.
There are many tools available to help with analysing log files. Listed below are the 15 best Log Monitoring and Event Logging software where you need to choose the right one for your business.
1. Atatus
Atatus is a well-known tool for Application Performance Management, which we also introduce log monitoring for the users who are all needing the perfect log monitoring tool. With Atatus log Monitoring, you can log from your log files, servers, applications, networks, and security devices. You can monitor multiple log files through multiple hosts and particular log messages can be detected with ease.
Features:
Log Explorer – You are able to view the entire event information such as Hostname, Source, Service, Tags, and Message and drill down into a specific log event to check the route cause of an issue.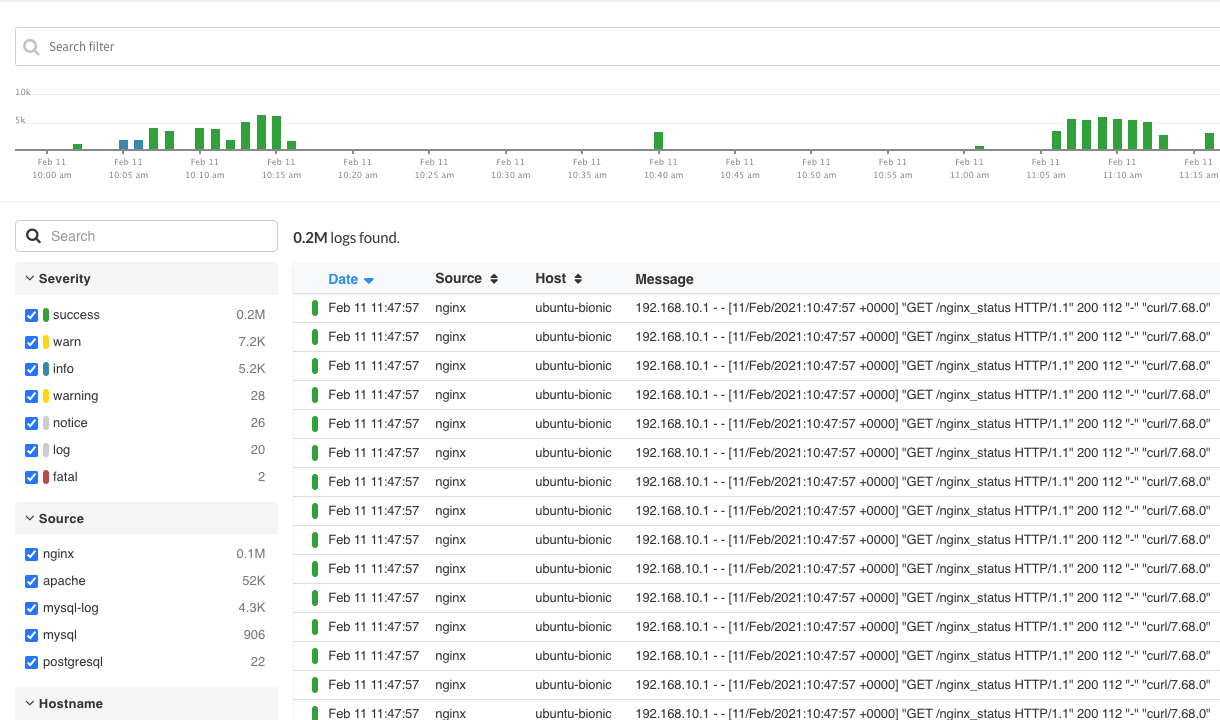 Live Tail – You can view all your log events in real-time from anywhere in your infrastructure. It allows you to pause the stream and take a deep look into specific events and fix them as quickly as possible.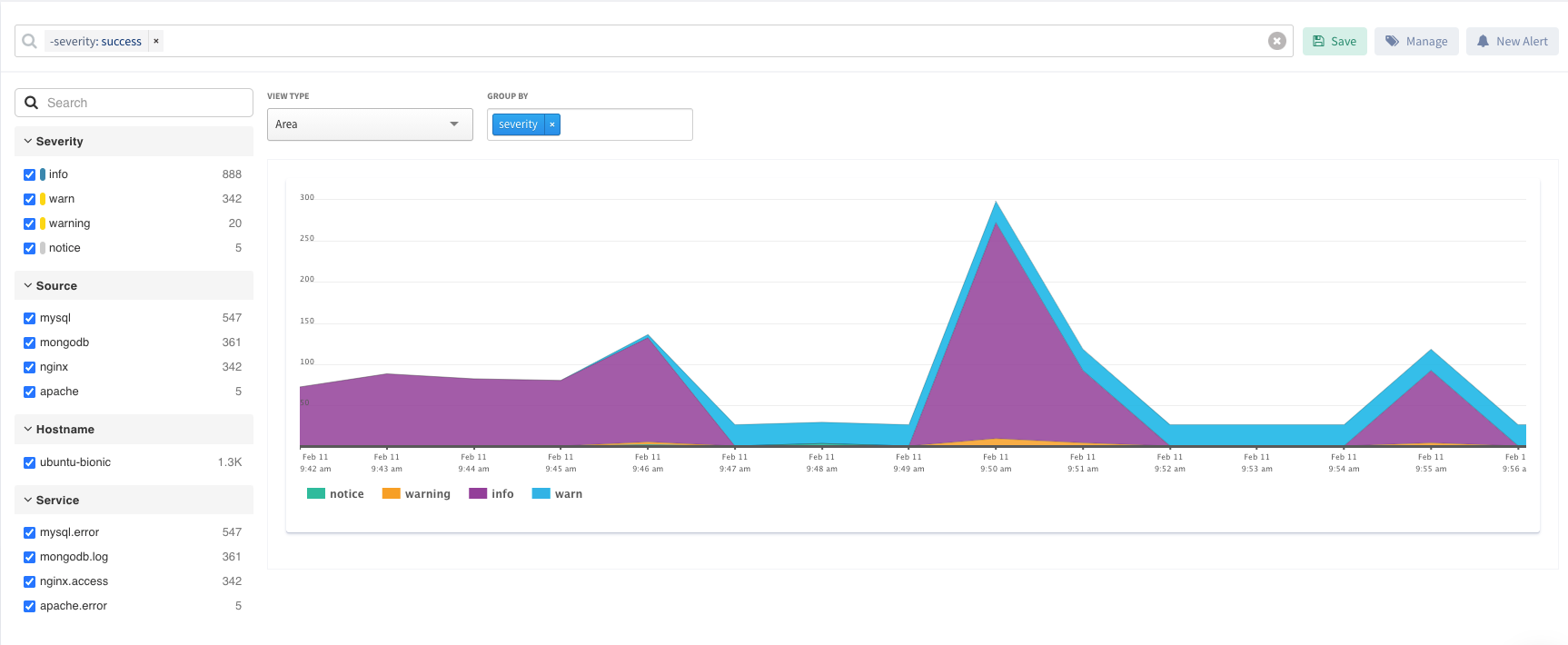 Log Analytics – With the filter options and the insights, you can sort and view the log event count information about alerts rules and policies.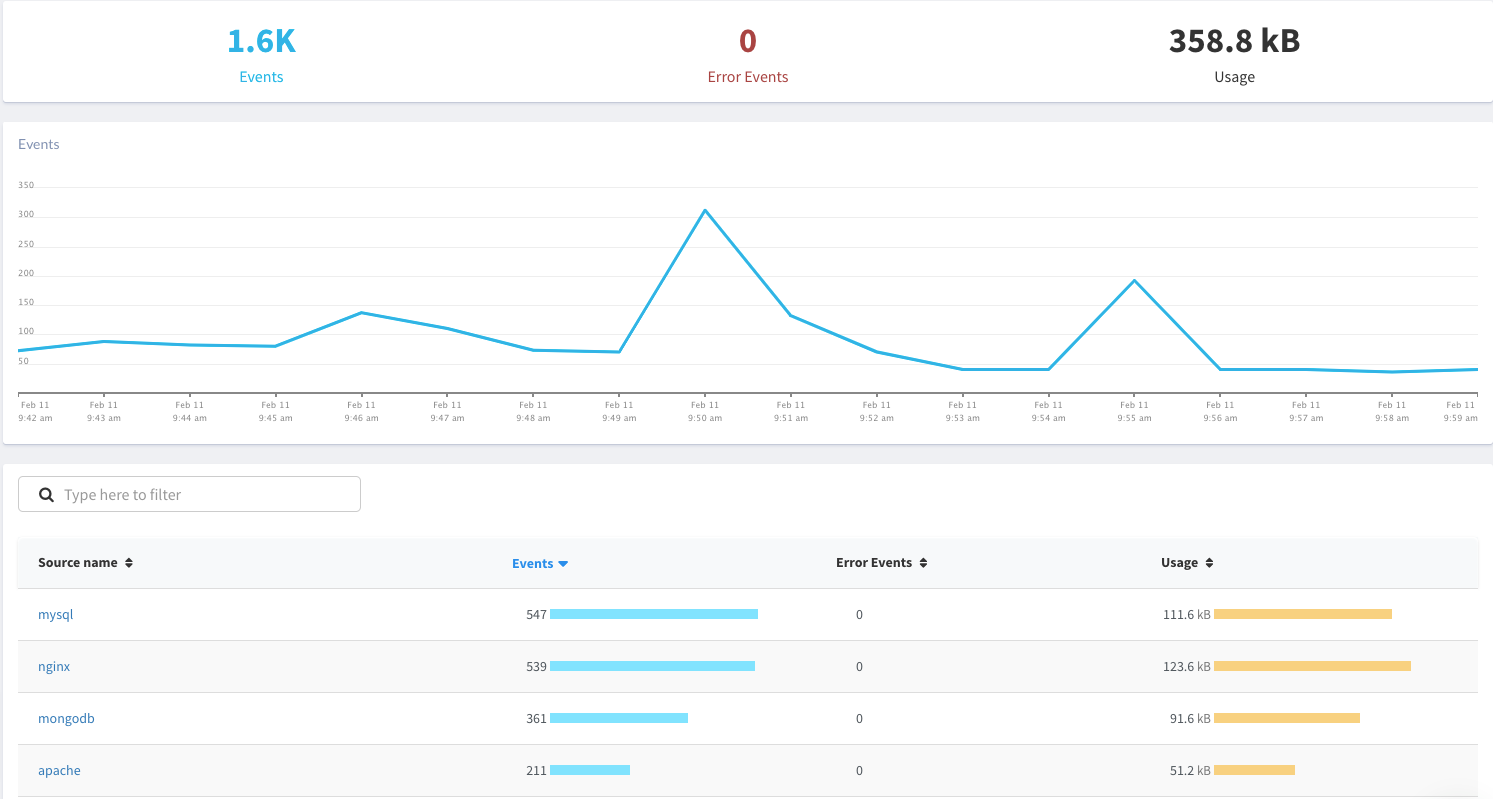 Alerting – Through alerting, you will get notified about your errors immediately with our alert policies.
Integration – you can integrate and view the log event in your specified modules like MySQL, MongoDB, PostgreSQL, NGINX, etc.
Pricing:
Standard – $35/month
Pro – $60/month
Business - $85/month
2. Loggly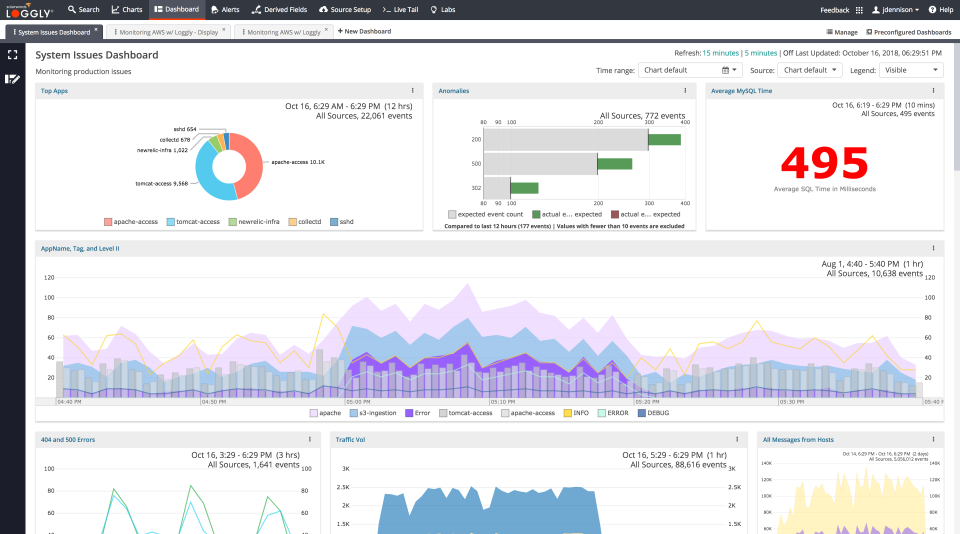 SolarWinds Loggly is a powerful tool for searching on huge volumes of log data for fast MTTR. It is a scalable, cloud-based log monitoring tool for fast searching and troubleshooting. It provides real-time log monitoring and views app performance for unusual activity across the stack. Analyse, track, and visualize your log to help answer key questions and track SLA compliance.
Features:
Log archiving and retention
Event logs
Compliance reporting
Audit trail
Log collection
Server logs
Threshold alerts
Pricing:
Lite – Free
Standard – $79/month
Pro – $159/month
Enterprise – $279/month
They provide a free trial with no credit card required policy.
3. Logentries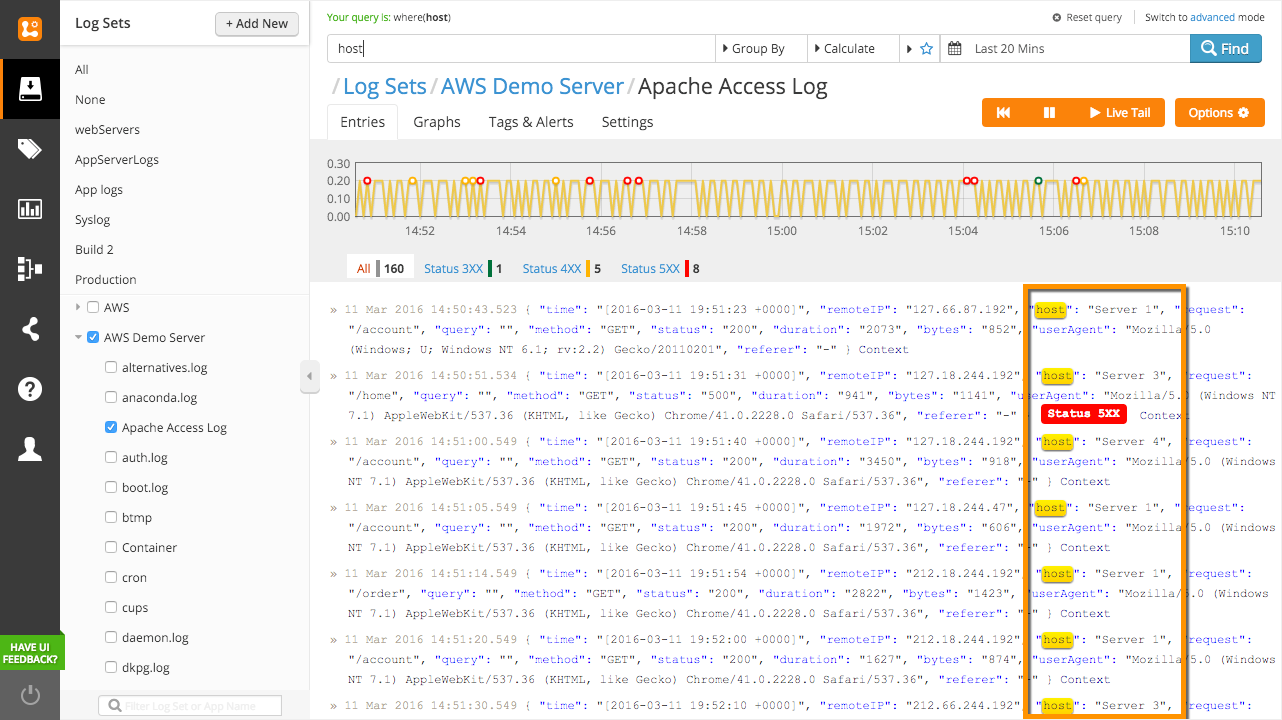 Logentries is a cloud-based log management tool, which is sooner going to be InsighOps powered by Rapid7. It organizes logs from servers, applications, routes, containers, and more in one central location. You can able to search keywords, key pairs, or regex patterns, get results faster than ever. It analyses your log data with line graphs, bar charts, multi-line reports, and more. Its unique pre-processing engine enables you to watch your logs stream directly into the UI with live tail and receive immediate alerts without delay. Their programmatical log querying will calculate results or data ready for visualization.
Features:
Real-time search
Scale-on demand
Log analytics & visualization
API & Integrations
Log alerting & reporting
Log security
Platform support
Pricing:
Standard – $49/month
Enterprise – Through quotation
30- day free trial with no credit card policy after sign-up.
4. Logz.io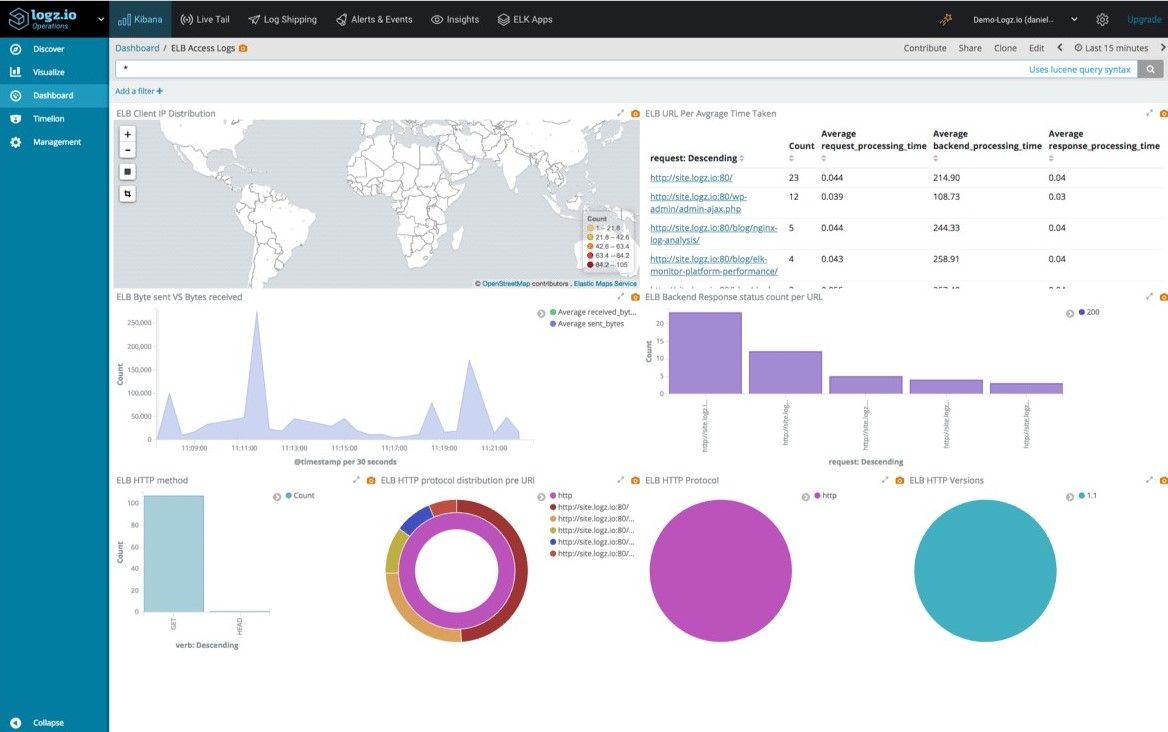 Logz.io is the leading cloud-based log monitoring tool that enables users to use the best open-source tools in the market without the complexity of operating, managing, and scaling them. It is for a variety of use cases, including monitoring and troubleshooting applications and infrastructure. They offered a fully managed service designed to help users monitor, troubleshoot, and secure their distributed cloud workloads more effectively.
Features:
Log archiving and retention
Event logs
Log collection
Server logs
Data visualization
Audit trail
Remediation management
Threshold alerts
Compliance reporting
Pricing:
Community – Free
Pro – $1.08/month
Enterprise – Through quotation
They provide a demo if you request it.
5. LogDNA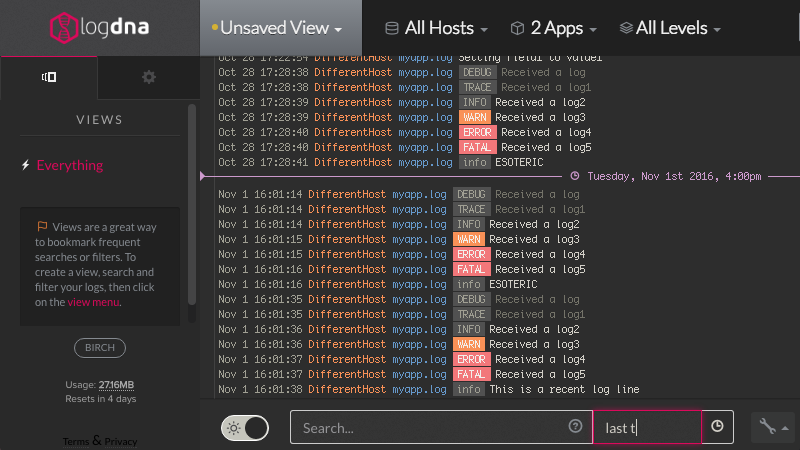 LogDNA empowers organizations with a fast, scalable, and secure way to centralize logs. With its features, you can ingest logs from any source and see them in a single UI. Search using natural language and visualize your log with intuitive boards and graphs with real-time alerts. Role-based access controls to limit access to sensitive logs and destructive actions.
Features:
Log archiving & retention
Audit trail
Log visualization
Event logs
Log collection
Remediation management
Compliance reporting
Server logs
Threshold alerts
Pricing:
Free
Birch – $1.50/month
Maple – $2/month
Oak – $3/month
Custom – Through Quotation
A 14-day free trial with unlimited data and no credit card policy.
6. Splunk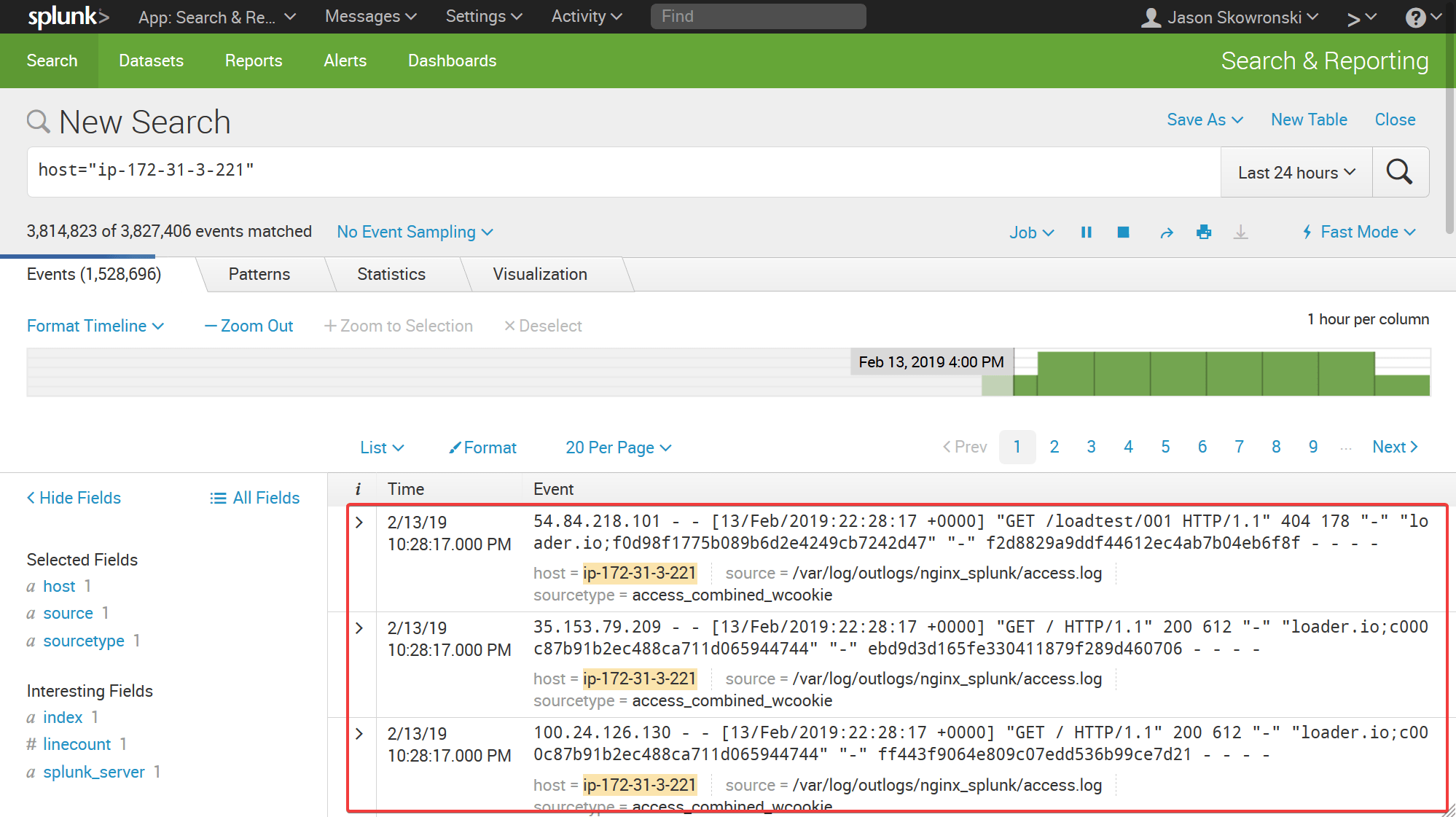 Splunk log monitoring tool focuses on enterprise audiences who need tools for searching, diagnosing, and reporting any events surrounding data logs. It is built to process the indexing and deciphering logs of both structured and unstructured logs, based on a multi-line approach. It provides a platform that can turn machine data into answers.
Features:
Drill-down log analysis
Real-time event log correlation
Augmented threat intelligence
Log alerting
Reports and friendly dashboard
Pricing:
Not mentioned. Pricing gets through quotation.
They do provide free plans for customers.
7. Sumo Logic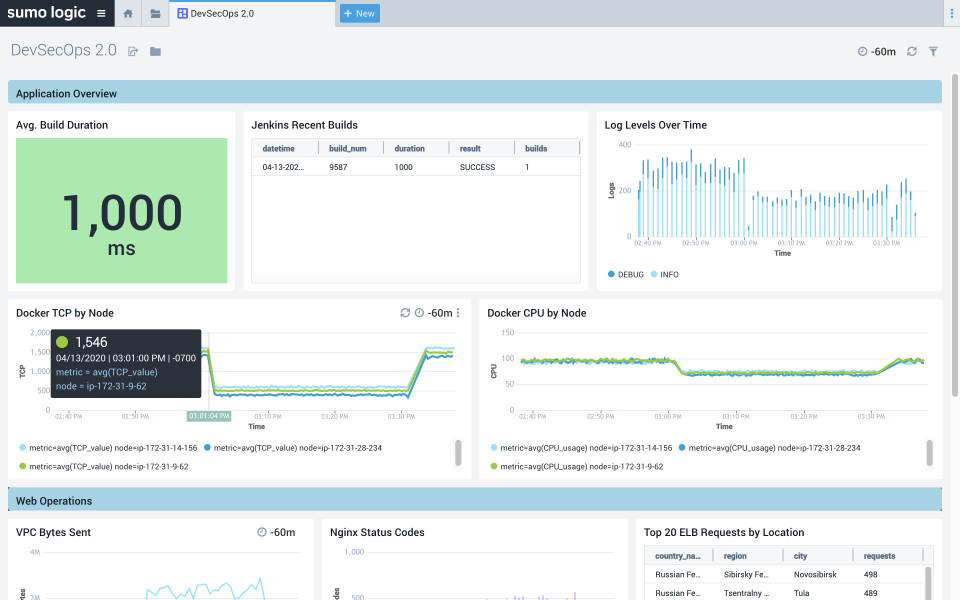 Sumo Logic is a cloud log management and metrics monitoring solution used by IT, security, and development teams across all size companies. It is a cloud security analytics platform that provides security intelligence for your multi-cloud, microservice, and hybrid environment. It delivers the cloud-native, real-time machine data analytics platform that provides continuous intelligence.
Features:
Log archiving and retention
Event logs
Log collection
Server logs
Data visualization
Audit trail
Threshold alerts
Compliance reporting
Pricing:
Not mentioned.
They provide a free trial after sign-up.
8. PaperTrail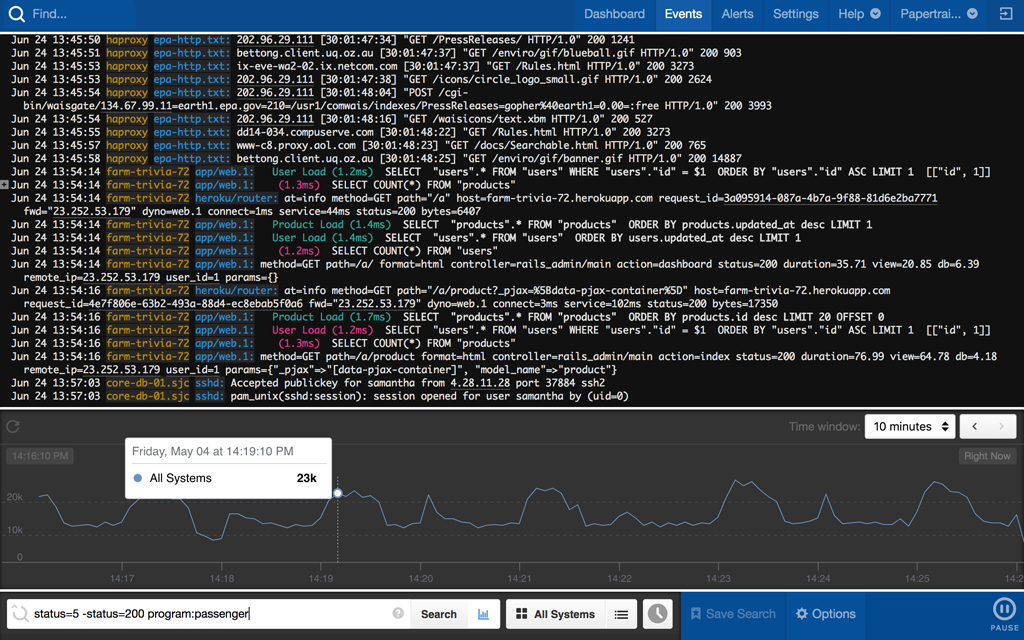 SolarWinds Papertrail is a cloud-based log management tool designed for faster troubleshooting of infrastructure and application issues. It lets you consolidate your logs across your application in one place and track real-time activity to easily diagnose and fix problems. It serves DevOps teams of any size who need a real-time view of their aggregated logs for a frustration-free service providing full and instant visibility across all logs. Also, it allows the individual users to create alerts, search, and modify group details.
Features:
Log archiving and retention
Event logs
Log collection
Server logs
Data visualization
Audit trail
Threshold alerts
Pricing:
Starts from $7/month. Various plans are available, you can choose according to your need.
They also provide a free plan and a demo of their product.
9. Cloudlytics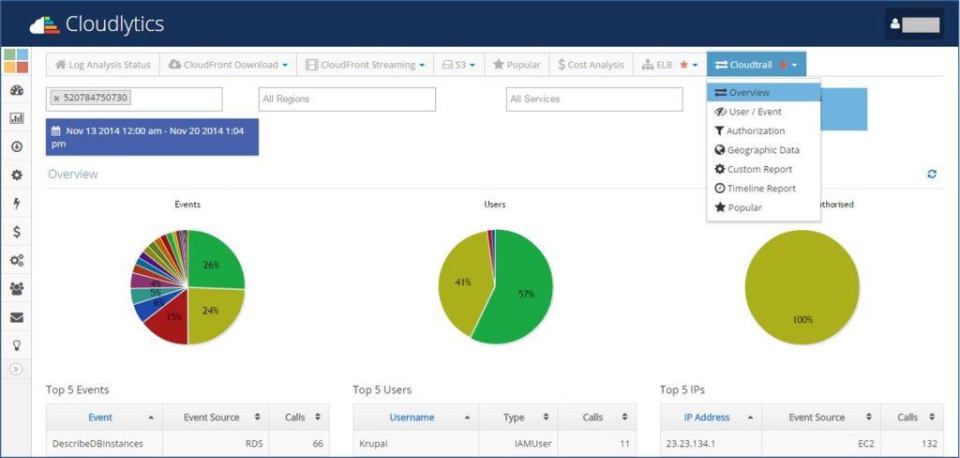 Cloudlytics is an AWS (Amazon Web Services) Cloud log analytics and management tool that translates user interactions, user behaviour, system health, unauthorized access attempts, operational insights, and security breaches. It helps users to monitor, analyse, and get actionable analytics for access logs. Using EC2 scheduler and optimize resource utilization, helps through automation services such as back up, clean up, and notifications.
Features:
Cloud log analytics
Event analysis
Compliance in the cloud
Asset monitoring
Pricing:
Essential – $249/month
Advance – $349/month
Enterprise – Custom
They provide a free trial without asking for much details.
10. DataDog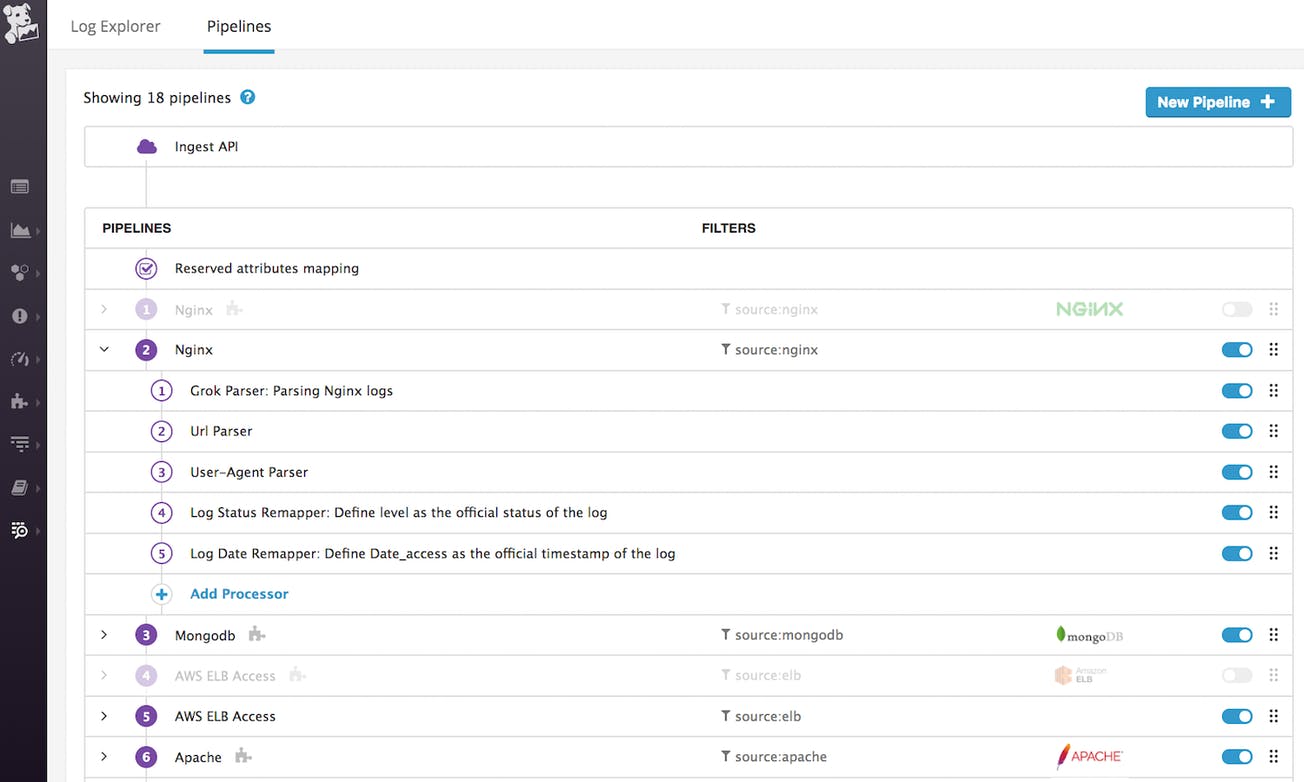 Datadog Log Monitoring simplifies your work by letting you ingest, analyse, and archive logs from your environment with easily rehydrate old logs for audits or historical analysis. It seamlessly correlates logs with related traces and metrics for greater context when troubleshooting. Get alerted when you exceed user-defined log monitoring thresholds to identify issues like code exception errors.
Features:
Centralized log monitoring
Logging without limits
Log rehydration
Log alerts
Log context with metrics and stack trace
Pricing:
Starts from $0.10/month.
They provide a 14-day free trial with no credit card required policy.
11. New Relic Logs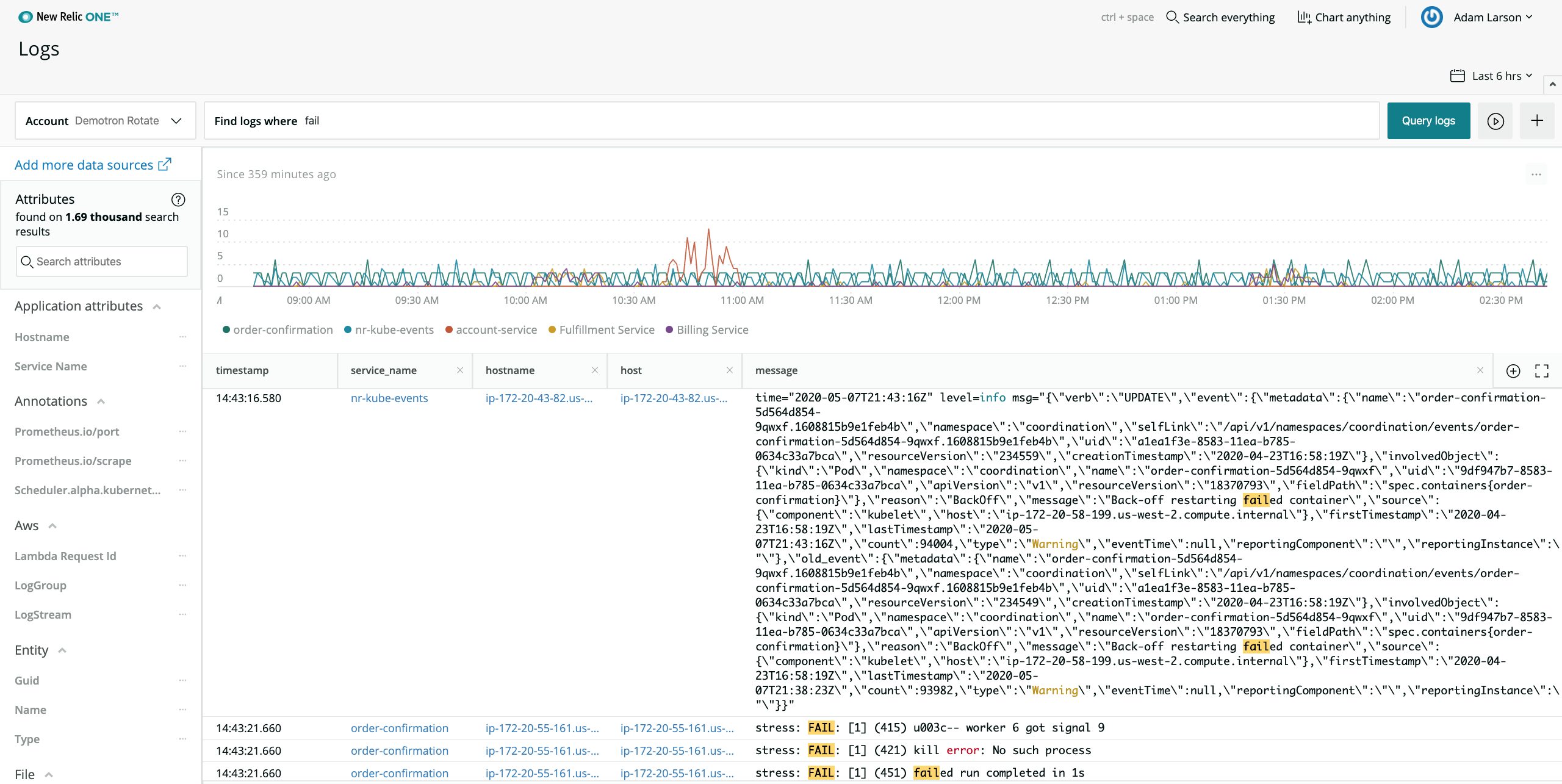 New Relic Logs is a cloud-based log monitoring tool with super-fast search and analytic capabilities, flexible alerts, and intuitive dashboards for all your log data in one location. You can automatically correlate logs with curated content from applications, infrastructure, serverless, and mobile errors so that you can get to the root cause of problems faster. Its unified visibility across all your log data and infrastructure events data. It supports both on-prem and cloud originated data.
Features:
Log analysis
Event logs
Full Stack Observability with Logs
Applied Intelligence
Log alerts
Pricing:
You can know the pricing on their website.
They provide free access with no credit card required policy.
12. Sematext Logs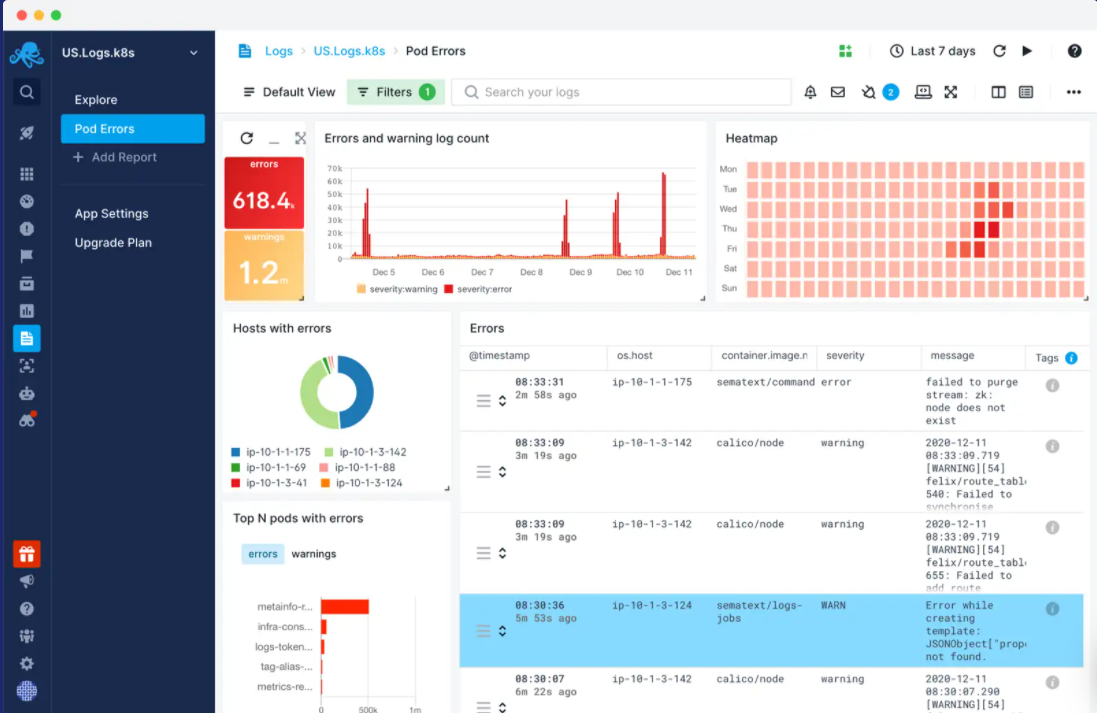 Sematext Logs is a fully managed ELK (Elasticsearch, Log stash, and Kibana) in the cloud, which is designed to eliminate the burden of managing Elastic search clusters and it's infrastructure. A large number of log shippers, logging libraries, platforms, and frameworks makes it simple to analyse, aggregate, and alert on logs from various source. It gives the ability to switch between multiple accounts and access specific logs app, alerts, dashboards, etc.
Features:
Centralized logging
Altering on logs
Log security
Multi-user RBAC (Role-Based Access Control)
Log integrations/shipping
Searches, filters & log tagging
Syslog analysis & support
Pricing:
Basic – Free
Standard – $50/month
Pro – $60/month
A 14-day free trial with no credit card required policy.
13. GrayLog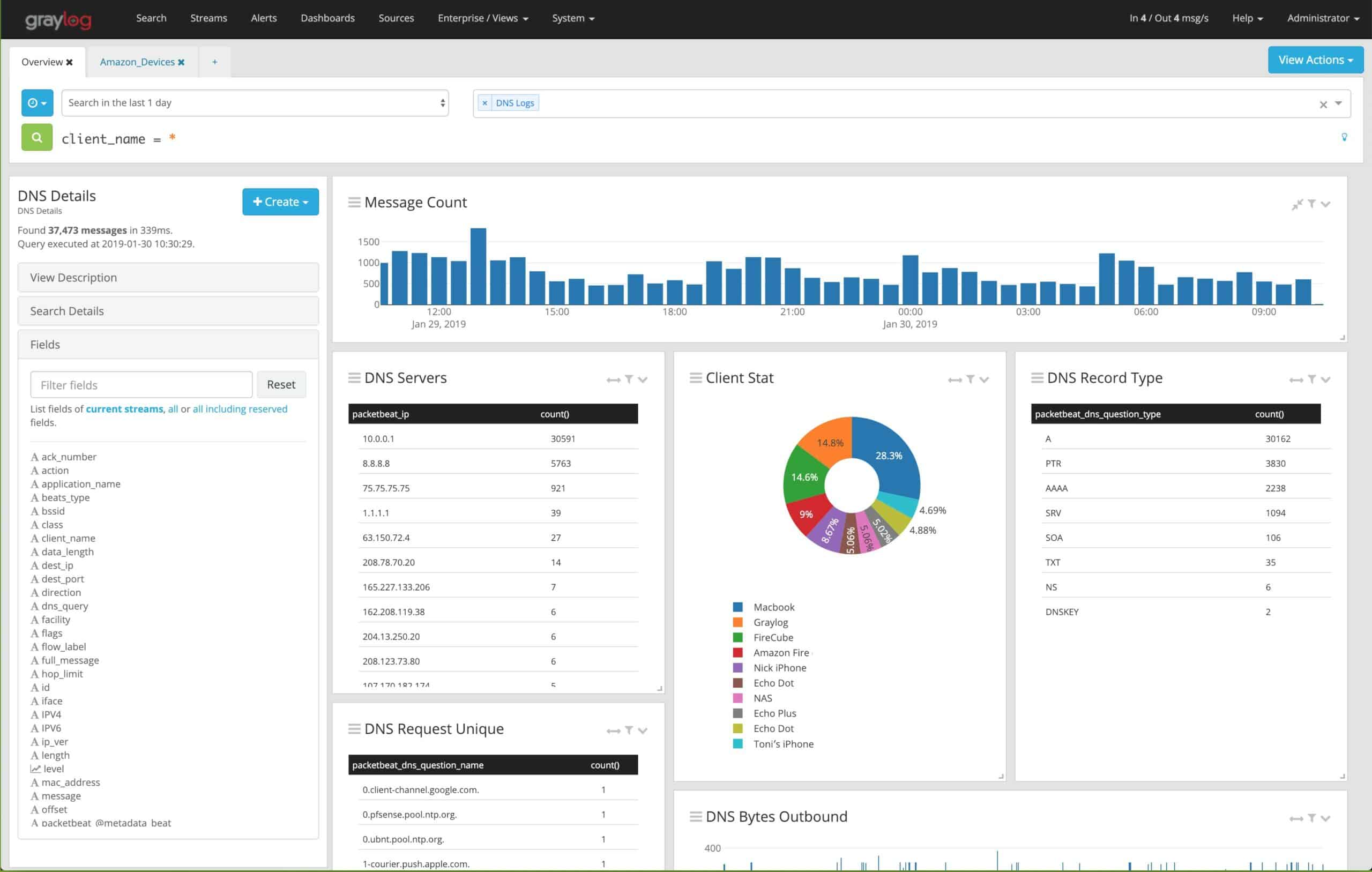 Graylog is a leading centralized log management solution for collecting, storing, and enabling analysis of machine data. It removes complexity from data exploration, compliance audits, and threat hunting with purpose-built for modern log analytics so you can quickly and easily find meaning in the log and take action faster. This platform is for the companies who need seamless data collection and normalization from any data source, faster analysis, and greater affordability.
Features:
Log archiving and retention
Audit trail
Log collection
Event logs
Compliance reporting
Server logs
Threshold alerts
Pricing:
Not mentioned.
They provide a 30-day free trial with full access.
14. GoAccess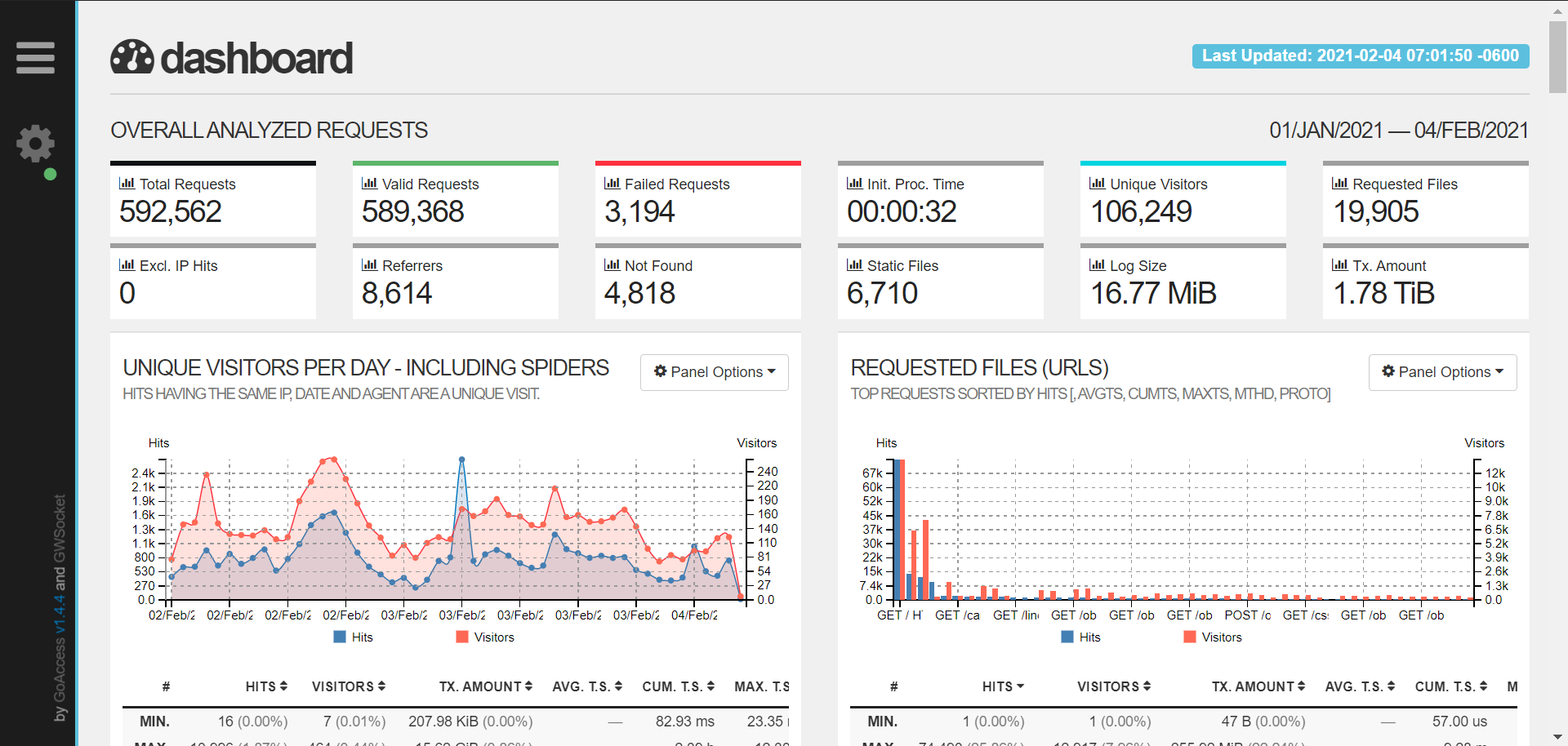 GoAccess is an open-source real-time web log analyser and interactive application that runs in Unix systems or through your browser. It provides fast and valuable HTTP statistics with a visual server report for system administrators. It was designed to be a fast, terminal-based log analyser to quickly analyse and view web server statistics in real-time.
Features:
Incremental Log Processing
Nearly All Web Log Formats
Completely Real-Time
Metrics per Virtual Host
Track Application Response Time
Minimal configuration needed
They provide a live demo on their website. You can download this log management tool anytime.
15. Solarwinds Log Analyzer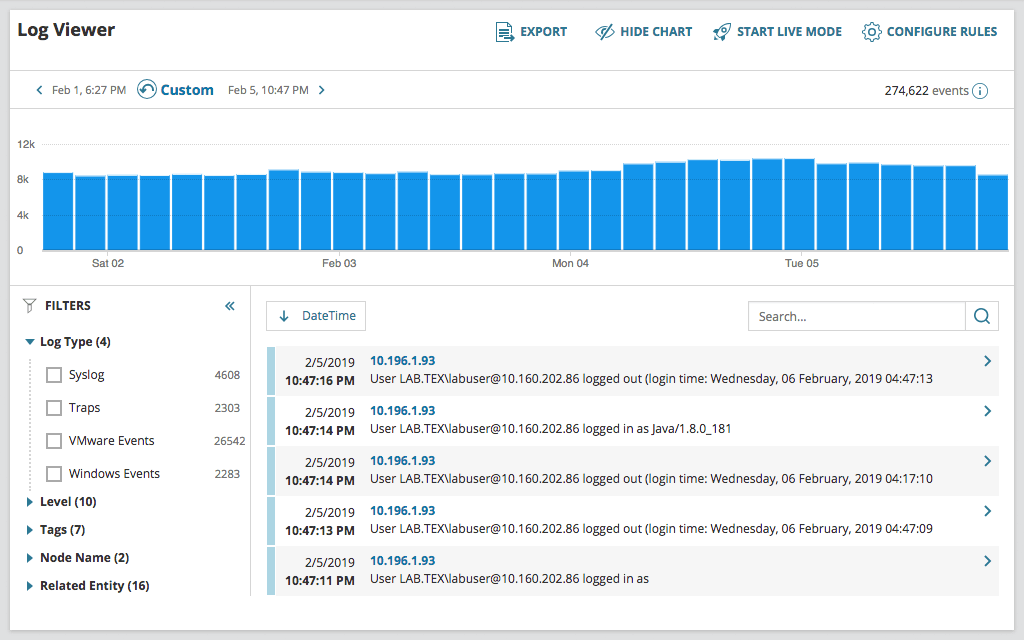 SolarWinds Log Analyzer is a log monitoring and analysis tool, designed to fully integrate with the Orion Platform. It enables visibility into the performance and availability of the monitored IT infrastructure. Their log analyser enables you to collect, consolidate, analyse log information with one tool, and perform fast searches and apply filters to refine results. It integrates with the intelligent alert engine to provide customizable alerts along with delivery options.
Features:
Log and event collection and analysis
Log search and filter
Real-time log stream
Event log tagging
Flat log file ingestion
Orion platform integration
Orion alert integration
Log forwarding and exporting
Pricing:
Starts from $857.
30-days free access to Log Analyzer from SolarWinds.
Choose the Perfect One!!!
At the end of the day, log monitoring and event logging software are less about which tool and more about choosing the tool that works for you and your enterprise.
As information systems become increasingly complex, logging can solve problems that communication and time-consuming investigation can't. It lets you find the source of problems quickly so that you can fix them quickly, and so you can prevent them from reoccurring.
Does your company use an effective logging process? What is your favourite log monitoring software? What features are most important to you? Share your opinion with us at Atatus.