The security and privacy of payments is underlined in multiple visuals we confront each day while visiting numerous websites and apps. Can businesses and customers benefit from that? Any company handling cardholder data, whether a startup or an enterprise, must adhere to the Payment Card Industry Data Security Standard (PCI DSS).
You must validate your compliance annually in order to remain compliant. Companies that provide credit cards generally mandate it as part of their agreements and control with the credit card networks.
Our online users are able to create personal profiles and user accounts to complete online payments as comfortably and timely as possible. The convenience of creating online payments has made our lives more manageable.
Whether we're making routine purchases on a monthly basis or completing one-time purchases. Businesses and customers can suffer substantial monetary losses if sensitive information was stolen during these transactions, like card particulars.
What can you do to guarantee the cybersecurity  and privacy of your client's credit card information as an online business owner? A company accepting, storing, processing, or transmitting card information must follow and checklist PCI DSS.
Table of Contents
What is PCI DSS?
Standards for core PCI compliance are developed by the Security Standards Council (SSC). Essentially, this system or components protects and secures the entire payment card system.
A merchant or service provider processing credit/debit card payments are required to follow these standards. A group of credit card payment agencies formed a council called the Payment Card Industry Security Standards Council (PCI SSC) in 2006.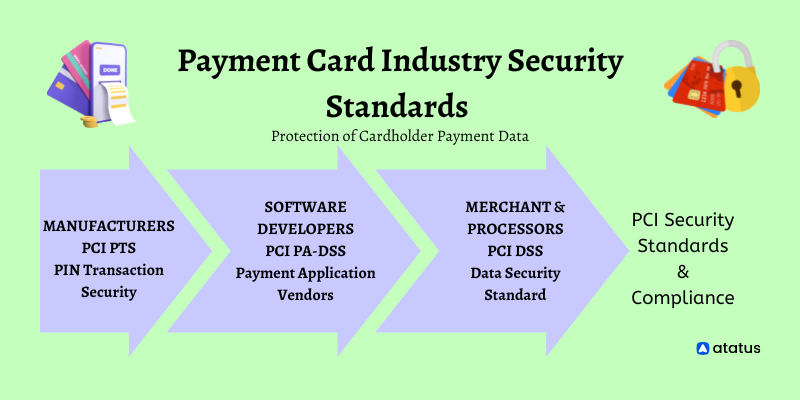 This council has designed a set of payment standards that merchandisers who are affiliated with card issuing businesses, and any other company that retains procedures, and transmits cardholder details should consider PCI control compliance.
As an upshot of these standards, the Payment Card Industry Data Security Standard (PCI DSS) was created. Credit card processing companies with encryption of the Payment Card Industry Data Security Standard, obliges enterprises in deciding whether they are conceivably disclosed to financial losses.
By creating domains of Payment Card Industry Data Security Standards, payment card transactions and online payments can be safely processed and identity fraud can be avoided.
To ensure the protection of credit card transactions in the payments domains, credit card companies are required to comply with payment card industry compliance rules.
To secure and protect the data provided by cardholders as well as transmitted through payment card transactions, businesses follow the technical and operational standards of the payment card industry.
PCI DSS Compliance levels
As a measure to prevent payment sensitive data breaches and fraud, PCI DSS (Payment Card Industry Data Security Standard) has been developed by the Card Industry Data Security Company along with PCI levels.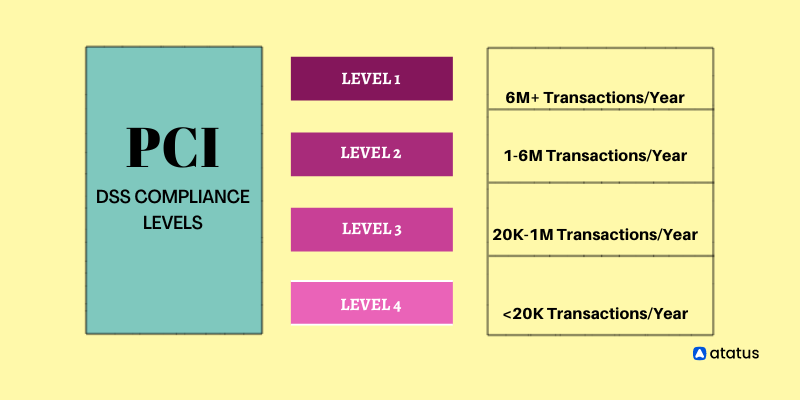 But did you know that a versatile standard does not apply to all requirements? Depending on how many transactions an organization handles a year, there are four PCI compliance levels;
Level 1 – Established for businesses that process over six million card transactions annually. A PCI audit requirements must be conducted annually by an authorized auditor. Furthermore, they must undergo a PCI scan by an Approved Scanning Vendor (ASV) once a quarter.
Level 2 – Businesses that process between one million and six million transactions annually. An assessment is required once a year using the Self-Assessment Questionnaire (SAQ). PCI scans may also be required on a quarterly basis.
Level 3 – A merchant who processes 20,000 to one million transactions a year should consider this option. Annual assessments must be conducted using the applicable SAQ. You may also need to perform a PCI scan on a quarterly basis.
Level 4 – A merchant who handles less than 20,000 transactions in a year is eligible for this level. There may be a need to conduct a quarterly PCI scan and complete a yearly assessment based on the appropriate SAQ.
PCI DSS Compliance Benefits
The use of credit cards should be accompanied by secure credit card transactions.
Credit card fraud and unauthorized use should be prevented so that merchant profits can be protected.
With PCI processor, make merchants and service providers more trustworthy and improve their brand image.
Ensure that data loss is prevented and reduced regularly, and that restoration costs are reduced.
Requirements for PCI DSS
Financial data must be handled securely as part of PCI compliance standards, which reduces the risk of financial data loss. In the event that these standards aren't adhered to, the information on your cards may be hacked and you may be committing fraud, such as identity theft.
In accordance with PCI DSS, the following 12 requirements and purposes must be met:
Protect cardholder PCI sensitive authentication data by installing and maintaining a firewall.
There must be no vendor-supplied passwords on the system.
Ensure that cardholder data is protected.
Transmission of cardholder data over public networks must be encrypted.
Keeping antivirus software up-to-date is essential.
The development and maintenance of secure systems and applications are essential.
Protect cardholder data by restricting access to business needs.
Access to data is granted to individuals with unique IDs.
Secure cardholder data by restricting physical access.
Tracking and monitoring network resource access and cardholder data on a regular basis.
Processes and systems should be regularly tested for security.
Maintaining information security policies and documenting them.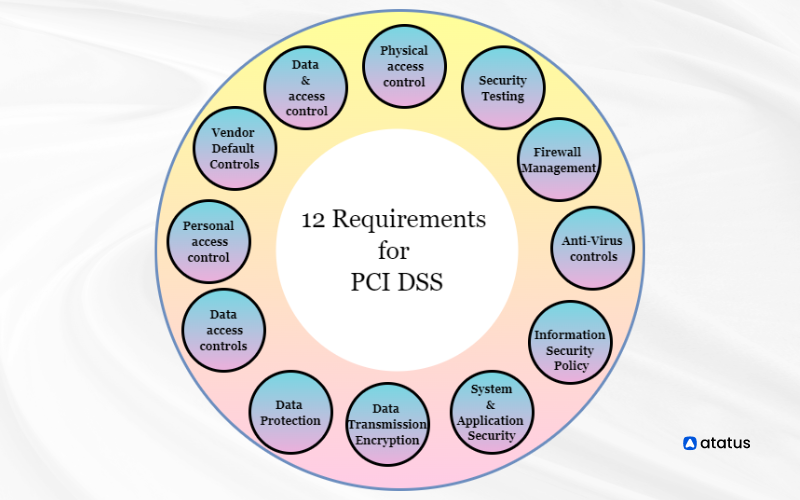 A PCI security requirements also contains more than 400 test procedures and 78 base requirements. PCI DSS version 3.2.1 was released in 2018 as the most up-to-date version.
How PCI compliance works?
A company handling cardholder data must adhere to PCI DSS compliance procedures and practices. There is more to PCI control compliance than just a certification; it involves a continuous process that includes:
Vulnerabilities in data security must be remedied and repaired
Assessments and remediations to fix vulnerabilities should be documented and reported
Analyzing vulnerabilities related to cardholder data by identifying assets and processes
There may be differences in compliance processes and steps among companies, but the core principles are the same no matter how they are implemented.
In addition, if you use a payment processing company so you are compliant with PCI DSS, such as PayPal, you aren't excused from PCI requirements list (although it limits the scope of compliance).
Payment processing firms (or companies that integrate with their services to handle cardholder data) must comply with this encoding requirement.
Final-Shot
A variety of applications that assist mercantile processes, such as the cash register systems at retail stores like Macy's, use PCI DSS standards and even e-commerce technology comes under these standards.
When developers are compliant with PCI, they receive security guidance as they code and are taught how to consistently integrate security into their applications.
In order to minimize the risk of sensitive cardholder information being lost, it is important to regularly assess and maintain any vulnerabilities and gaps in data security.
Maintaining data security for online businesses requires regular audits and monitoring in accordance with PCI DSS. By encrypting and protecting sensitive financial data, the PCI SSC helps ensure data security.
Credit card data security is covered by a variety of standards, including the PCI Data Security Standard, which covers all aspects of data security, from prevention to response in the event of an incident.
---
Monitor Your Cloud Infrastructure with Atatus
With real-time application performance monitoring, you can see how your application performs, as well as slow queries in the database, poor network performance, and more. By using Atatus, you can quickly identify root causes and solve problems.
Find the slowest layers having an impact on your customers by getting a complete picture of your requests. By analyzing histograms and percentiles, and by analyzing error rates, you can troubleshoot request performance issues with Transaction Monitoring. Take action as soon as possible to resolve API response delays.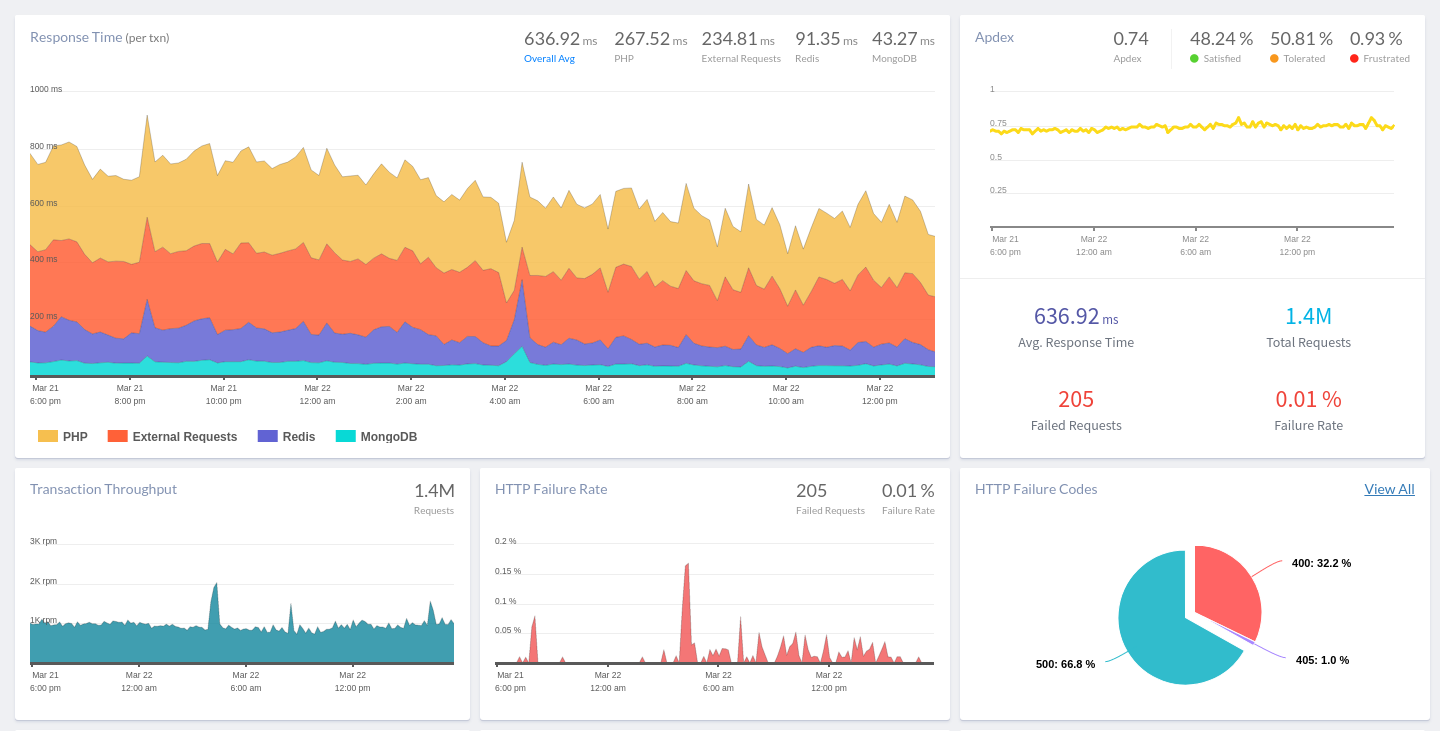 Using Database Monitoring, you can filter and view the original trace specific to that slow SQL query as well as a detailed overview of all your database performance and slow database queries. Identify any degradation in database response time by viewing individual database breakdowns and throughput.
Visualize the performance of network calls to external services, such as third-party apps and micro-services. See which requests are affected the most by the most time-consuming network calls.
Identify the root cause of HTTP failures by quickly viewing the highest HTTP failures and each request information. HTTP Failure Monitoring can help you identify the end-users who are most affected by API failures based on HTTP Status Codes.
Looking for actionable insights? The Atatus 14-day free trial is now available!