Site24x7 is one of the oldest website monitoring services, having been in operation since 2006. They are now owned by Zoho. They provide website monitoring, server monitoring, and application monitoring. Even though it's the best one - it is worth knowing Site24x7 alternatives for future considerations.
Site24x7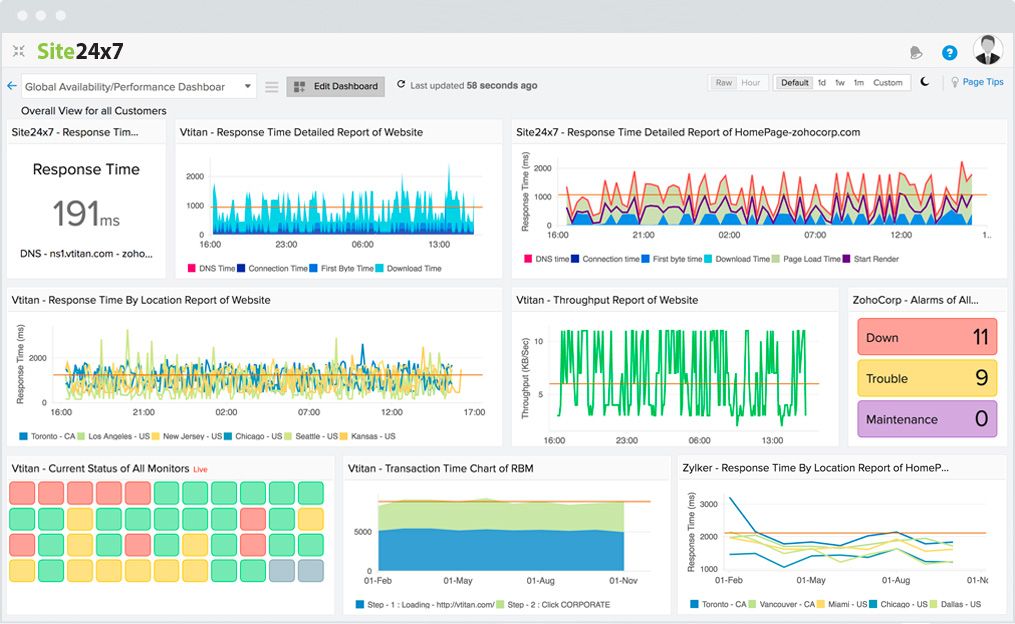 Site24x7 is gradually becoming the go-to solution for resource monitoring, due to its great features, responsive and helpful support staff, and alerting system that sends messages through email or SMS.
Every time your website or application fails to load a resource, has network connection issues, performance issues, Server CPU utilization, timeouts, and more, Site24x7 sends you a thorough and detailed alert.
Their real-time user monitoring tool lets you see how users interact with your website, providing you with a better grasp of the real issues that are influencing their experience. You can also track and analyze the various elements that influence their experiences, such as browser, geography, ISP, and platform.
HTTP, HTTPS, REST, DNS, TCP, POP, IMAP, SMTP, and FTP are among the protocols supported by Site24x7. For notifications, they feature various integrations with prominent third-party platforms like PagerDuty and Zapier.
Site24x7 offers a free plan that covers monthly monitoring of five websites and ten notifications. Paid plans begin at $9 a month and include monitoring of ten websites, eight test locations, and 50 alert credits. It's worth noting that all of their tiers offer a 30-day free trial period with no credit card required.
The product's inexpensive pricing plans that scale as your business scales is one of its main draws, although this is partly mitigated by the product's rather outdated look, which can feel a little complicated at times.
In this article, we have covered some alternatives to Site24x7:
#1 Atatus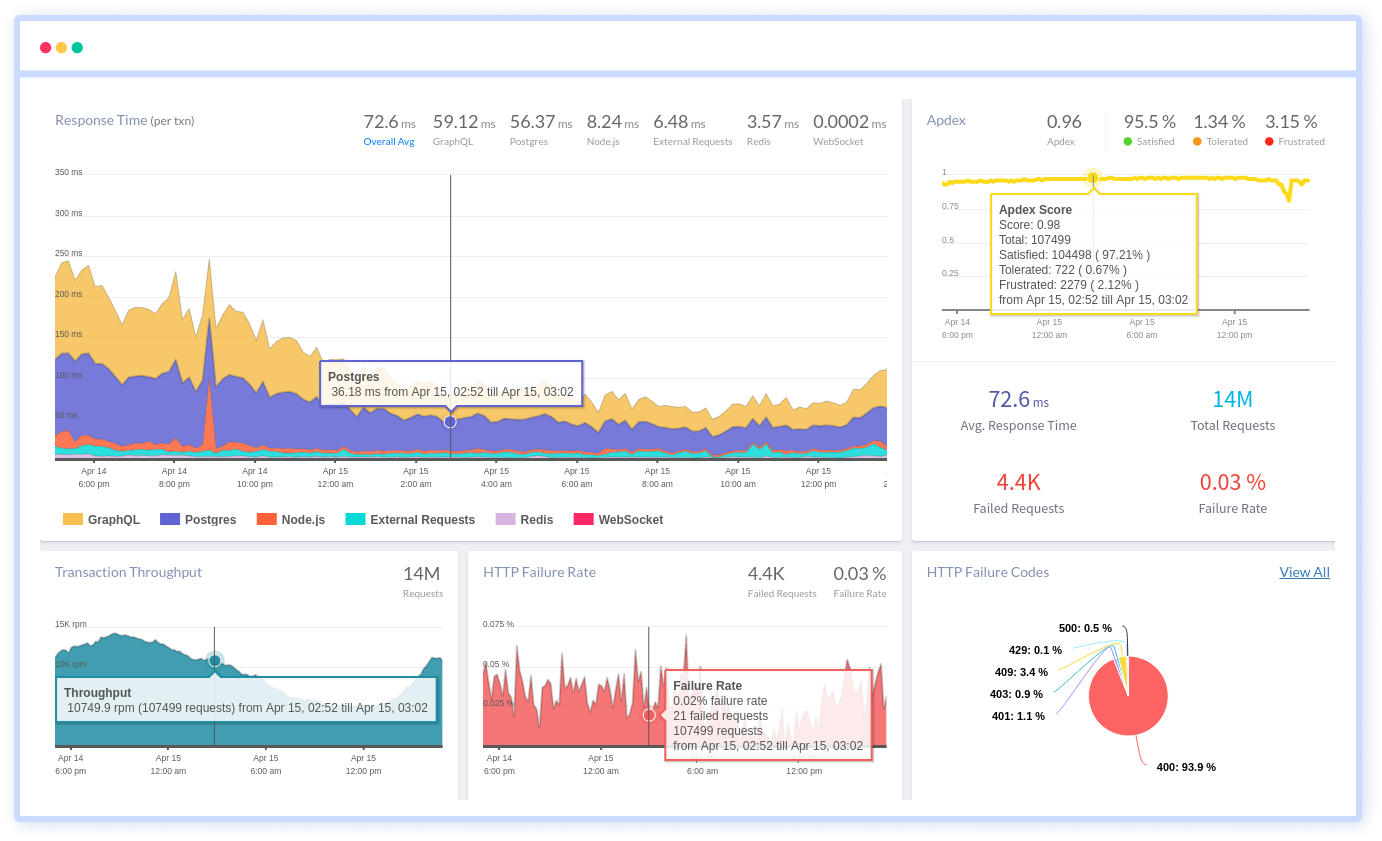 Atatus is a full-stack observability platform that leverages real-time user monitoring to improve front-end speed. It's a full-stack SaaS application with an error tracking system. It's one of the best APM software options and Site24x7 alternatives, with cloud or on-premise implementation options.
It enables you to collect millions of performance data points in real-time across applications, allowing you to quickly resolve issues and improve digital customer experiences. Furthermore, such events occur in real-time due to the flexibility of cloud or on-premise deployment.
It gives you a full picture of all the application performance metrics you need to make high-quality, trustworthy software. You will be contacted as soon as the problem arises. It contains details such as who, when, and what caused the drop in performance.
It keeps track of the health of your applications and alerts you when there's an issue with the customer experience. It examines the frontend and backend performance of your complete application and analyses your user satisfaction levels using Application Index (Apdex) scores. It also resolves application performance or availability issues before they affect your consumers.
You can optimize end-user performance by understanding the complicated frontend performance issues caused by slow page loading, delayed static assets, and ajax queries using Real User Monitoring. We also provide API Analytics to increase your company's bottom line by continuously monitoring your REST APIs and resolving API issues before they affect your end-users.
Special Features:
APM Traces
Real User Monitoring
Log Monitoring
Various notification channels
Pricing:
APM starts from $0.07/month
RUM starts from $1.96/month
Infra starts from $0.01/month
Logging starts from $2/month
We provide a 14-day free trial with no credit card policy.
Integrations:
Asana
Slack
JIRA
OpsGenie
VictorOps
Datadog
BigPanda
Webhook
#2 Dynatrace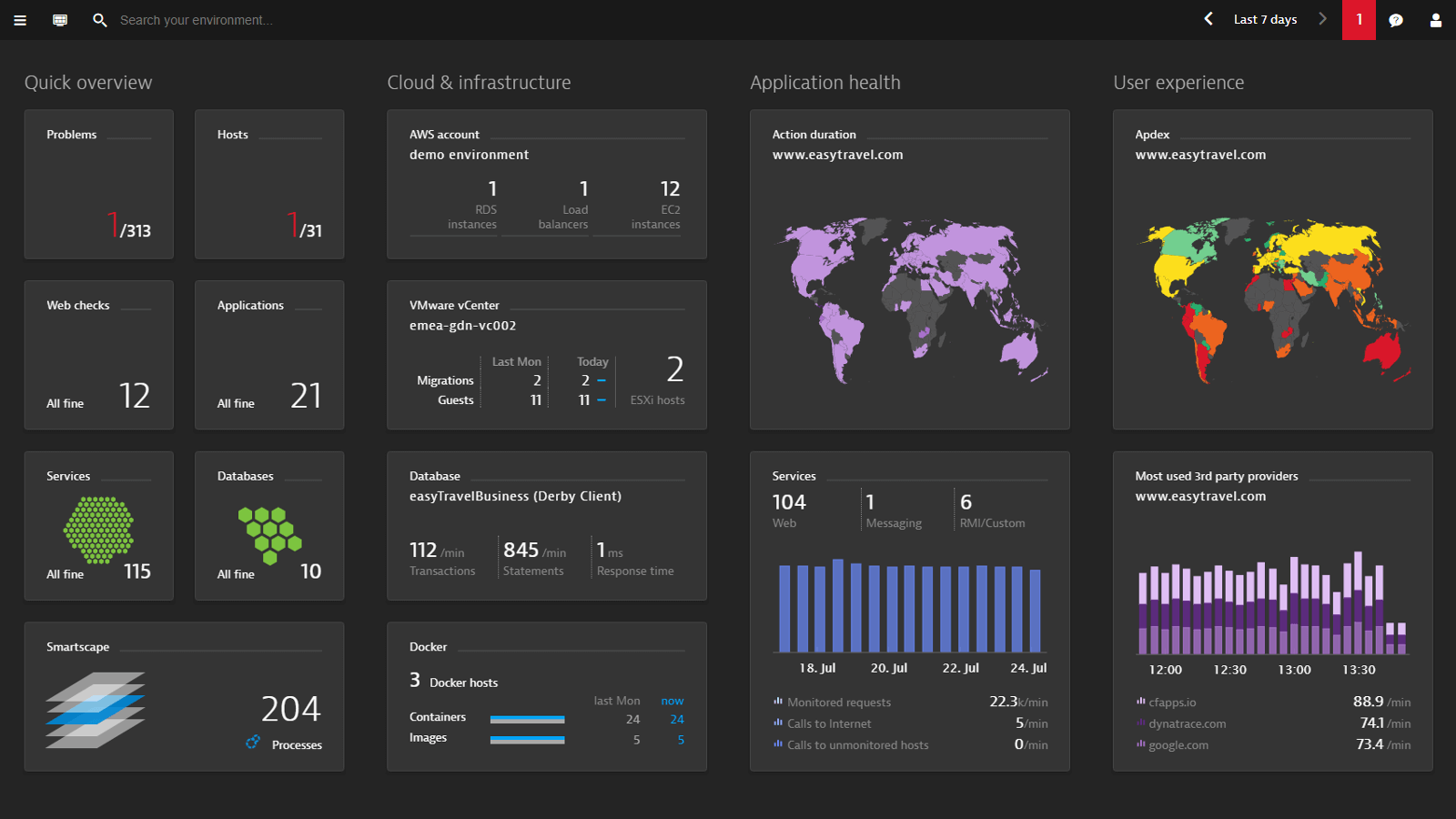 Dynatrace uses monitors from private elocution to track the availability and performance of your internal resources, making it simple to discover how your users interact with your website and applications by measuring and recording key metrics.
There are three types of synthetic monitors available from Dynatrace. The first is a single-URL browser monitor that simulates a user visiting your website or application and can be set to work from any of their available locations with a frequency of 5 minutes or more.
The second is browser click paths, which are identical to single-URL user actions but follow a path through your application. The HTTP monitor, which is a simple HTTP request that may be adjusted and run at various intervals, is the third version.
Dynatrace offers transparent pricing and a wide range of plans. You'll almost certainly need to mix more than one sort of service, but the prices are initially manageable.
Dynatrace can become a more valuable resource as infrastructure expands. Users have also reported issues with personalizing dashboards and dealing with customer service.
Special Features:
Content monitoring
Performance baselines
Pricing:
Depending on the plan. Prices vary depending on the service but start at $69 per host. Also, there is a 15-day free trial with no credit card policy.
Integrations:
Trello
Slack
Bitbucket
Jira
#3 New Relic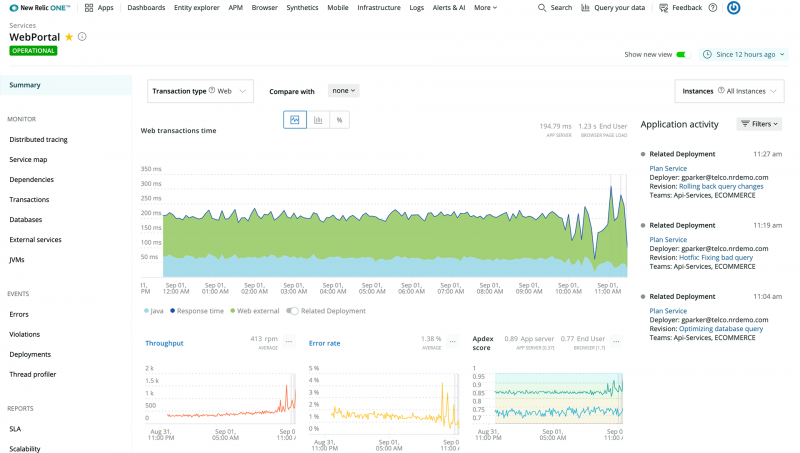 New Relic has been around since 2008 and is one of the best Site24x7 alternatives. It is well-known in the performance and developer communities for providing a variety of features. For every element of your software environment, New Relic provides extensive performance analytics.
Massive amounts of data can be quickly viewed and analyzed, and actionable insights can be gained in real-time. As part of the Synthetics product, they give uptime alerts and availability reporting.
The New Relic Browser shows you the volume, response time, callback time, throughput, and data transfer of your most resource-intensive queries.
It provides a robust monitoring ecosystem for your website and applications, which is best suited for large corporations and organizations with numerous business-critical services.
New Relic will provide you with more modern analytics that is focused on the demands of your users rather than merely load times. By tracking contentful paint times, interactivity metrics, and offering different insights on what slows down your website as well as all the many issues you could face, Browser will help you learn how code changes affect end users.
The New Relic Synthetics solution allows you to test from 14 various locations around the world, including the United States, Brazil, Europe, Australia, and Asia, using a ping monitor and a simple browser emulation. You also set the intervals for the checks to be 1 minute.
Special Features:
Extended data retention
Designated account management
SAML Authentication
Pricing:
Quote Required
Integrations:
Apache
Cassandra
Couchbase
Elasticsearch
Kafka
Nagios
#4 Datadog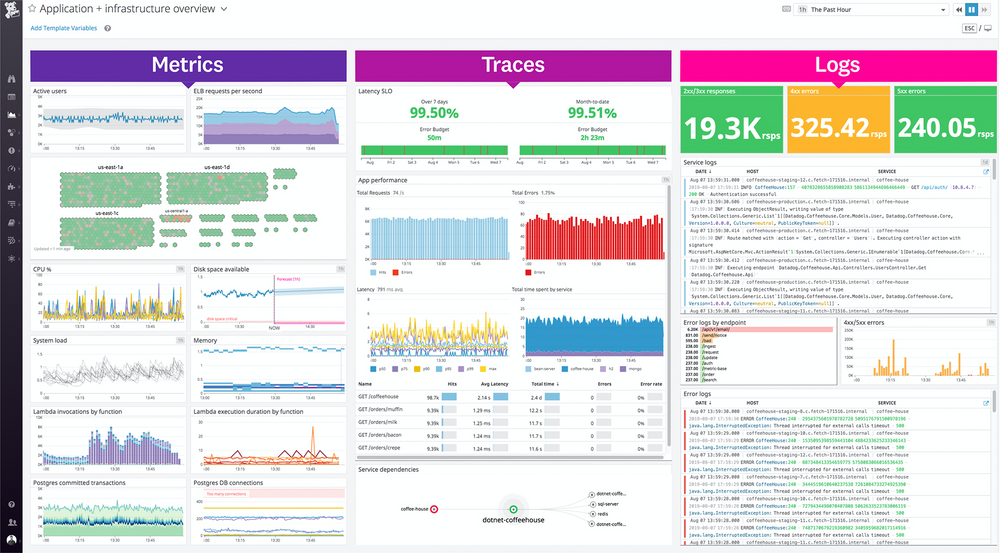 Datadog is a cloud-based application monitoring platform that offers monitoring of services, databases, tools, and servers via a SaaS-based data analytics platform.
It is a monitoring solution for cloud infrastructure that includes a dashboard, alerting, and metric visualizations. It grew quickly and broadened its platform offerings to include Amazon Web Services (AWS), Google Cloud Platform, Microsoft Azure, VMware, Red Hat OpenShift, and Open Stack, among others.
It allows you to track, troubleshoot, and improve the performance of cloud-based applications down to a single line of code or individual customer requests. The platform displays data in built-in dashboards that are visually appealing to the application's plethora of features, such as a flame chart for trace views.
Datadog Synthetics allows you to monitor your API endpoints in real-time and issue warnings based on predefined criteria. You'll be able to deconstruct network timings, which will allow you to get to the root of your problems faster.
You can include Datadog Synthetics tests directly in your CI pipeline to ensure early problem identification and minimize downtime by evaluating the condition of your production environment after each deployment and eliminating mistakes before your users notice them.
Special Features:
Real User Monitoring
Host Monitoring
Custom Checks
Pricing:
$15-23 per monitor. A 14-day free trial is available.
Integrations:
Azure
Bitbucket
Couchbase
Pingdom
Splunk
Zendesk
#5 SolarWinds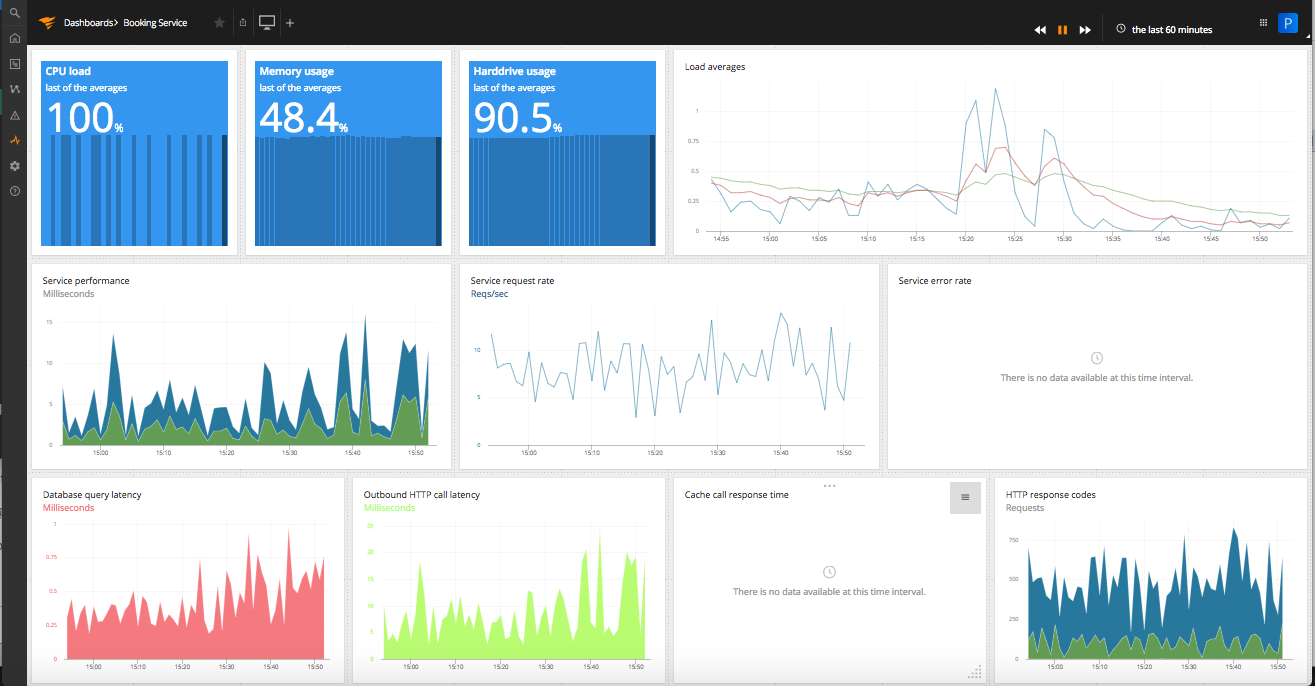 Solarwinds has been at the forefront of the monitoring field for years, and over that time, they've built a wide range of services to help their customers better understand what's going on behind the scenes, but that experience comes at a higher price.
Web performance monitoring is just one component of their remarkable software ecosystem, which is now one of the most comprehensive DevOps systems. This feature is the reason Solarwinds is listed in Site24x7 alternatives.
While the list of features includes Endpoint detection and response, network device monitoring, and even a nice mobile application for keeping tabs on your web application from anywhere in the globe, Solarwinds does not offer a RUM solution.
It's worth noting that they do keep track of every transaction between the server and the user, giving them some insight into their experience.
Their Web performance monitoring tool provides detailed load-time metrics from several locations across the world, as well as crucial insights into what happens behind the scenes of your website.
While no one can refute their experience or the value that their application provides to users, the price tag can be difficult to stomach, especially when smaller competitors charge a fraction of the price for a product that appears to be quite similar.
Special Features:
Network performance
Server application monitoring
Database performance
Network bandwidth
Pricing:
Depending on the plan type and requirement, a full suite of monitoring typically costs roughly $1,000. A 30-day trial is also available.
Integrations:
Orion
Application Widgets
JIRA
Remote Support
Zapier
Microsoft Endpoint Manager
#6 Uptime
Uptime is an excellent website monitoring solution that focuses on reliability and ease of use, including SSL monitoring, 24/7 support, malware scanning, and a huge variety of third-party connectors.
Uptime tracks the availability of your website in one-minute intervals across six continents. You'll get notified if something goes wrong through SMS, phone call, email, or any of the custom integrations they support.
Uptime has a RUM tool that tracks users across devices, locations, and connection types to help you deliver the optimal user experience. The information gathered will be presented in simple dashboards that will provide practical information on how to improve your website's performance.
Uptime tracks the availability and performance of your website at one-minute intervals across six continents. If your website goes down, you can be notified quickly via SMS, phone call, email, or custom integrations. HTTP, HTTPS, Ping, SSH, TCP, UDP, DNS, SMTP, POP3, and IMAP are among the protocols they support.
Special Features:
Status Pages and SLA Reporting
Maintenance Windows, Escalations
Voice Call/SMS alerts
Private Location Monitoring
Pricing:
$16 per month to start, 21-day free trial with no credit card required policy.
Integrations:
Cachet
Datadog
OpsGenie
PagerDuty
Slack
VictorOps
Webhooks
Zapier
#7 Uptrends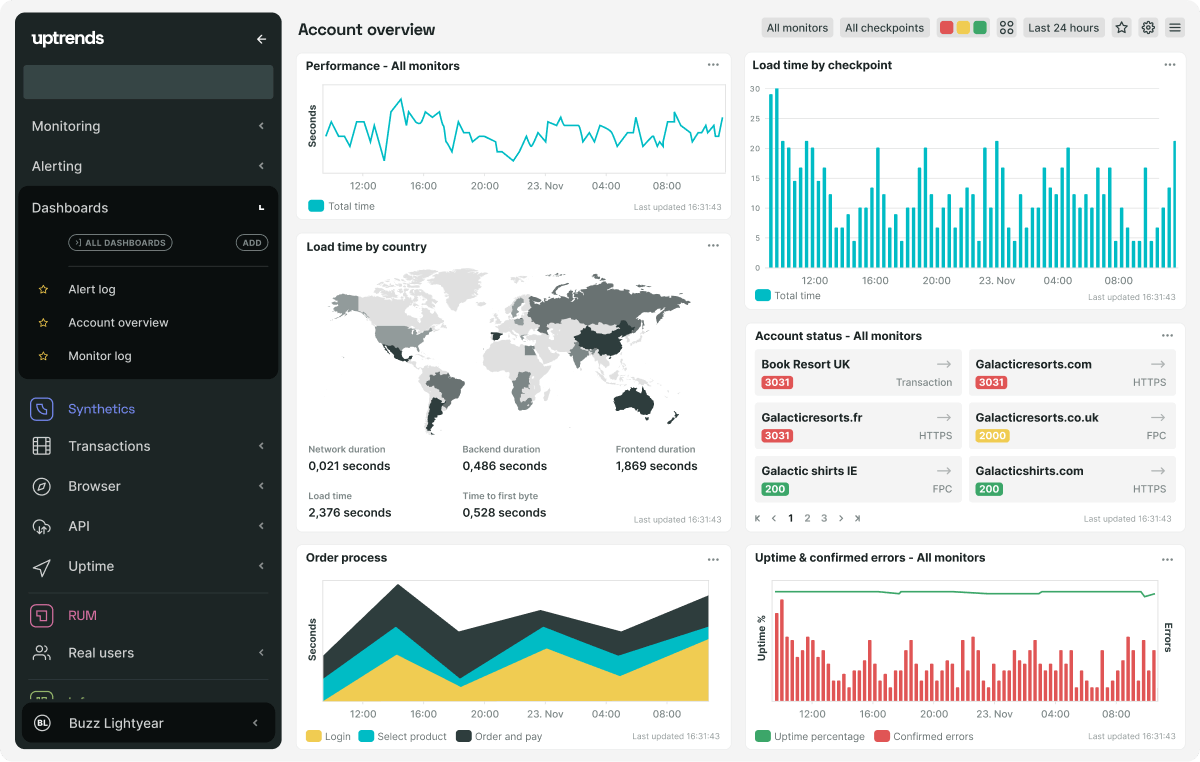 Uptrends is another one of the best Site24x7 alternatives that examine your applications between 1- and 60-minute intervals and offer a wide choice of solutions to ensure you are constantly at optimal performance, with over 150 website monitoring sites across the world.
They also offer web performance monitoring, API monitoring, server monitoring, SSL certificate monitoring, and real user monitoring, which includes features like third-party content monitoring, mobile website monitoring, waterfall reports, mobile website monitoring, and transaction screenshots, in addition to website monitoring.
While some features, such as custom dashboards, maintenance modes, and multi-browser monitoring, are not included in the basic plan. It does provide the bare minimum to ensure that users can monitor their websites correctly. They also provide a number of free tools that are open to the public.
Special Features:
Windows for maintenance
Pages dedicated to current events
Alerts through SMS and/or voice call
Pricing:
Basic costs $14.59 to $204.21/month, Advanced costs $34.94 to $63.21, and there's a free 30-day trial with no credit card required.
Integrations:
Slack
Pagerduty
Statushub
VictorOps
ServiceNow
Webhooks
#8 Pingdom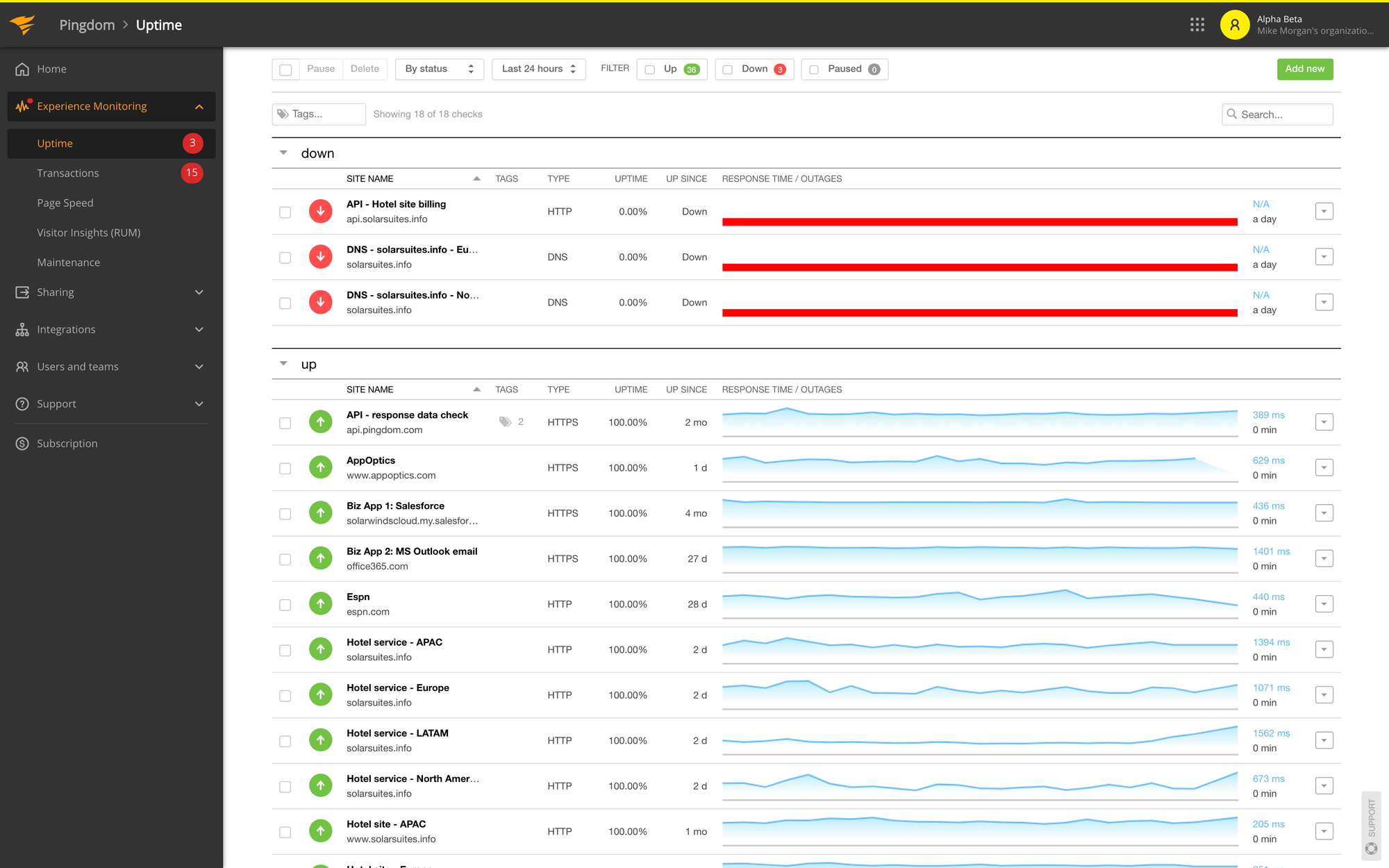 Pingdom is an uptime monitoring service that sends out comprehensive alerts when a website or application goes down. Pingdom has made its way into the list of the top monitoring services by giving a wide range of capabilities, including SSL certificate monitoring and website performance monitoring, at a cheap price – compared to the more expensive tools out there.
Real user monitoring solutions from Pingdom detect real-time visits to your website and help you to improve your performance using data obtained from real people. Geographical performance is also analyzed to guarantee that your website performs optimally regardless of where users access it from.
Although you may watch a vast number of endpoints, performance appears to deteriorate when monitoring specific objects. Pingdom will notify you whenever a service or third-party resource is unavailable, but there have been reports of irregularities in the alerting, with customers reporting that the service either does not send the alert at all or sends false positives.
Special Features:
Detailed interfaces
Instantaneous alerting system
SMS and email notifications
Pricing:
The basic plan is $15 per month, which includes 10 uptime monitors and 1 advanced monitor. They have a 14-day trial period where you can see everything they have to offer.
Integrations:
BigPanda
VictorOps
AlertOps
Datadog
PagerDuty
Zapier
#9 Uptime Robot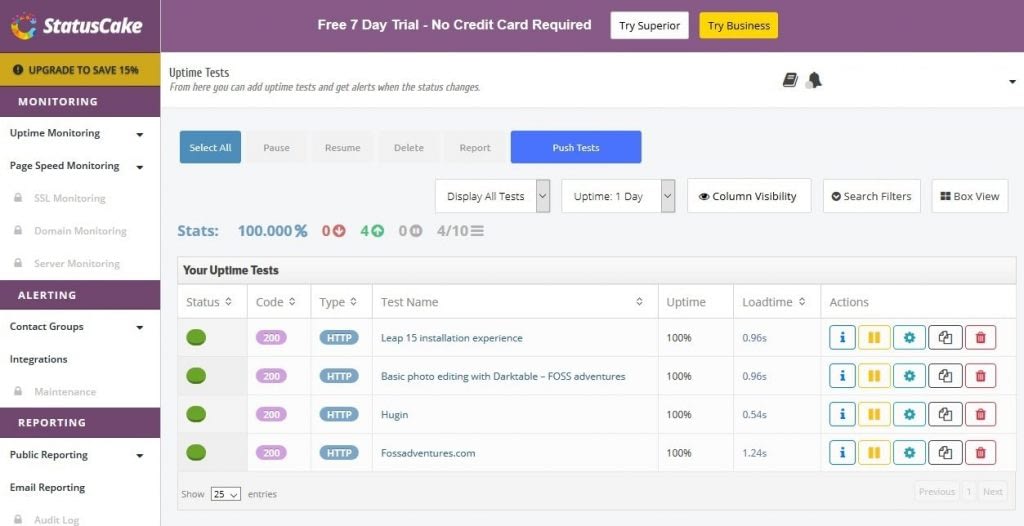 Uptime Robot is another one of the known Site24x7 alternatives. Expedia, Nginx, Fandango, and a slew of other companies use it. They've been established in 2010 and are known for providing excellent uptime monitoring services.
It's been the new kid on the block for a while, and it's arguably one of the best value for money solutions out there, especially if you simply need a simple tool to alert you when your services are down.
The free subscription comes with 50 monitors, which is adequate for most small websites or web apps, as well as 5-minute monitoring intervals from 12 different locations around the world and two months of log storage.
Uptime Robot is not the tool for you if you're searching for both synthetic and real-time monitoring. It focuses on doing synthetic tests on your site and APIs every 5 minutes and sends notifications through a variety of integrations, as the name suggests.
Special Features:
Advanced notifications
Simple setup process
SMS and email notifications
Pricing:
From free plans to Enterprise level
Integrations:
Twitter
Slack
Zapier
PagerDuty
Webhooks
Finally!!!
Monitoring your website is crucial, therefore a tool like one of the ones listed above can be really useful. The last thing you want is to wake up one morning to find your website has gone offline and you were completely unaware of it. This could result in a reduction in sales and customers. There are a plethora of website monitoring tools available for you to try.
We attempted to highlight some of the site24x7 alternatives to improve your websites. Hopefully, this has saved you some time, and you may have even discovered a new one that you were unaware of.
---
Monitor Your Entire Application with

Atatus
Atatus is a Full Stack Observability Platform that lets you review problems as if they happened in your application. Instead of guessing why errors happen or asking users for screenshots and log dumps, Atatus lets you replay the session to quickly understand what went wrong.
We offer Application Performance Monitoring, Real User Monitoring, Server Monitoring, Logs Monitoring, Synthetic Monitoring, Uptime Monitoring, and API Analytics. It works perfectly with any application, regardless of framework, and has plugins.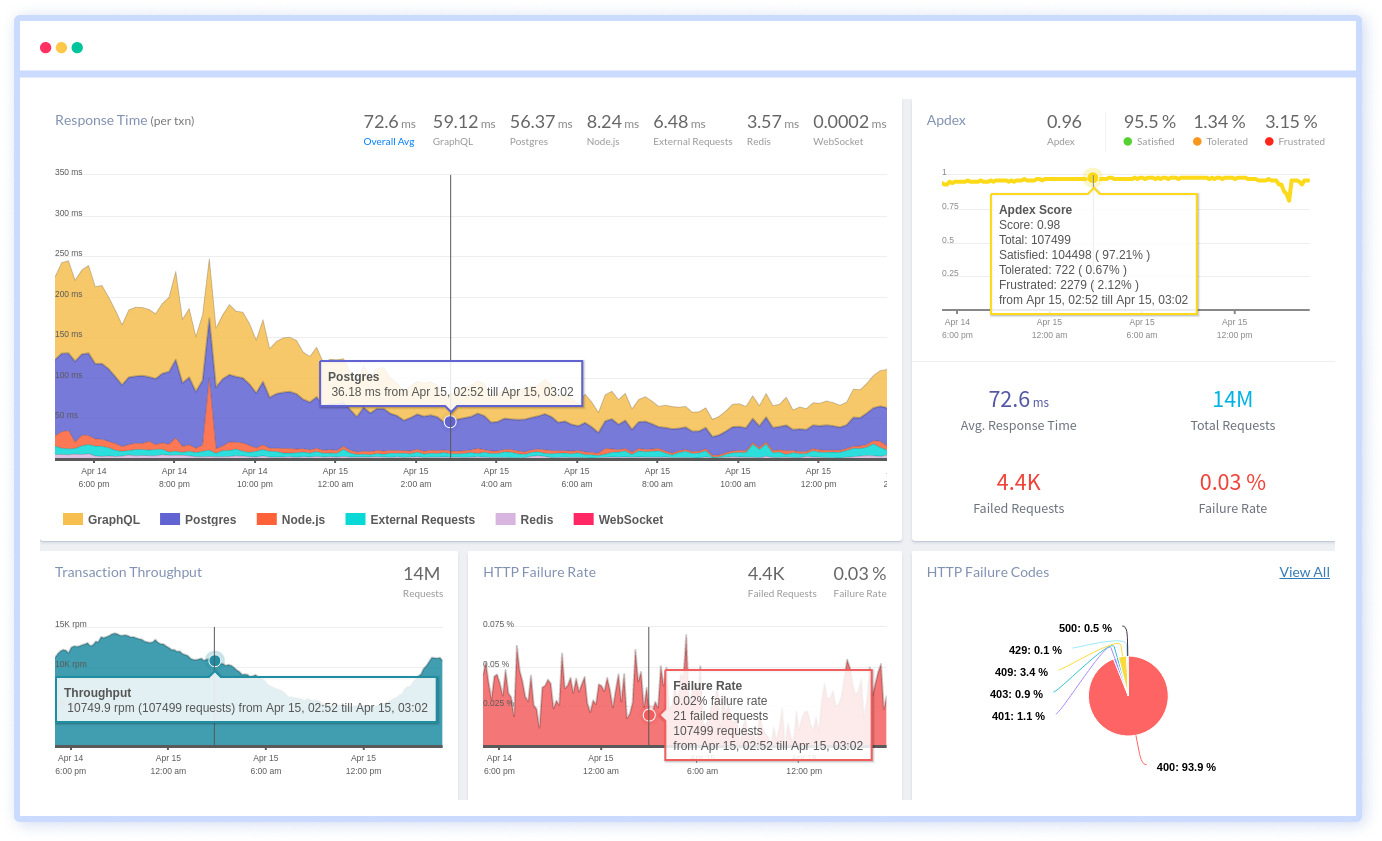 Atatus can be beneficial to your business, which provides a comprehensive view of your application, including how it works, where performance bottlenecks exist, which users are most impacted, and which errors break your code for your frontend, backend, and infrastructure.
If you are not yet an Atatus customer, you can sign up for a 14-day free trial.