Without an active SSL certificate, user contact with the website is no longer secured, making it possible for any malicious entity to access private user information.
Users are unlikely to return to the website after viewing a security notice, though. The simplest way to monitor the expiration of your site certificates is to use an efficient, automatic SSL certificate expiry monitoring solution.
The number of months or days till your SSL certificate expires is alerted to you when you have a monitoring system. This automated method gives you access to a dashboard with all pertinent details about your license and reminds you to renew the certifications for your website either before or right away after they expire.
Additionally, some tools notify you anytime an SSL Certificate for your domain is updated, renewed, or granted. All SSL certificate monitoring solutions, nevertheless, are not created equal.
While some monitoring solutions may merely display that the website is offline due to an expired SSL certificate, others will deliver alerts before the SSL certificate actually expires.
Additionally, whether or not you've renewed the certificate, certain tools designed expressly to monitor SSL certificate expiry will only send you a series of alarms.
We've created a list of the top 11 tools for monitoring SSL certificates for validity, expiry, and change to assist you in getting started.
We will cover the following:
#1 Atatus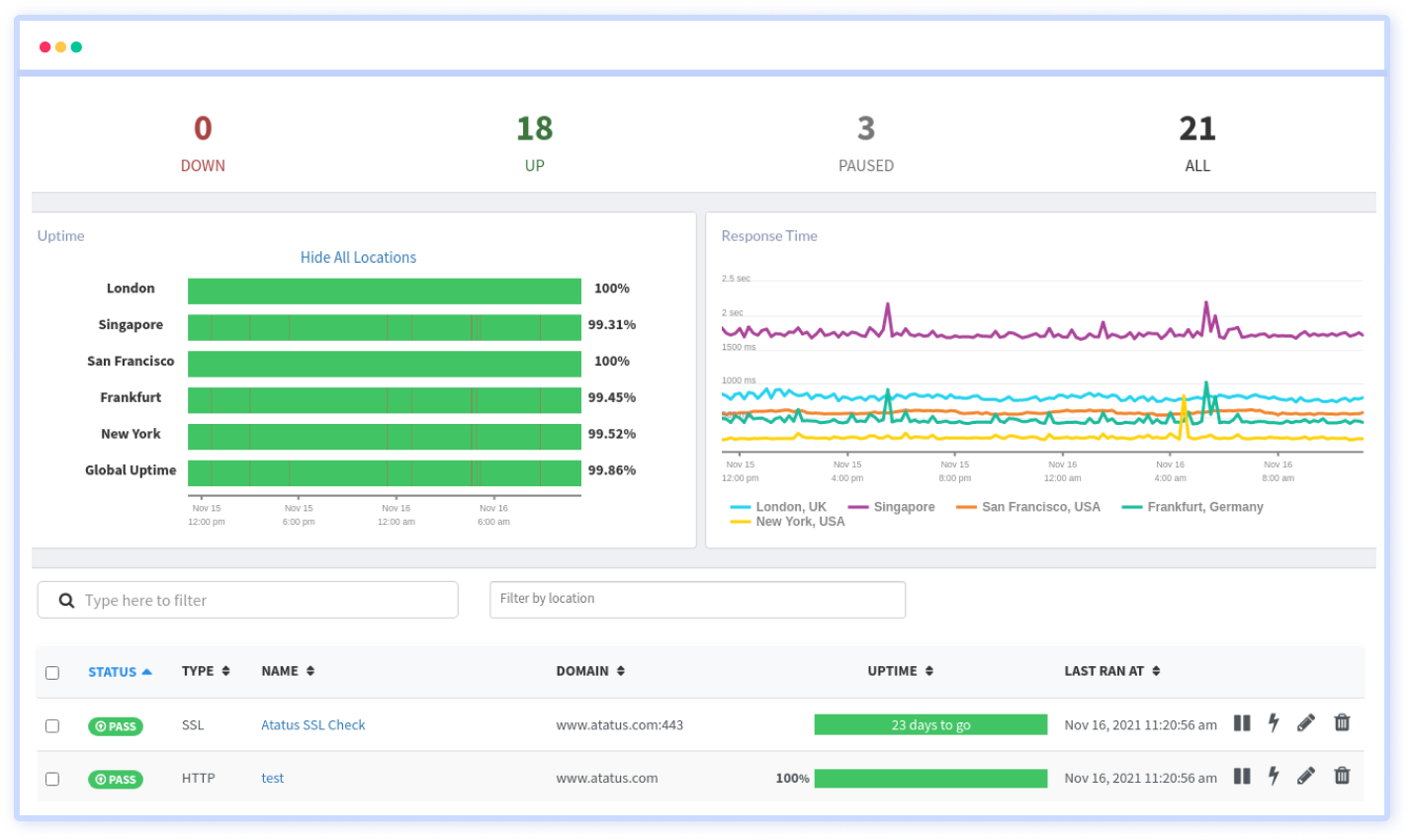 Atatus is an all-in-one monitoring solution that provides a complete package of application performance management solutions. Apart from its numerous features, Atatus includes SSL monitoring inside its synthetic (uptime) monitoring product.
Atatus routinely does SSL API checks to inform you about your certificate's validity and expiration dates to ensure secure connections between your crucial services and users. When your certificates are misconfigured on both internal and external sites spread across many regions, it promptly alerts you.
We also provide an SSL certificate checker. You can quickly determine whether you have a valid SSL certificate and that using your website is secure by using the SSL certificate checker tool.
You can identify when an SSL certificate has expired and lessen security risks by using the thorough SSL certificate review offered by Atatus. Detects improper installation, retrieves time, name, and validity information for your SSL certificate, among other details, and displays the outcome.
Features:
Check the SSL certificate
Dashboard
Identify vulnerabilities
Integrations
See when your SSL certificate expires
Utilize Atatus' synthetic monitoring to gain more insight into performance issues and crashes. starts at $1.5 per month for 10K Check Runs (billed annually) or $2 per month. Try a 14-day free trial with no credit card needed.
#2 SolarWinds Pingdom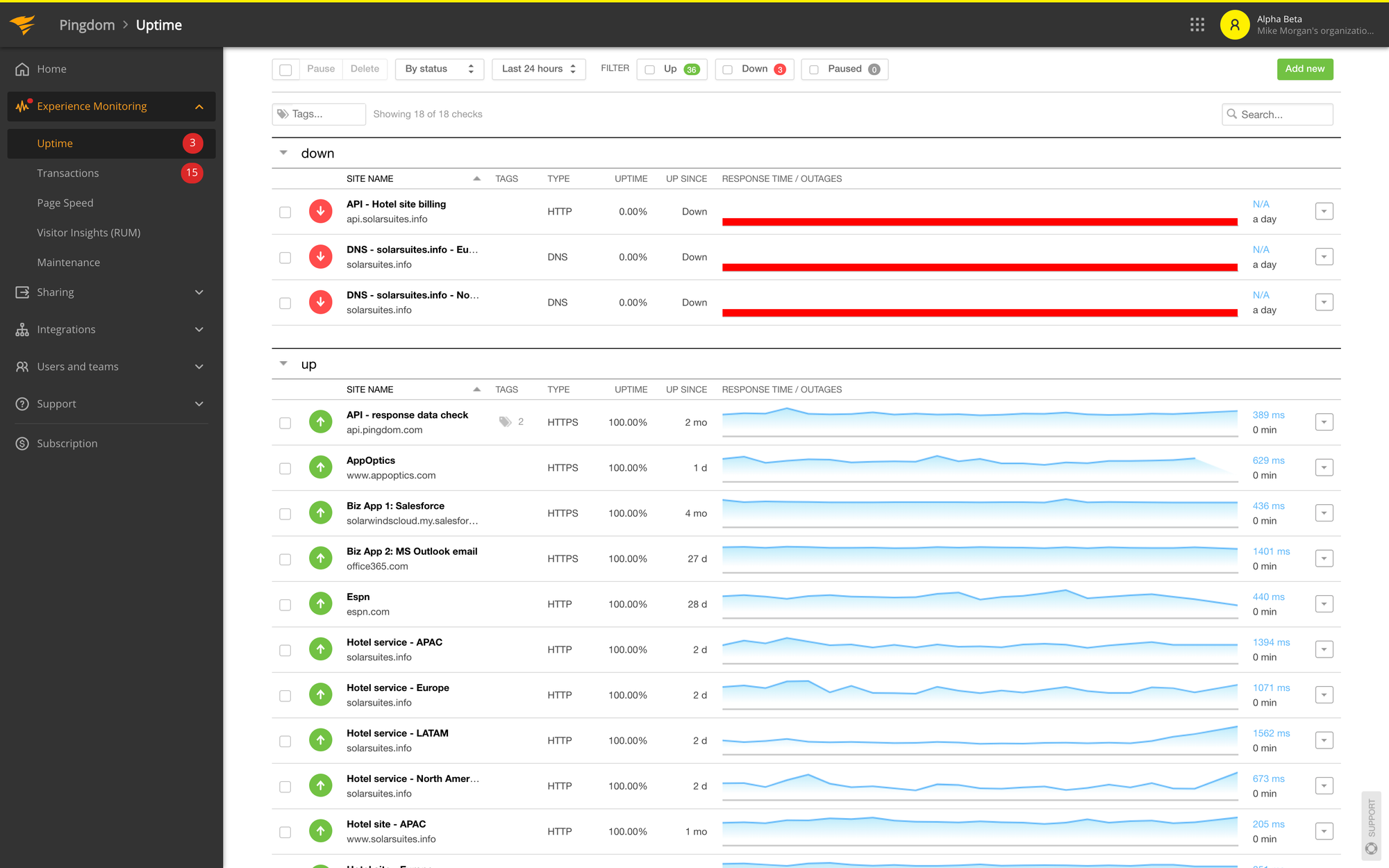 SolarWinds Pingdom is a website monitoring tool that continuously monitors SSL certificates. You can use HTTPS uptime checks with SolarWinds Pingdom to keep track of the SSL certificates for your websites. The solution will then notify you to take action if there is a problem with your certificate or if it is about to expire.
You can set up alerts to send you notifications from day one to one month before the certificate expires. Email, push notifications, and SMS messages can all be used to provide alerts. To make sure you don't miss out on important information, they can also be integrated with tools like Slack, Hipchat, and PagerDuty.
SolarWinds Pingdom can be used to track the overall uptime of your websites. You can check the status of any website using the dashboard, and graphs let you monitor response time and uptime over time. This makes it possible for you to spot general service interruptions.
Features:
Alerts
Continuous SSL certificate monitoring
Dashboard
Uptime monitoring
For businesses seeking an uptime monitoring tool with continuous SSL certificate monitoring, SolarWinds Pingdom is a suitable option. The Synthetic Monitoring service, which enables uptime monitoring for up to 10 sites, is priced at $10 (£7.35 per month).
#3 Better Uptime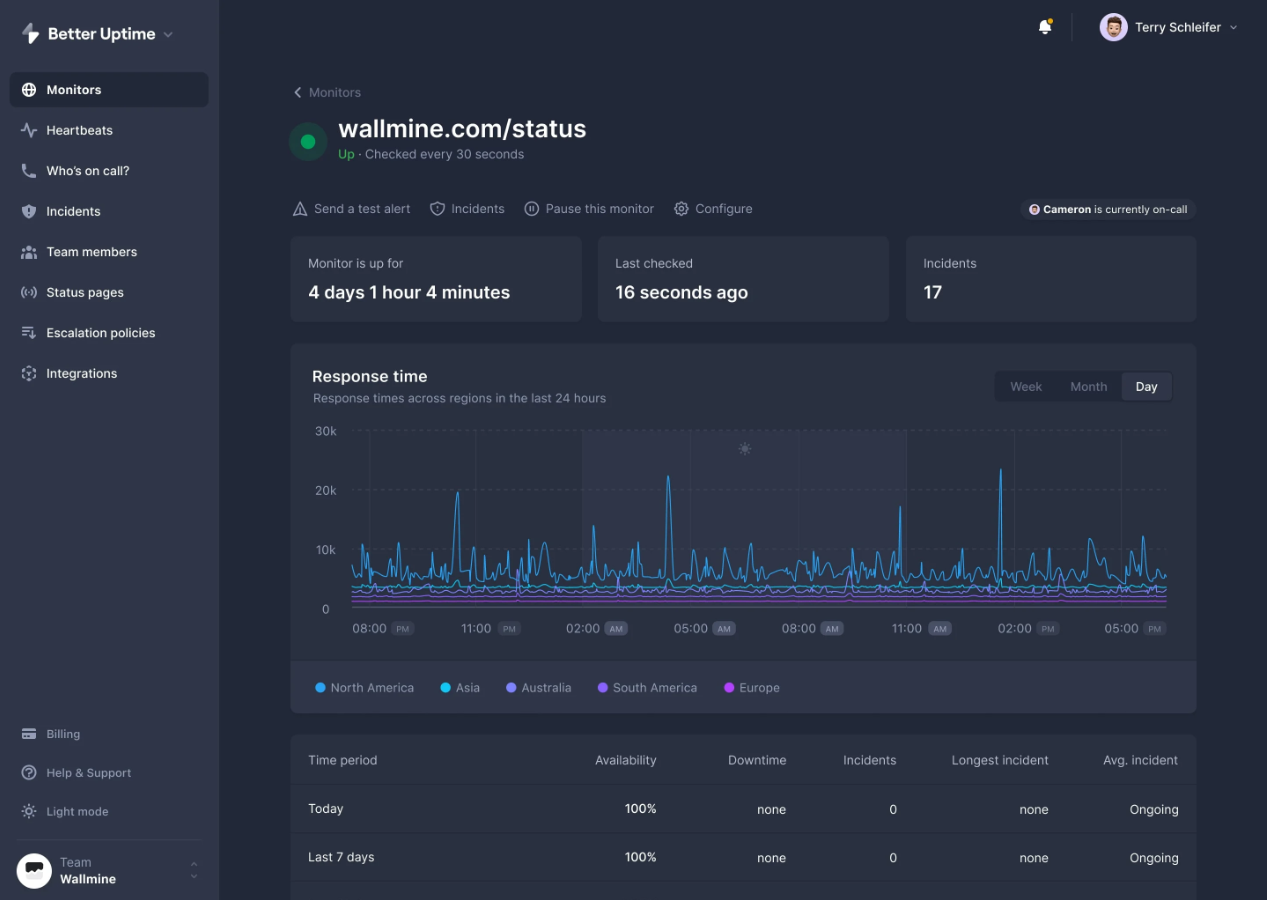 Better Uptime provides an effective Uptime monitoring solution with integrated Incident management. Cron job and SSL certificate monitoring are both available from Better Uptime, and they frequently cooperate. A robust platform that combines Synthetics Monitoring, Incident Management, and Status Pages Manager is also available.
Each error is recorded with a screenshot and a second-by-second timeline in case of any problem. Every 30 seconds, Better Uptime runs checks on your website from several places. That implies there won't be any more erroneous warnings or overlooked location-related difficulties.
Datadog, New Relic, Grafana, Prometheus, Splunk On-Call, Zabbix, AWS Cloudwatch, GCP, and Azure are just a few of the integrations it offers. You never miss an error with the help of limitless phone call alerts, SMS, email, Slack, MS Teams, and push notifications.
Features:
Alerting
Lifecycle Visualization
Location Insights
Multi-Channel Alerting
Multi-Site Monitoring
Reporting
SSL monitoring from BetterUptime's Small Team bundle, which starts at $64 per month, also includes smart incident merging, post-mortems, and ping monitoring.
You are looking at TLD expiration monitors, TCP/UDP port monitoring, POP3/IMAP/SMTP, and DNS server monitors with higher subscriptions like Business or Enterprise.
#4 Invicti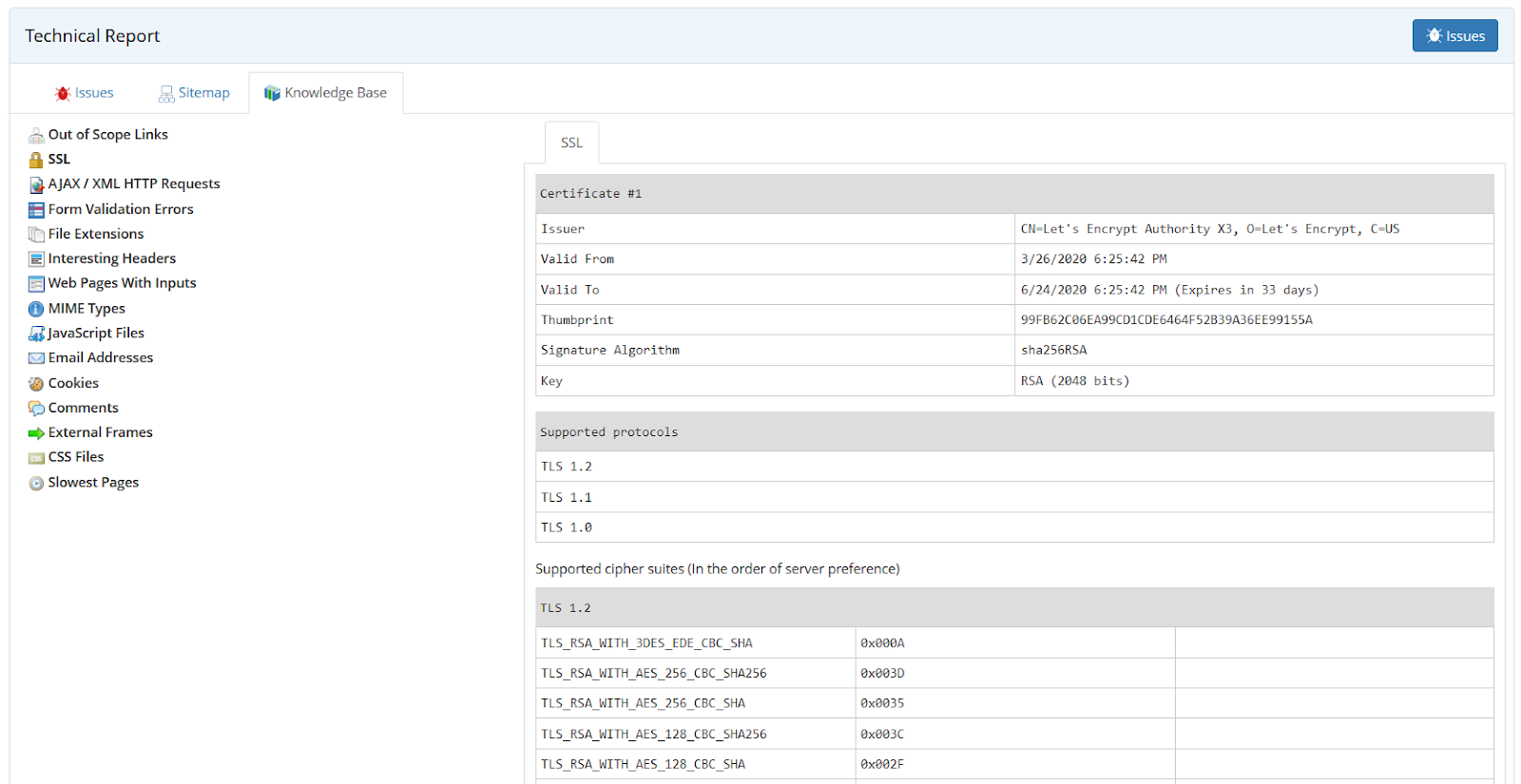 Invicti is a web vulnerability scanner that can determine whether your site has an incorrect SSL certificate. Invicti additionally uses IAST and DAST scanning to find vulnerabilities. The IAST sensor on the platform can also shed light on the exposures' underlying causes, such as injected payloads, exploits, and stack traces.
When a vulnerability is found, the platform classifies its severity as Low, Medium, High, or Critical so that you can concentrate on fixing the biggest problems first.
Viewing scanning findings is possible through the dashboard as well as through pre-built and custom reports. You can strengthen your compliance posture by using the compliance reports for PCI DSS, OWASP Top 10, and HIPAA.
Additionally, there is a notification system that, by set regulations, notifies users by email and SMS. This enables you to view alerts when the system has finished a scan or when it detects a specific vulnerability, like a deficient SSL certificate.
Features:
Dashboards
IAST and DAST scanning
Notifications
Reports
SSL certificate scanning
For businesses looking for a simple SSL scanning solution with web vulnerability scanning capabilities, Invicti is a product that is recommended. On-premise and on-demand deployment are the two deployment types. You must inquire the sales staff to view the product's pricing details.
#5 Acunetix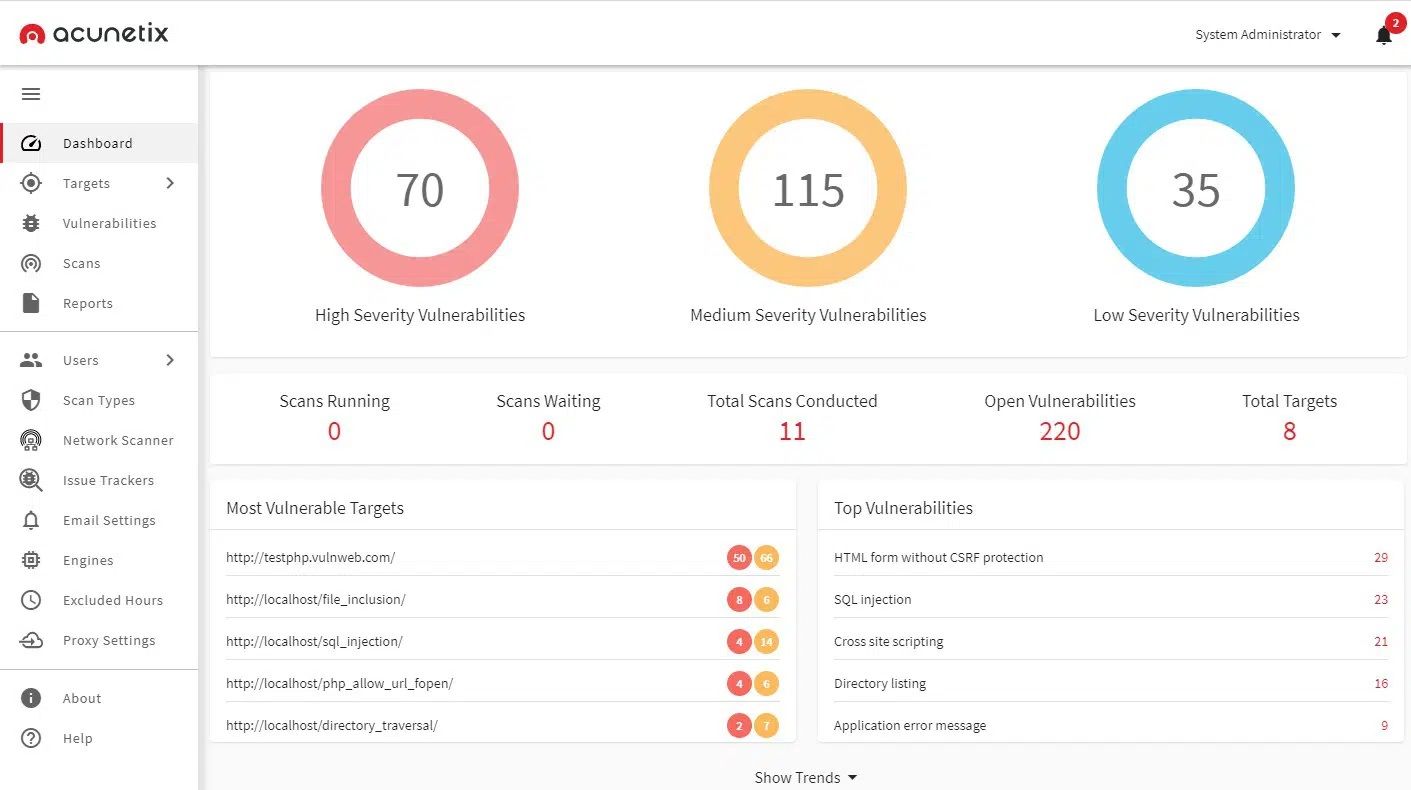 Acunetix is a web vulnerability analyzer that can let you know when your TLS or SSL certificate is due to expire. You can check your website and third-party applications using Acunetix for over 7,000 vulnerabilities, including SQL injection, cross-site scripting, configuration errors, exposed databases, and more.
You can access the vulnerability scan findings for your website through the dashboard. You can examine a color-coded summary of the vulnerabilities found on the dashboard.
You can see, for example, the overall number of Low Severity, Medium Security, and High Severity Vulnerabilities, as well as the most critical Vulnerabilities on your website.
Additionally, preloaded compliance reports for HIPAA, PCI-DSS, ISO/IEC 27001, and other regulations are available to assist you in documenting your website's security.
You're in a great position to make little changes when you take into account that you can integrate with other tools like Jira, Jenkins, GitHub, GitLab, TFS, Bugzilla, and Mantis.
Features:
Compliance reports
Dashboard
Detect over 7,000 vulnerabilities
Integrations
Monitor TLS/SSL certificate
Acunetix is appropriate for businesses that want to keep track of vulnerabilities and their SSL certificate status. The number of websites you choose to scan will determine your pricing options. For one website, prices start at $4,500 (£3,307).
#6 Sematext Synthetics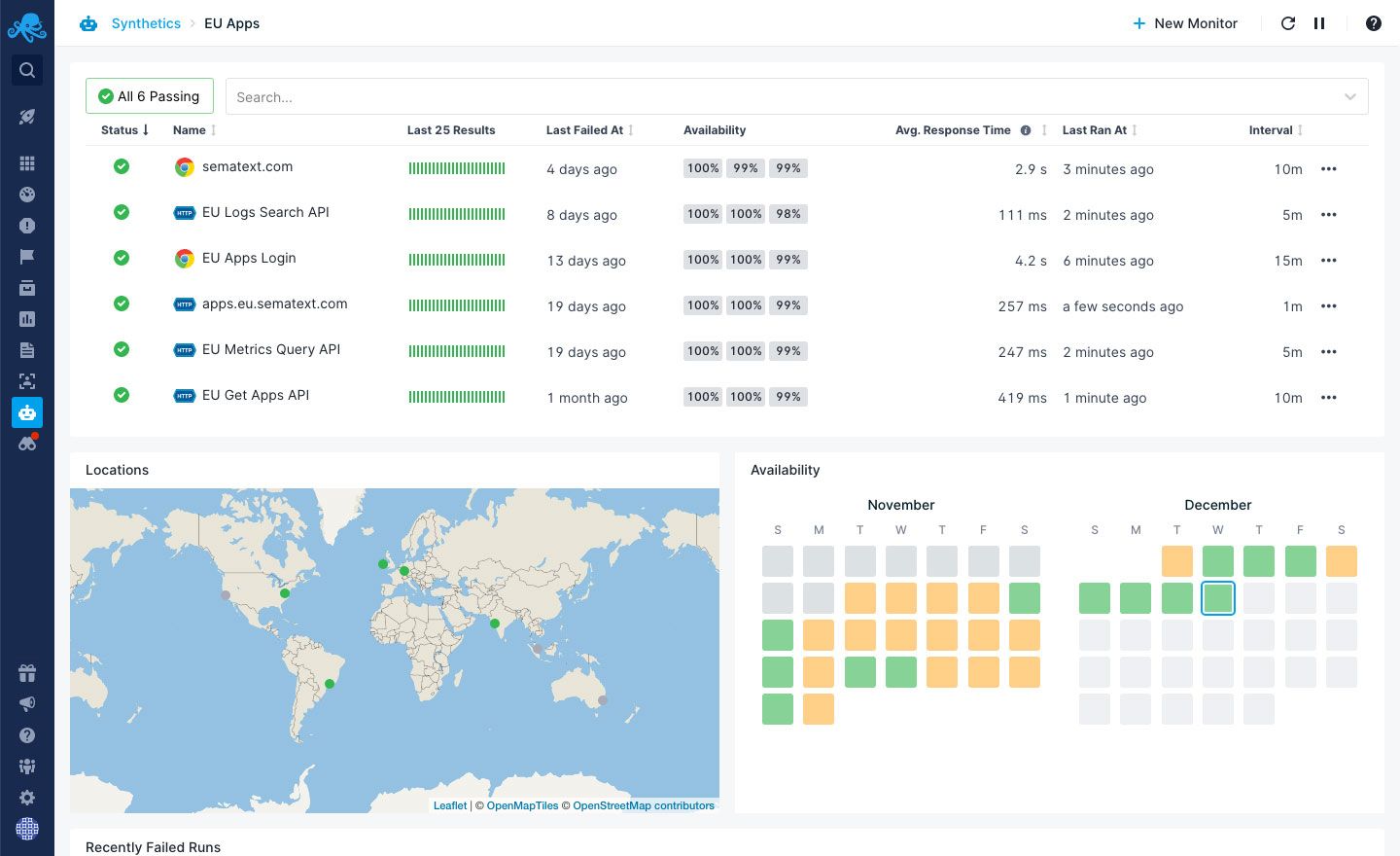 Synthetics is one of the many monitoring solutions that Sematext provides. You can monitor your Uptime and API using Sematext Synthetics from various locations, private networks, and behind firewalls.
Network timings can be monitored at all tiers, including DNS, TCP, SSL, and HTTP. You can keep an eye on your APIs with customized requests, and if there are any errors, you can be notified on your preferred platforms, such as Slack, Email, Webhooks, and more.
The Synthetics service includes SSL Certificate monitoring, which makes your website accessible and dependable by preventing website outages caused by SSL-related problems and by continuously checking the status of your SSL certificates.
You can monitor the functionality of your website using synthetics. You can obtain analytics for third-party software performance, page load speed, basic web metrics, and SLA verification to assess its dependability. Every test is performed using the genuine Google Chrome browser.
Features:
Browser console error logs
Change reports
Custom Metrics
Expiration alerts
Webhooks integrations
Pricing for Sematext Synthetics is determined by the plan, monitor count, data retention, or pay-as-you-go strategy. starting with a monthly minimum of $5. Their $29/month Standard plan includes 40 HTTP and 5 browser monitors.
Additionally, you get sophisticated SSL Certificate monitoring, which entails that you will get warnings and reports that are more intricate and complex.
#7 Site24x7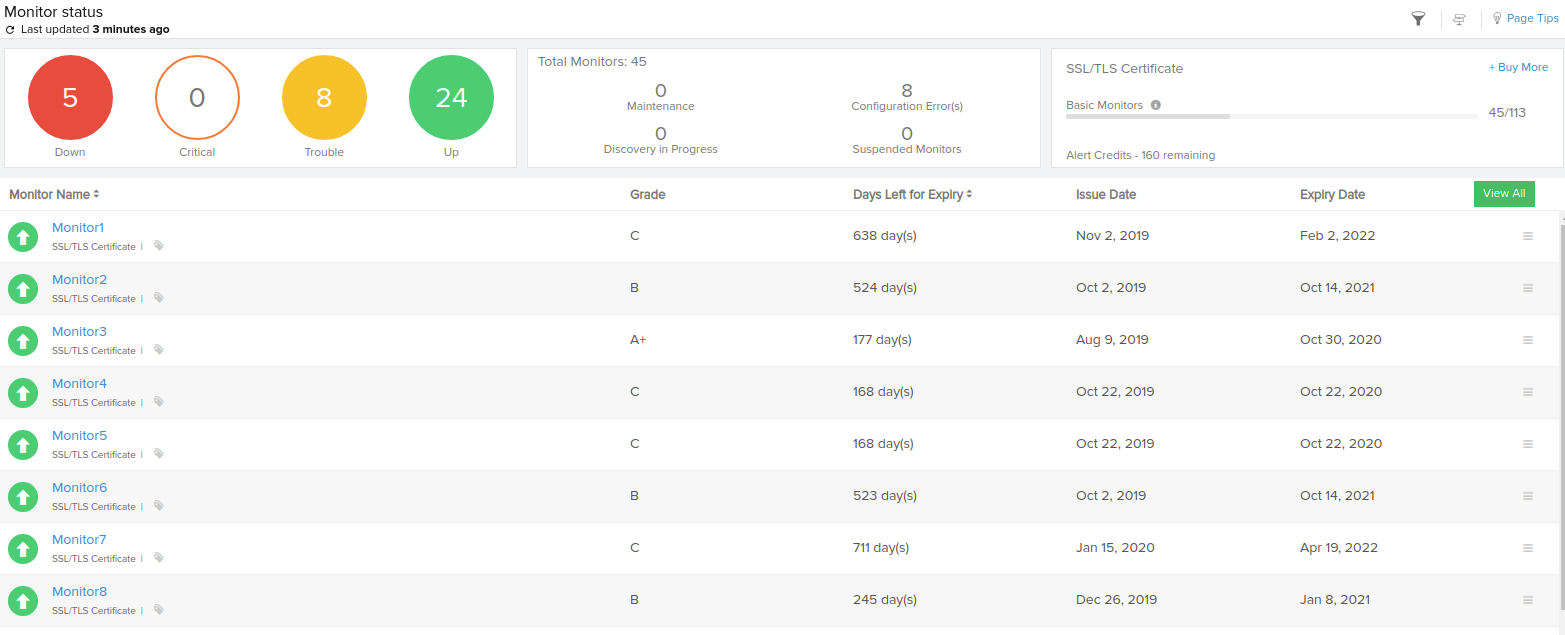 Site24x7 is an infrastructure monitoring tool that enables you to keep an eye on SSL and TLS certificates at all times. You can specify your notification level for Certificate expiry and input the hostname you wish to monitor on Site 24x7.
You might set up the platform to alert you 30 days before your SSL certificate expires, for instance. When scanning an SSL certificate, you can see information such as the certificate's issue date, expiration date, remaining days, and the organization that issued it.
By doing this, you can be confident that the certifying agency and the time left until the expiration date are completely transparent to you. The software can easily monitor multiple certificates from a single location.
Through the dashboard, you can keep an eye on the SLS/TLS Certificate monitoring' status. You can see the monitor's availability, the certificate's level of reliability if it has been banned, and the status of its vulnerabilities here. Other authenticated team members can receive all of this information by email.
Features:
Continuously monitor the SSL certificate
Dashboard
Expiry notifications
FTP Server Monitoring
Port Monitoring
Vulnerability status of SSL certificates
Businesses who need to continuously check their SSL certification might consider Site 24x7 as a viable option. The Starter plan, which includes monitoring for 10 Websites/Servers, 1 Synthetic Web Transaction, and 5 network monitoring interfaces, is priced at $9 (£6.61) per month. The 30-day trial period is available.
#8 KeyChest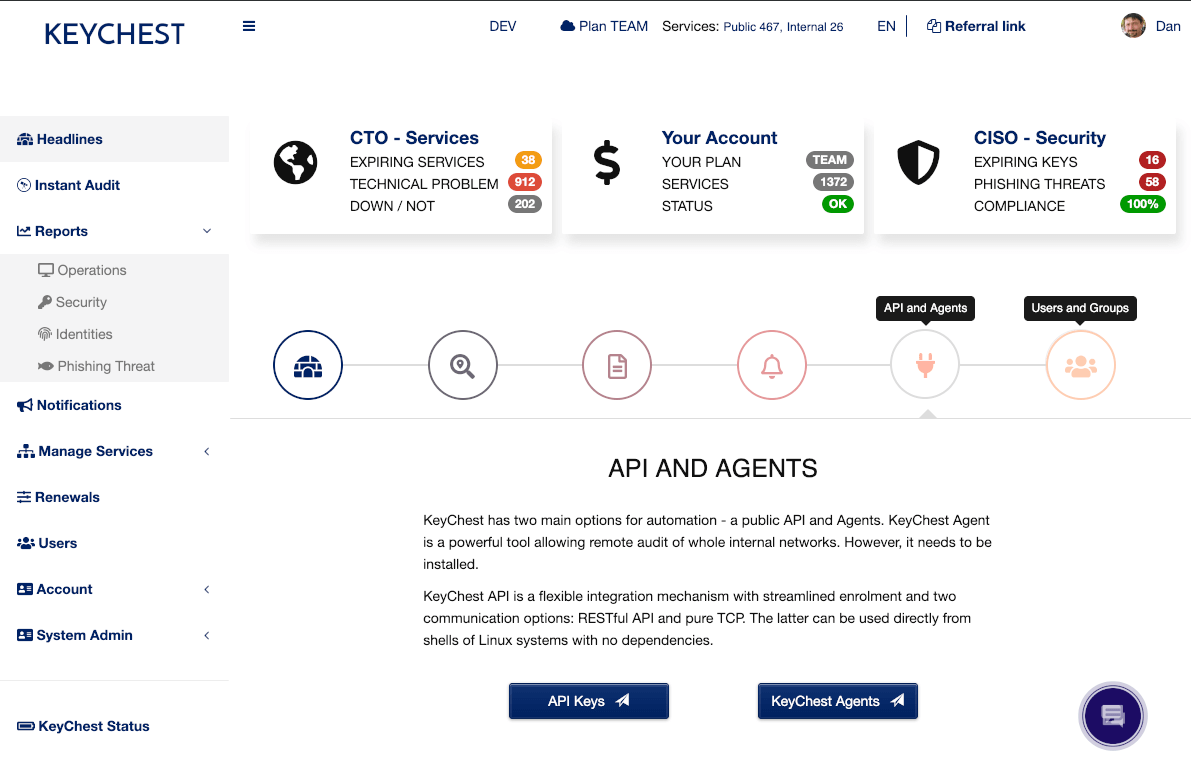 KeyChest provides an intricate SSL certificate monitoring and maintenance solution for both individual and business requirements. KeyChest not only keeps track of your certificates' expiration dates and updates but also directs you to where you can locate them.
KeyChests renews certificates for you and is independent of certificate issuers, preventing downtimes. They offer automated deployment, failure detection, efficient on-demand renewals, and lightweight proxies for internal networks.
You can get their Personal plan for free if you're seeking a personal SSL certificate monitor. This plan includes certificate discovery, end-point discovery, personal HTTPS/TLS monitoring, and expiration reports.
In contrast, their Enterprise plan, which comes with an annual fixed-price license, provides numerous users, complete reporting, and internal certificate management service fully integrated with several certificate providers, like Digicert, GeoTrust, GoDaddy, RapidSSL, SectiGo, and Thawte.
Features:
Global Intelligence
Integration API
Phishing threats monitor
Vulnerable endpoints monitor
KeyChests provides two plans. The PERSONAL plan is for anyone who utilizes HTTPS/TLS for their own projects, for fun, or personal use. The BUSINESS plan provides many features which you can request it.
#9 TrackSSL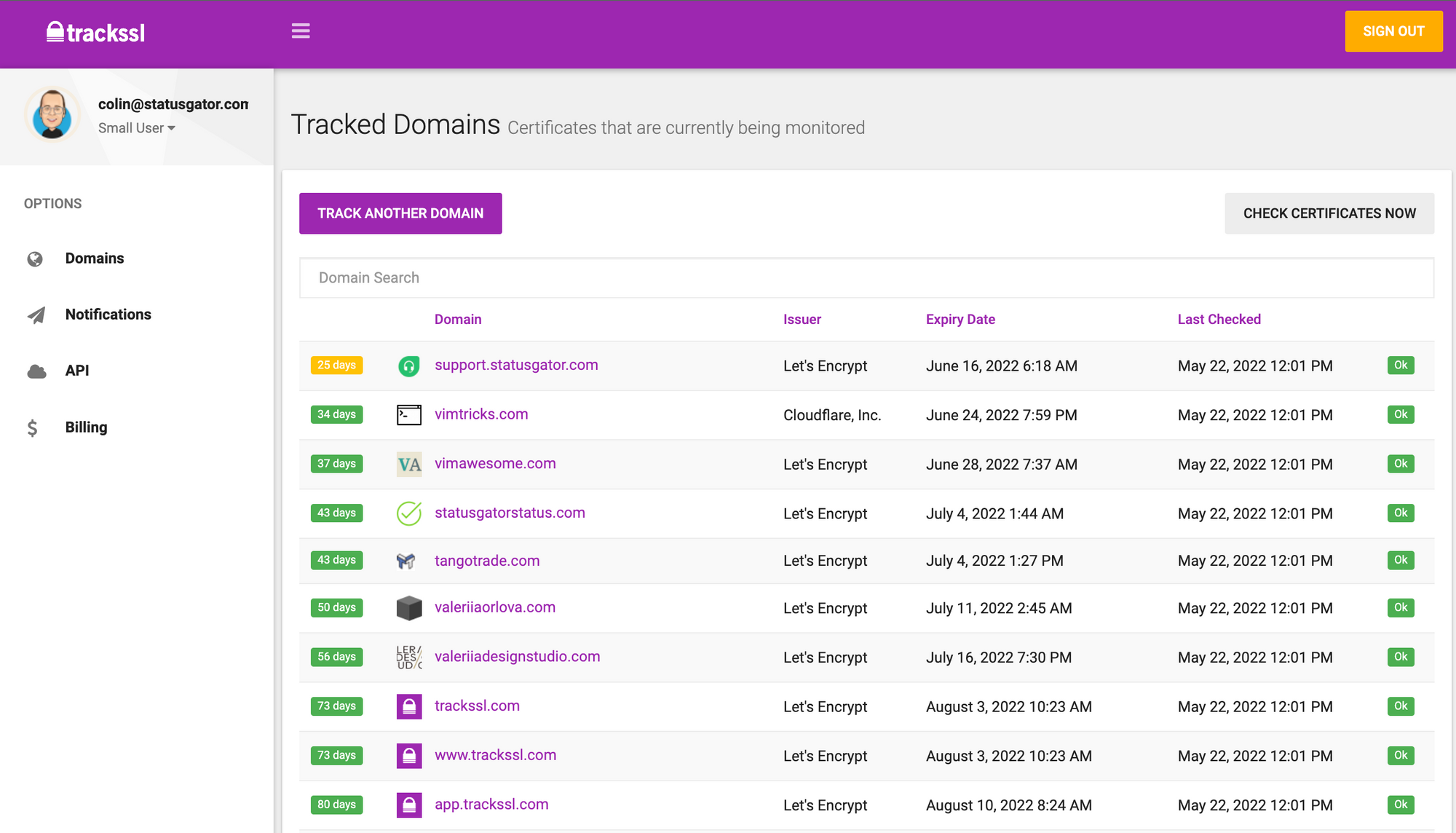 TrackSSL is a tool that allows you to follow domains and check the expiration date of your SSL certificate. With TrackSSL, you can see a list of components along with the certificate's expiration date and remaining days. You can see exactly when domains will expire due to this.
When you use TrackSSL to monitor a domain, the software will also notify you through email when the domain's certificate is set to expire or if any of your certificates have been changed. Additionally, there is a Slack integration, so they can get alerts if your company uses Slack to communicate.
Your SSL and TLS certificates' expiration dates are monitored by TrackSSL. This software assists you in monitoring all SSL certificates used by the domain, services, and apps of your company. It also scans the website for anomalous modifications, fraudulent certifications, weak signatures, and other problems.
In addition, alerts can be set up for various individuals by the certifications they keep an eye on. It is also possible to set the individual alerting's cadence. The bulk adding and maintenance of SSL certificates is one of the services that TrackSSL offers that is uncommonly offered by other solutions.
Features:
Monitor SSL certificates
Expiry notifications
Slack integration
If you need a simple, online SSL certificate tracker, TrackSSL is a perfect option. The solution is also free to use.
#10 UptimeRobot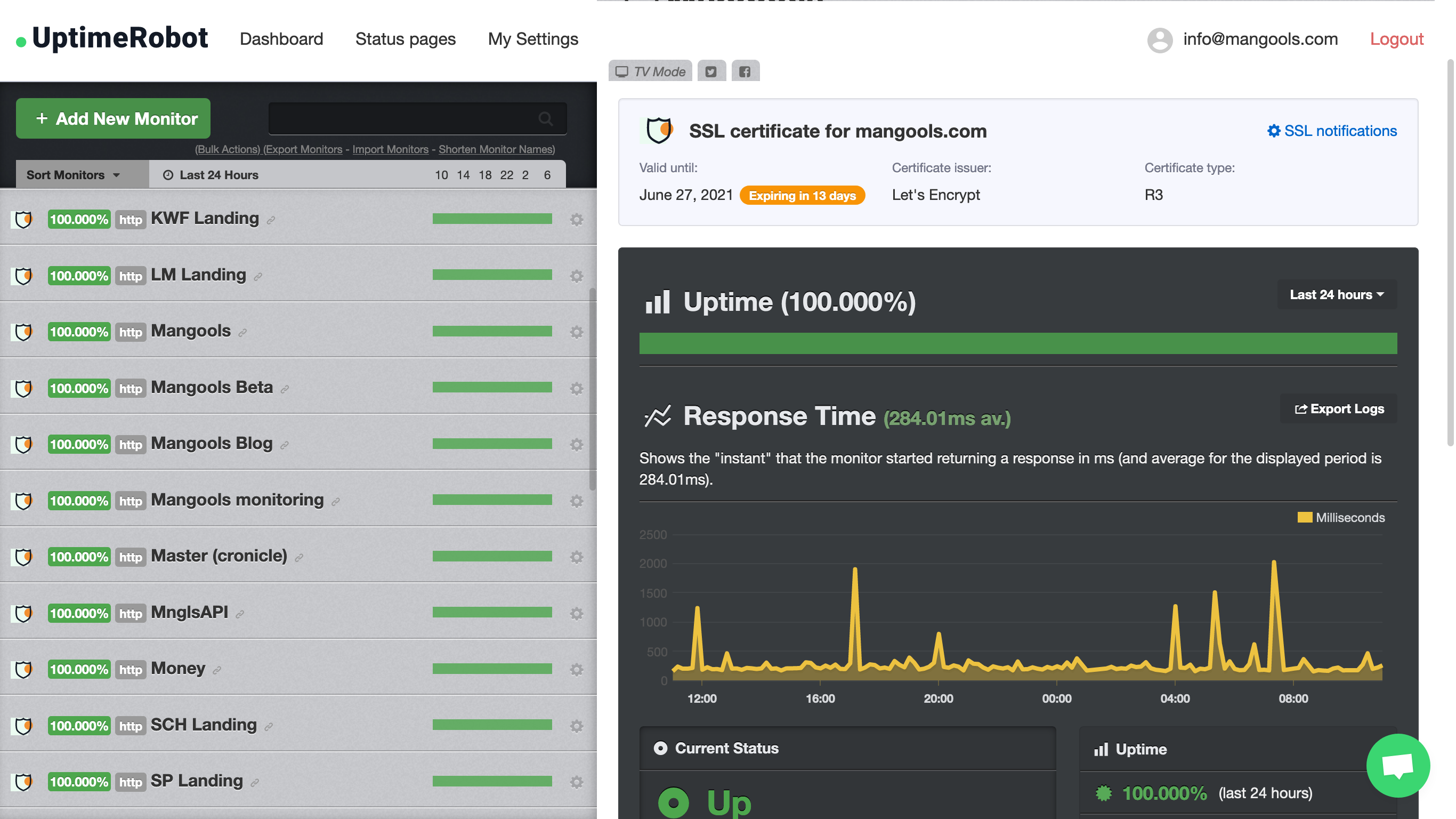 UptimeRobot is a basic SSL monitor that is part of the moderately priced monitoring tool. It verifies that your website is encrypted securely, finds SSL certificate problems with your website's HTTPS, and notifies you of them.
There aren't many specifics, such as issuer, certificate chain, raw certificate, etc., while looking up information on the SSL certificate.
Expiration dates for SSL certificates are precisely 30, 14, 7, and 1 day in advance when using the UptimeRobot service. Users have no control over notifications; they cannot select to receive fewer or send them only to certain people.
UptimeRobot can make unlimited phone calls, emails, or SMS notifications. Additionally, this tool can alert you via built-in applications like MS Teams, Discord, or Slack.
With the help of this service, premium customers can put restrictions on repeated notifications, scheduled maintenance windows, locate issues, and do numerous inspections from various places.
Features:
Alerting
Baseline
Multi-Channel Alerting
Multi-Site Monitoring
Reporting
UptimeRobot's premium features cost $15 per month. Within ten days of signing up, you can request a refund. Despite offering a free plan, UptimeRobot does not check for and inform users about SSL issues.
#11 Updown.io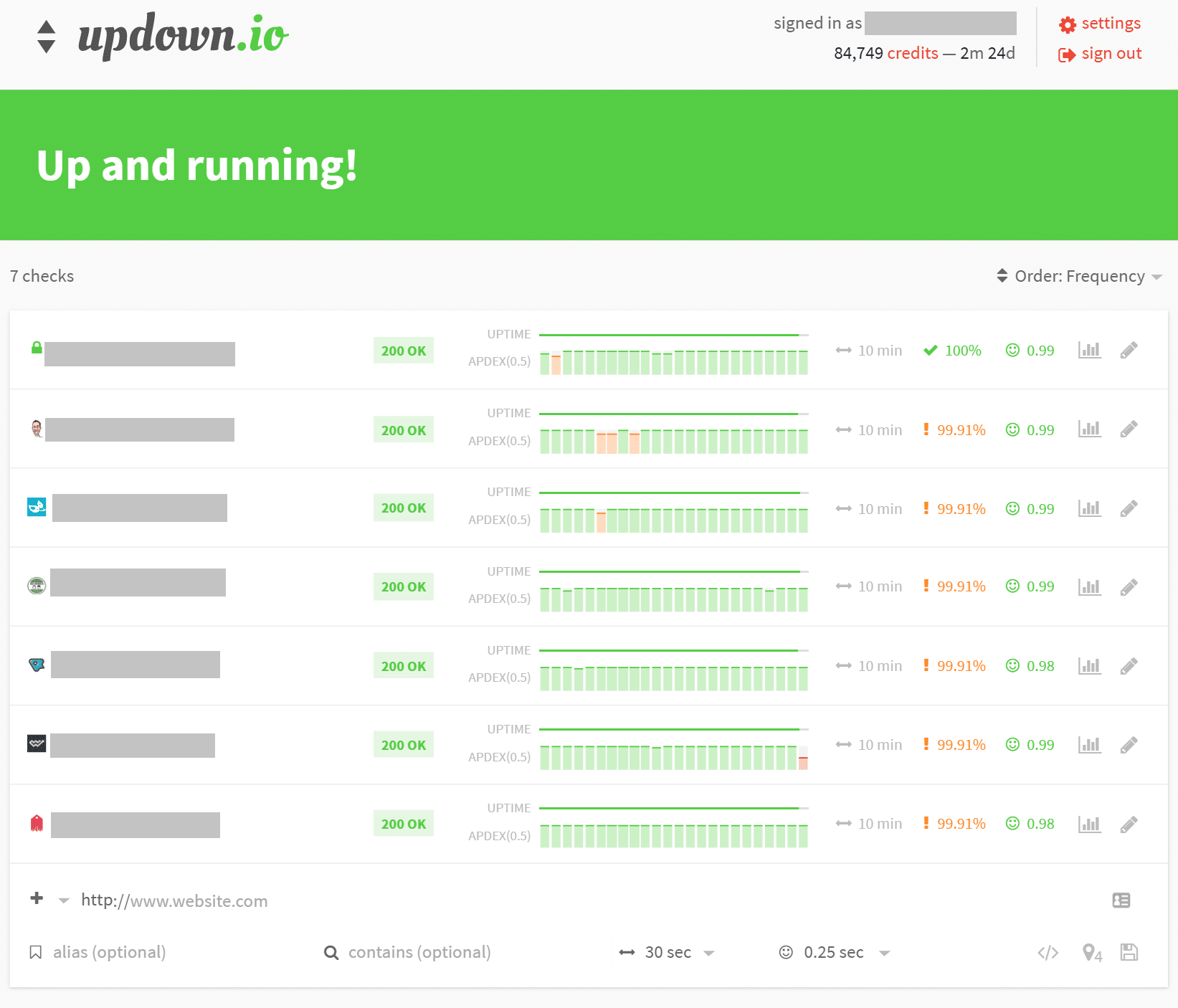 The SSL tracker on Updown.io is an inexpensive and user-friendly solution. Excellent features include a 15-second check interval, a wide range of payment options, including cryptocurrency, and several SSL checks from multiple places. It alerts you to SSL certificates that are out-of-date or invalid and cause downtimes.
A public or private status page, Slack channel, Telegram, Webhook, or SMS are used to deliver regular notifications. Since Updown's uptime monitor is its primary function, it is not particularly clear how to examine information about the SSL.
To see the details, you must hover your cursor above the "HTTPS" prefix of the domain name. Your SSL certificate's details are provided in a pop-up window; there is no report or dashboard view. There is no option for bulk SSL certificate management.
Whether the SSL certificate has been taken care of or not, the alarm frequency is also pre-defined. Since Updown.io bases its pricing on credits, it is somewhat opaque in terms of pricing. The open data does not give a clear explanation of how these credits are used.
Features:
Alerts (Notifications)
API Monitoring
Application Performance Metrics
Dashboard
Page Speed Monitoring
Uptime Reporting
Pay-as-you-go pricing is used by Updown. You can keep track of 50 domains every 30 seconds for less than $70. Monitoring fees for SSL certificates start at $0.01 per month.
Finally!!!
You can monitor SSL certificates using various tools, but not all are made equal. Some have a single, simple function, while others have numerous ancillary purposes, such as capabilities for monitoring synthetic data or actual users.
Understanding when your SSL certificate expires or becomes invalid for whatever reason is simply a portion of the information you need to have to provide your users with a rich experience.
Beyond the purview of SSL certificate monitoring, you should understand how your users are using your websites and ensure that all your resources are always accessible and functional.
---
Atatus Synthetic Monitoring ensures uptime, identifies regional issues, tracks application performance, and manages SLAs and SLOs by monitoring your applications, API endpoints, and critical business flows via simulated user requests.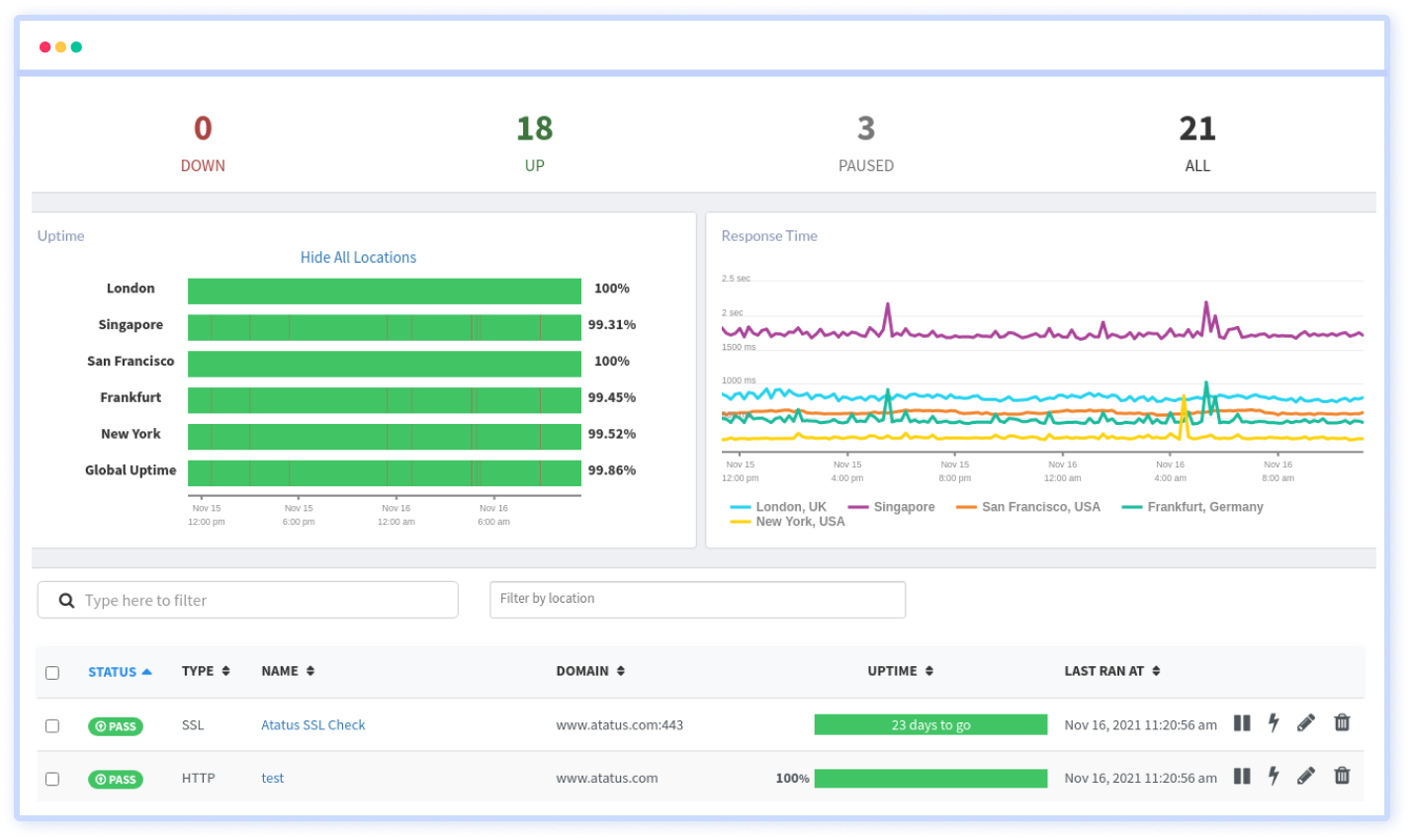 Atatus monitors the performance of your webpages and APIs in a regulated and steady manner, from the backend to the frontend, and at multiple network levels, warning you in the event of erroneous behavior such as regression, broken feature, high response time, unexpected status code, and so on.