What is the best alternative to New Relic?
Atatus - a full-stack software monitoring tool that provides you detailed reports of performance bottlenecks and resolves issues in real-time. Get in-depth analysis of your entire software stack by monitoring them and provide your customers an extra-ordinary application with a great end-user experience.
What is Atatus APM?
One of the prominent New Relic APM competitors - Atatus monitors the performance of your web applications and ensures that they are working as expected without causing any issues.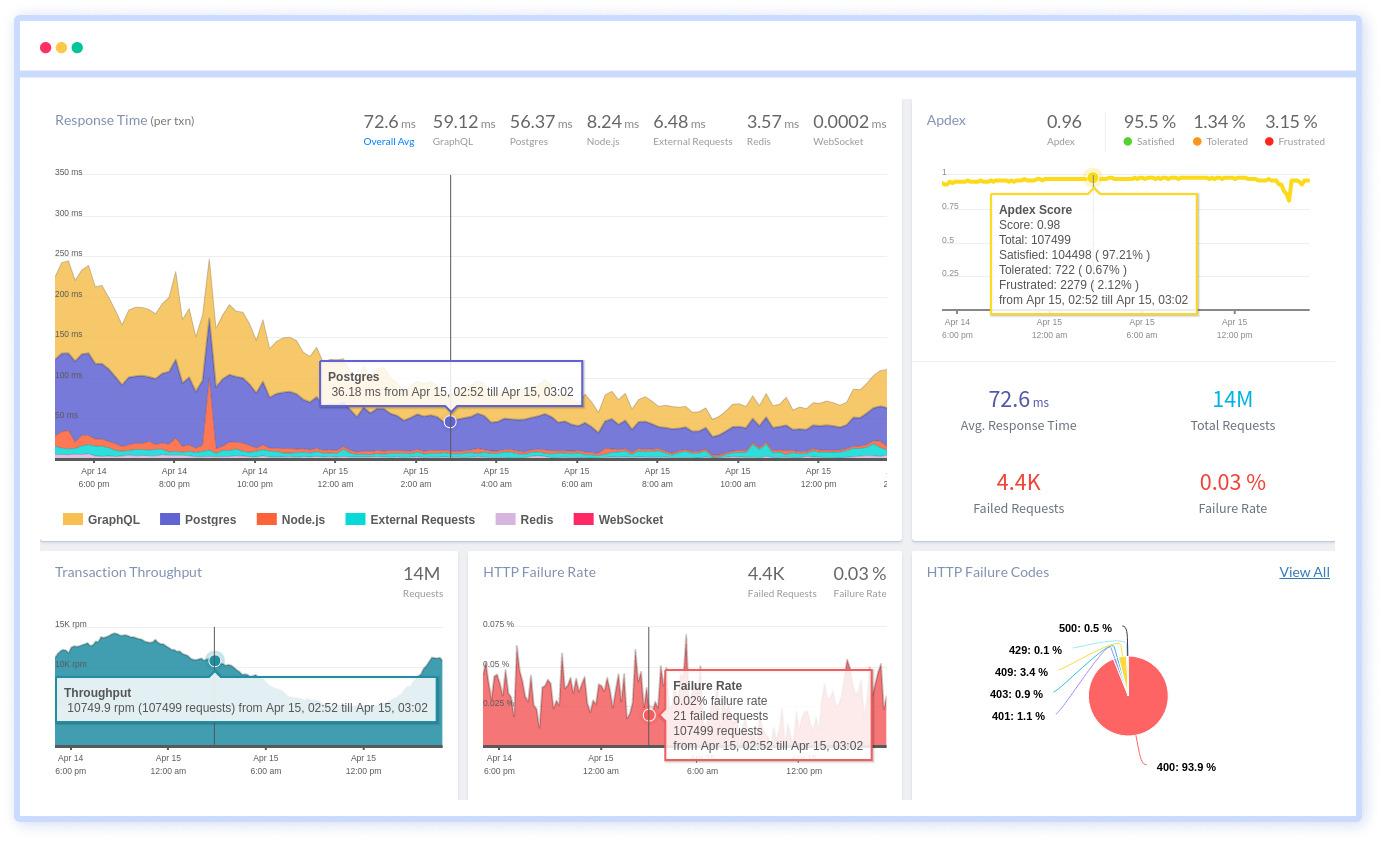 The overall data related to the performance are collected and displayed through graphs for easy understanding.
Benefit 1: One platform for your entire software application monitoring
Along with APM monitoring, Atatus provides Real-user Monitoring, Infrastructure monitoring, Log Monitoring to deliver the customers the best user experience, thereby resolving errors, traces, bugs, and issues.
Benefit 2: Better user interface of APM technologies
When compared to New Relic, Atatus has an appealing UI that is easy to use as well as understand the data in the reports. Better resolving of application performance issues by providing comprehensive data through various charts, graphs, and anomaly detections.
Benefit 3: Add new features with an enhancement for the best version
Monitor and analyze each deployment in your application and optimize your application with the data. Atatus APM observability keeps track of all the intertwined activities involved while deploying an application.
Its only major motive is that the new version does not impact the current version of your application. You receive Instant notifications when new codes are deployed.
Benefit 4: Advanced alerting system
Atatus helps you to notice the error earlier before it becomes a crucial issue. It has a rapid alerting system that sends the notifications as soon as possible when it notices an error and fixes them immediately.
The popular integrations are made available for you - Slack, OpsGenie, BigPanda, Webhook, email and so on which will alert you whenever the error arises.
Benefit 5: Cost effective and affordable pricing
Our APM solution starts at $49 per month per host which is quite good as a New Relic alternative that saves 30% when billed annually. Depending on the hosts, the pricing may vary.
You can get all detailed insights into performance issues at the cheapest price. You only pay for the real data and not for the number of users. Sign up at Atatus for a free trial of 14 days.
Benefit 6: Customer support 24/7
Atatus always has a keen interest in customer requirements and customer feedback. Get in touch with the team for any queries about pricing and the demo. Atatus provides a dedicated support manager for each account, which means without the need to choose a higher plan. We always make sure you get value from our products.
Benefit 7: Real-time performance insights
Start monitoring with Atatus. You feel the changes of the improved performance of your applications sooner. Special approach on error tracking, performance monitoring, and real user monitoring.
Benefit 8: Popular and noted integrations
Distinctive integrations of Atatus include APM Nodejs, APM Python, PHP, Java, Ruby, .Net, Slack, Asana, Jira, OpsGenie, YouTrack, GitLab, Lighthouse, VictorOps.
One unified platform to monitor the entire IT ecosystem.
Robust threshold baselines.
Analytics based on Artificial Intelligence.
---
Further Reading